You could feel a palpable sense of optimism at the table. Tyler Huebner from RENEW Wisconsin said that when it comes to renewable energy, "it's a really exciting time across the country … and Wisconsin as well." WECC's Mary Schlaefer noted that there are "a lot of energy efficiency and renewable energy opportunities out there that we're not even close to tapping." John Imes from the Wisconsin Environmental Initiative quickly pointed out that even though the cost of renewable technology is rapidly dropping, "other Midwest states are eating our lunch when it comes to clean energy." The Wisconsin Energy Institute's Gary Radloff presented a vision for "a completely new paradigm for energy supply and demand management."
Climate Forward 2017 Update Media & Community Briefing
Huebner, Schlaefer, Imes, and Radloff had joined Academy executive director Jane Elder, and me, to discuss our recently released Climate Forward: 2017 Update at a special media and community briefing (see video above) on June 28 of this year. It felt good to share our observations captured in the Climate Forward: 2017 Update, which acknowledges progress, flags where our state is falling behind neighboring states, and highlights emerging opportunities. The 2017 update highlights overarching trends on energy and climate change in our state since the publication of our comprehensive 2014 report, Climate Forward: A New Road Map for Wisconsin's Climate & Energy Future. A few items of note from the 2017 Update:
Local governments are leading the way
Municipalities, counties, and citizen-led initiatives across the state are making a difference. Through actions such as adopting community goals for renewable energy, exploring innovative financing programs to encourage efficiency in buildings, and implementing solar group-buy programs, local leaders are taking action to conserve energy and reduce greenhouse gas emissions—despite policy challenges at state and federal levels. Much of this activity is in response to practical consumer needs, such as keeping electricity bills low, as well as utility needs for meeting stakeholder demand for renewables. While the benefits of these efforts are already being enjoyed by some communities across Wisconsin, there is still ample opportunity for these bottom-up actions to be replicated and expanded in other areas.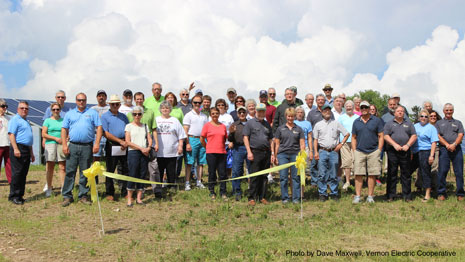 Businesses and utilities are planning for a low carbon future
With or without federal policies outlining emission standards, many Wisconsin businesses and utilities are planning for a low-carbon future. They are recognizing that investments in renewable energy can satisfy their customers and their bottom lines. Considering a carbon price can help businesses make informed decisions and anticipate global market trends. Major Wisconsin utilities have articulated goals for reducing emissions through shifting to cleaner fuels and/or increasing their capacity to generate electricity from solar or wind sources.
Solar is taking off
As the cost of solar technologies continues to go down, new installations are popping up across Wisconsin, from individual household and commercial rooftops to urban and rural community solar arrays that serve many households. More solar energy systems were installed in Wisconsin in 2016 than in all previous years combined. Formerly categorized as "alternative," renewable energy has truly become mainstream, and this trend shows no sign of slowing down.
Wisconsin is falling behind
Despite notable progress in many areas, Wisconsin is still falling behind our peers, missing a number of opportunities that could further advance us on our path toward a clean energy future.
Neighboring states are surpassing us in adopting policies and making investments that support efficiency and renewable energy, diversified transportation systems, innovative and affordable utility models, long-term energy plans, and cutting-edge research and education programs.
However, we can intensify our efforts, catch up to our neighbors, and secure a position in the vanguard. Through bottom-up leadership, smart planning, and increasingly favorable economics, we are laying the bricks of our clean energy path. By building on the many scalable achievements across the state and capturing their momentum, and exploring many emerging opportunities, Wisconsin can better balance the needs of business and industry while building a just and sustainable future for its communities.
To learn more about current challenges and emerging opportunities on climate and energy in Wisconsin, download a copy of the report.