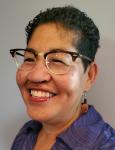 Chan Stroman is an attorney in Madison, who founded her law practice, Landlord Counsel LLC, in 2002, representing commercial real estate owners in acquisition, disposition, leasing, and financing transactions. Prior to founding her firm, she practiced as a law firm attorney in private practice and as general counsel heading the legal department of a national real estate company headquartered in San Francisco. She is admitted to practice in the states of Wisconsin, Illinois, and California.
Stroman is active in civic and community matters in Madison. She is an alumna of the Leadership Greater Madison program, LGM 12 class, and has served on numerous nonprofit boards and governmental advisory bodies, currently including the City of Madison Disability Rights Commission, the Dane County Aging and Disability Resource Center Governing Board, and the Advisory Board of Reading League Wisconsin. She is active in advocacy for educational equity for students of color and students with disabilities, and is a pro bono reading tutor.
Stroman holds an A.B. with General Honors in Political Science from the College of the University of Chicago, an A.M. from its Divinity School, and a J.D. from its Law School.