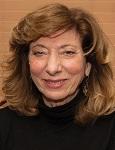 Respected poet, journalist, and radio host Jean Feraca is a 27-year veteran of public talk radio. She brought to her broadcast career a lively personal style and sense of adventure perfectly suited to creating a global, on-air community. At Wisconsin Public Radio, Feraca served as host and co-producer of the Ideas Network's award-winning news and cultural affairs program, Conversations with Jean Feraca, from 1990 to 2003. Conversations with Jean Feraca won the National Telemedia Council's Distinguished Media Award in 1996.
In 2003, Feraca started the daily program Here On Earth. Feraca originally came to WPR in 1983 as humanities producer after leaving NPR affiliate WGUC-FM to become a freelance arts, humanities, and general assignment reporter for National Public Radio's Morning Edition and All Things Considered.
Feraca's memoir, I Hear Voices: A Memoir of Love, Death, and the Radio (2007) was was named an Outstanding Book by the American Association of School Librarians and one of the year's Best Books for General Audiences by the Public Library Association. Earlier writings include her first book of poems, South From Rome: Il Mezzogiorno (1976), which was published with a grant from the National Endowment for the Arts. She received a Wisconsin Arts Board Fellowship to complete Crossing the Great Divide (1992), her second book, which was nominated for a Pushcart Prize.
Feraca holds a BA cum laude in English from Manhattanville College in New York. She received an MA in English from the University of Michigan and completed coursework toward her PhD at the University of Kentucky. She also did graduate studies in drama at the University of California–Berkeley and studied studio art at Columbia University.