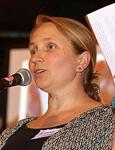 Kirsten Shead is the Co-Executive Director of Milwaukee Water Commons. She has an unwavering commitment to social justice, environmental stewardship and the Milwaukee community at large.
Shead has worked with MWC in varying capacities since 2014: as a community partner, serving on the Advisory Team, as a Community Organizer focused on lead in drinking water and access to blue-green jobs, and as Water City Program Manager. 
Shead has a BS in chemistry and broad experience working in education, industry and environmental labs. She left the corporate world in 2009 for the nonprofit sector. From 2013-2017 she served as program director for the Interfaith Earth Network, utilizing her passion for interfaith understanding, collaboration, and dialogue. She joined the MWC team full-time in 2018.
Sheadstrives for a simple life, emphasizing relationships, community, justice, nonviolence, and peacemaking. She loves exploring the natural world—scuba diving, kayaking, camping, and other wilderness adventures.