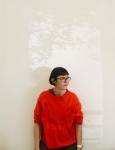 Lois Bielefeld is a queer series-based artist working in photography, audio, video, and installation.  Her work continually asks the question of what links routine and ritual to the formation of identity, personhood, and the development of meaning-making.
Currently settled in Milwaukee, Lois has lived on both coasts. After her daughter went off to college, Bielefeld decided to pursue her graduate degree, completing her MFA at California Institute of the Arts.  Besides photography, she feels passionate about traveling, hiking, eating, swimming, and bicycling adventures with her wife.
Her work is in the permanent collections of the Leslie-Lohman Museum of Gay and Lesbian Art in New York City, the Museum of Wisconsin Art, Saint Kate Arts Hotel, The Warehouse Museum and The Racine Art Museum in Wisconsin. Bielefeld has shown at The International Center of Photography in New York City, The Museum of Contemporary Photography in Chicago, Charles Allis Art Museum, and Portrait Society Gallery.
Bielefeld is represented by Portrait Society Gallery.  To see more of her work, visit http://www.loisbielefeld.com
Follow her visual journal on Instagram at: @loisbielefeld