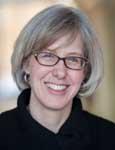 Mary Blanchard joined the Wisconsin Energy Institute (WEI) in January of 2014 as associate director. Blanchard's career portfolio spans business development, product management, governmental relations, and marketing.
Formerly the Director of Marketing and Governmental Affairs at Virent, Inc., Blanchard brings an extensive knowledge of the biofuel industry and a broad understanding of the economic, social and environmental opportunities created by sustained, cross-disciplinary research on energy. She recognizes that innovations that improve the way we source and use energy can provide competitive advantage for industry, save money, open new markets, and create jobs, while reducing the environmental impacts of energy use.
Twenty years of industry experience have also taught Blanchard the value of creativity and versatility in approaching scientific projects aimed at complex industrial markets. Blanchard holds bachelor's degrees in Electrical Engineering and English from the University of Notre Dame, a master's degree from the London School of Economics, and a MBA from Northwestern University.