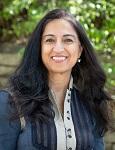 Nasia Safdar, MD, PhD is an internationally recognized leader in healthcare-associated infection prevention research. She was the Medical Director of Infection Control at UW Hospital and Clinics from 2009-2020. Dr. Safdar is board certified in infectious disease and she focuses on healthcare-associated infections, particularly in the acute care setting.
Dr. Safdar believes that many health care-associated infections can be prevented with adherence to known best practices. Her mission is to reduce healthcare-associated infections by identifying, testing and implementing promising interventions. In her latest role as Associate Dean for Clinical Trials at UW School of Medicine and Public Health, she promotes research to seek answers to clinically important questions.
Dr. Safdar is also Professor of Infectious Diseases at the University of Wisconsin School of Medicine and Public Health and the Associate Chief of Staff for Research at the William S. Middleton VA Hospital.
Dr. Safdar uses multidisciplinary approaches, including human factors ergonomics, mathematical modeling, clinical trials, implementation science, and bench-based microbiome research to tackle infection prevention comprehensively. Her transformative and innovative federally funded work has changed the paradigm for effective infection prevention in many healthcare systems and has been incorporated into national guidelines.