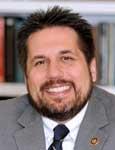 Thomas Pleger PhD started as Lake Superior State University's (LSSU) eighth president on July 1, 2014, after having served as campus executive officer and dean at the University of Wisconsin-Baraboo/Sauk County since 2006.
Dr. Pleger has held positions at several University of Wisconsin campuses, including Madison, La Crosse, Marinette and Fox Valley, and at Lawrence University. He received a bachelor's degree in political science, with honors, from UW-La Crosse and is an alumnus of the Wisconsin in Scotland program. He earned his M.A. in anthropology and his PhD in anthropology/archaeology, both from UW-Madison. His PhD and subsequent research have focused on the archaeology of the Western Great Lakes and has resulted in publications in regional and local archaeological journals.
A former University of Wisconsin System Teaching Fellow, Dr. Pleger is a recipient of the Wisconsin Archaeological Society's Lapham Research Medal, and formerly a speaker for the Wisconsin Humanities Council Speakers Bureau. He is a past council member of the Wisconsin Academy of Sciences, Arts & Letters.
Dr. Pleger has written on the importance of liberal education and the University of Wisconsin System and has been a regular guest on Wisconsin Public Radio concerning topics on archaeology and concerning public higher education in Wisconsin.
Dr. Pleger is married to Teresa, who formerly worked in UW-BSC Student Services. She holds a bachelor's degree in health education and a master's degree in education/professional development from UW-La Crosse. Lifelong residents of Wisconsin until moving to Michigan in 2014, the Pleger's enjoy many hobbies, including spending time outdoors with their dogs and horse.