Location
James Watrous Gallery
53703
Madison
,
WI
Alison Gates works primarily in textiles and mixed media, using knitting and embroidery to explore issues of gender, climate change, and the way language, cultural traditions, and our experience of place shift over time and in different contexts. Adding subtly embroidered words to printed textiles, she creates a quiet disturbance, a whisper of new meaning that shifts the pattern in unexpected directions. Gates' recent woven paper maps create a similar shift in perspective, folding disparate geographies into new relationships that suggest the changeable nature of official borders.
This exhibition also includes her Global Warming series of wool bikinis, hand-knitted using traditional patterns from northern Europe. These beautifully made bikinis use humor to raise a serious question. As the climate warms, what will happen to these knitting traditions, which are such important markers of cultural identity? Will they disappear like other traditions and skills that no longer suit the local climate, or evolve to suit the changing conditions?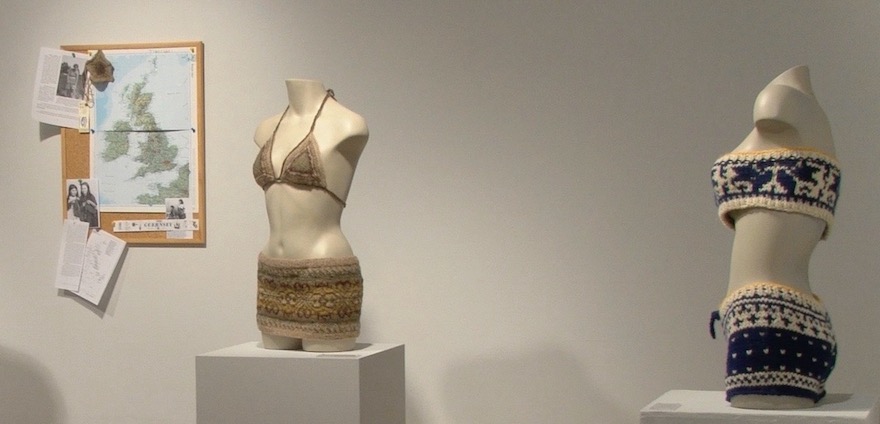 top of page: Alison Gates, Vanitas, 2021. Vintage textile and embroidery, 28 x 14 x 1 in.; Alison Gates, Migratory Pattern, 2022. Vintage maps.
above: Alison Gates, Material Culture: Global Warming, 2011-14. Wool bathing suits, hand-knitted with strict adherence to (left) Fair Isle and (right) Nordic conventions.
Exhibition Sponsor: