The Wisconsin Academy has been taking the initiative to explore and share the best of Wisconsin since we were founded in 1870. The Academy's Wisconsin Initiatives bring Wisconsin residents together with a diverse array of experts and stakeholders to find solutions to tackle such complex issues as the future of our rural communities and the health of our lakes and streams. Formerly known as the Wisconsin Idea at the Wisconsin Academy, our initiatives program has for over 50 years addressed the unique challenges we face as Wisconsinites and citizens of the world.
---
Waters of Wisconsin I: The Future of Our Aquatic Ecosystems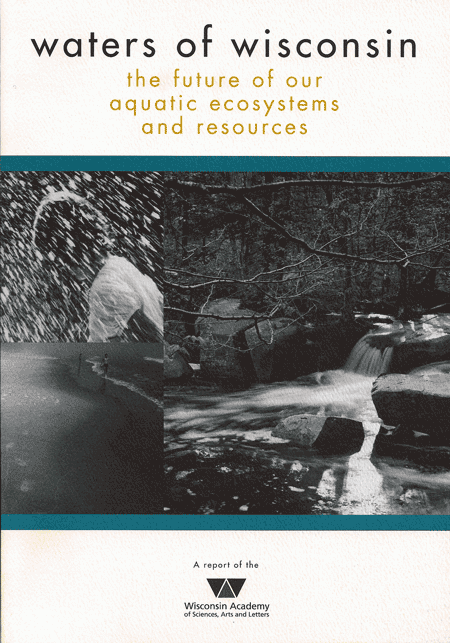 How can we ensure healthy aquatic ecosystems and clean, abundant water supplies for tomorrow's Wisconsin? The Waters of Wisconsin initiative directly engaged hundreds of Wisconsin citizens in a conversation about our state's water resources and aquatic ecosystems. The effort culminated in October 2002 with a two-day public forum attended by more than 700 scientists, water users and managers, officials and policy makers, business leaders, Native American tribes, nonprofit organizations and advocates, artists, poets, musicians, and other interested citizens. The event, and all that led up to it, validated what opinion polls tell us: Wisconsinites don't just value their waters—they love them. Issued in 2003, this report brings together our findings and recommendations, as well as the thoughts and experiences of hundreds of our fellow citizens regarding the status of our waters, the necessity of farsighted policies and effective monitoring, the importance of civic engagement and a guiding water ethic, and the vital role of education. Our goal in this report is to point the way toward a bright future for our state's waters, and for all that depends on them: our health, our communities, our economy, and our aquatic environment.
Click here to download a PDF of this report.
---
The Future of Farming and Rural Life in Wisconsin
Begun in 2005, this multi-year study examined the current status and trends in agriculture and rural life, explored constraints and opportunities, and developed specific action and policy recommendations for a more sustainable, diverse, and economically viable future for Wisconsin's agriculture sector and rural communities. To keep the conversations alive that were started during the Future of Farming initiative, the Wisconsin Academy also hosts the Voices of Rural Wisconsin audio archive project in partnership with Portal Wisconsin. Working together, we hope to share the stories, thoughts, and histories of the state's rural population. This expanding collection of authentic and authoritative voices, collected by Future of Farming project author and reporter Bill Berry, represents a rich cross-section of Wisconsinites who work, love and live for the land. We hope you will utilize this resource as a means to connect with and better understand Wisconsin's rural citizens.
Click here to download a PDF of this report.