One of the most influential conservationists working today in Wisconsin doesn't keep an office at any of the state's fine colleges or universities, nor is he employed by the Department of Natural Resources or any other government body. Oftentimes, especially around deer hunting season, you can find Doug Duren deep in his family's 400 acres of rolling hills, oak forests, prairie, and pastureland in the Driftless Area of the state.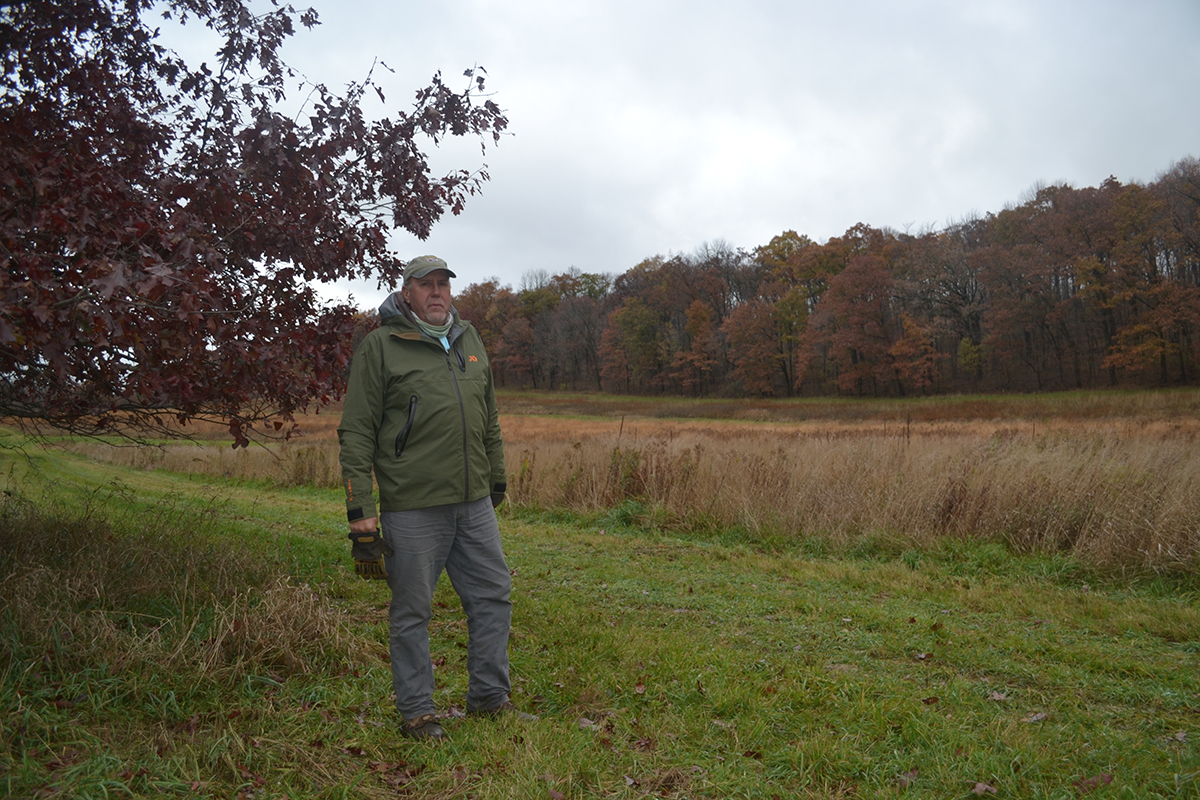 Up a steep, rutted driveway is a ramshackle white farmhouse, not too far from Cazenovia, where Duren lives ("in the city," as he is fond of saying). The fourth-generation farmhouse is where Duren holds irregular office hours, meeting with fellow farmers or members of local hunting groups, like the Caz Turkey Busters, to share how they can apply some of the land and wildlife conservation projects and programs he has underway across his sprawling outdoor laboratory.
On a map of his land, Duren points to the 60 acres of pasture he has set aside for raising environmentally responsible grass-fed beef. In one corner are the 100 acres of former farmland undergoing ecological restoration through a grant from the Conservation Reserve Program, administered by the USDA's Farm Service Agency. On the other side of three long prairie strips are 240 wooded acres, of which 160 are sustainably managed thorugh the Managed Forest Law Program of the Wisconsin Department of Natural Resources.  
Duren's passion for his land and zeal for sharing best practices have caught the attention of conservationists far beyond the Driftless as well. Nationally known sportsman Steven Rinella, an author and the mastermind behind the popular Meateater podcast, first came to visit Duren in 2009. Duren had heard Rinella on Wisconsin Public Radio years ago, talking about his 2006 book, The Scavenger's Guide to Haute Cuisine. Impressed with the young writer's commitment to wild game conservation, Duren e-mailed Rinella and invited him to his family farm. After a week of walking the Driftless hills together, talking and hunting, the two became good friends. As Rinella's media empire grew beyond books on hunting and wild game to the Meateater TV show and podcast, Duren became a frequent guest, sharing his best land and game management practices (as well as corny jokes) with viewers and listeners.
"Doug has spent his life observing a few hundred acres of land with intense love and interest. But instead of withdrawing hermit-like into that familiar space, he has taken his learnings about his land and his people and actively searched out ways to apply them elsewhere in a helpful, constructive, and collaborative manner," says Rinella. "I can promise you [that] anyone who spends a day with Doug Duren will view the Earth more tenderly and with greater reverence."
Like Rinella, the people who gather around Duren's flame will tell you that he is not just a conservationist of the first order, but a bon vivant, a raconteur, a historian, a musician, a Renaissance man as comfortable talking about Warren Zevon as he is about Aldo Leopold, as comfortable with his hands in a pile of caribou guts as he is reciting a passage from Richard Brautigan's Trout Fishing in America.
And while listening to Duren talk is a bit like standing inside a conversational cyclone in which ideas, obscure cultural references, and hilarious asides bang against your brainpan from all angles, his spirit is positively infectious. Duren's zeal for sharing what he knows and loves about these lands and the creatures who live here are drawing more and more conservationists every month to his farm near "Caz" to learn, share, and connect. With over 40,000 Instragram followers who share, comment on, and discuss his posts, Duren has an audience hungry for images of and observations about these lands from which he draws his passion and inspiration. Visitors to the farm, whether in person or online, learn about the spectrum of land and game conservation practices that Duren has implemented across these 400 acres over the years, what works and what doesn't, and how these practices can be scaled to meet the needs of others. 
Moreover, Duren's everyman approach to conservation makes him eminently accessible. "Having environmental advocates like Doug is immensely important in today's world," says Wisconsin DNR Forestry Team Leader Michael Finlay. "He can help break down barriers to conservation and management by speaking openly and honestly with others. Doug understands that forestry and forest management are sound conservation models, and that sound environmental stewardship goes hand in hand with managing your property. Doug can help motivate others to invest in their properties for the future, just as he has on his farm."
One of Duren's major investments over the past few years has been on deer herd management and advocating for more and better testing for Chronic Wasting Disease (CWD), a highly infectious disease that causes a slow and painful death for the animals.
Duren's great-great grandfather Wilhelm emigrated from Prussia in 1856 and came to the Driftless Area a few years later. He built a sawmill just outside of Cazenovia, which he operated along with his son, Joseph, one of eight children he had with wife, Anna Sybilla Katherine Hansen. In 1904, Joseph purchased the land that was to become the Duren farm for timber. The Depression hit Joseph Duren's family hard, and his son, Rinold, would leave for days at a time to hunt deer in the Baraboo Hills to help feed the family. Yet the deer were hard to find.
By the 1930s, Duren says, the whitetail deer population in the region was down to just a handful, mainly due to overharvesting. It was a trend that continued in southern Wisconsin for decades, even as the population slowly increased in the heavily forested regions to the north.
"I don't want to say that there were no deer in the area when I was a kid, but it was a big deal to see one," recalls Duren.
By the mid-1960s, the Wisconsin Department of Natural Resources had established a series of modern deer management practices that restricted antlerless kills and utilized better monitoring and reporting. The herd seemed to stabilize until a series of extremely warm winters and a steep decline in pemit purchases during the late 2000s sent the deer population skyrocketing, even as CWD began to spread through the southern part of the state. The Wisconsin DNR estimates that, with 56 out of 72 counties containing CWD-infected deer, around 7% of the state's 1.8 million deer currently carry the disease.
For Duren, deer management is land management. Fast-multiplying herds can alter the ecology of forests, stripping them of native vegetation and eliminating niches for other wildlife. But he also has compassion for the animals. Duren is deadly serious about the spread of CWD and the impact it will have on deer and the future of the landscape. When talking about the disease, Duren frequently repeats a well-worn phrase: "If you don't have it, you don't want it."
Today, Duren is using his various media platforms to raise money for proper deer carcass disposal by selling his popular (and utterly grassroots) line of merchandise—caps, sweatshirts, and stickers—that carry his favorite mantra: "It's not ours, it's just our turn." At the crux of his simple philosophy are the axioms Duren will tell you are true to him: community, responsibility, stewardship, and friendship. 
He is also the owner of Lone Oak Interests LLC, a small enterprise "specializing in site and land management consulting and contracting services throughout Wisconsin and the Driftless Area." Duren is seemingly indefatigable—a sixty-something who is finding his voice and place in the world more and more with every passing day. In this way, Duren is not only a role model for conservationists and environmentalists, he's something of a role model for anyone entering the third act of their lives and looking for inspiration and energy.
According to Patrick Durkin, an award-winning outdoor writer based in Eau Claire, people like Duren weren't all that unusual one or two generations ago. "When many of our fathers and mothers grew up on family farms, [they] inherited family farms, and passed along family farms, striving to preserve the land and water for the generations who followed. And if a farm kid wasn't destined for that life, those parents encouraged the kid to pursue other talents far from home." But, notes Durkin, whether they stay or leave, most farm kids "never lose their love of the land and its wildlife, and their affection for the people and communities who make rural Wisconsin their home."
The poet Gary Snyder once wrote, 
One of the key problems in American society now is people's lack of commitment to any given place—which is totally unnatural and outside of history. Neighborhoods are allowed to deteriorate, landscapes are allowed to be strip-mined, because there is nobody who will live there and take responsibility; they'll just move on. The reconstruction of a people and of a life in the United States depends in part on people, neighborhood by neighborhood, county by county, deciding to stick it out and make it work where they are, rather than flee.
Doug Duren has not fled. Like a solid, old burr oak, Duren has iron-strong roots that both draw sustainance from and hold together the landscape that allowed his family to flourish for over five generations. A true steward and friend of the land, Duren has created a blueprint, an example, for all Wisconsinites to follow.