When we consider the impacts of global climate change, we tend to think of spectacular disasters fueled by extreme weather—deadly fires and mudslides in California, flooding from Hurricane Sandy—or of massive environmental transformations—glaciers calving in Greenland or coral bleaching on Australia's Great Barrier Reef. Conscious of these dramatic phenomena, people sometimes overlook the incremental changes happening here in Wisconsin and miss the ways in which climate change is altering our local environment. We might not notice, for instance, what is happening to our plants—not just to annual crops affected by a particular year's drought or flooding but also to the trees and shrubs, grasses and flowering plants that constitute our forests, savannas, wetlands, and prairies.
Climate science tells us that the impact of climate change on plant communities is complex and depends on multiple interrelated variables. For instance, warming temperatures and more irregular rains can make some trees particularly vulnerable to insect pests. At the same time, increasingly warm winters can cause a spike in harmful insect populations. Introduced plants as well as native species that can tolerate warmer temperatures may become invasive, putting greater pressure on valuable native plants whose habitat is already compromised.
While scientists are tracking how Wisconsin's plant communities are affected by climate change, artists, too, are observing and recording these changes. Recognizing the power of art to deepen our attention, engage our emotions, and focus our imaginations, the James Watrous Gallery developed Uprooted: Plants in a Changing Climate, a collaborative project that brings visual artists skilled in representing plants together with botanists and naturalists to explore climate change in Wisconsin. The project began when Watrous Gallery director and curator Jody Clowes noticed that among the artists responding to a 2016 call to exhibit was a group of painters and print makers with strong botanical influences: Cynthia Brinich-Langlois, Helen Klebesadel, Bethann Moran-Handzlik, Katie Musolff, and Lynne Railsback. The artists, each from a different part of the state, were creating works that reflected knowledge about the plants associated with their particular regions. Considering the Wisconsin Academy's science-based work in addressing climate change, Clowes thought that a group exhibit with these artists could underscore how art, too, can focus attention on and show concern for our multi-species environments. 
Pairing the artists with botanists and naturalists, Clowes believed, would enable the artists to learn more about the ways in which climate change is altering their particular regions—and, therefore, their particular subject matter. In 2017, Clowes put the artists in touch with naturalists Susan Carpenter, Christy Lowney, and Bradley Herrick of the University of Wisconsin Arboretum, and Evan Eifler, a PhD candidate in the UW–Madison Department of Botany.
The artworks resulting from these collaborations, shared in the Uprooted exhibition, reflect the different ecosystems the artists are drawn to as well as the diverse perspectives they bring to the issue of climate change.
•  •  •  •  •
Helen Klebesadel is a watercolorist who grew up in rural Wisconsin and spent many years in academia, first teaching studio art and chairing the Art Department at Lawrence University, then serving as director of the UW System Women's and Gender Studies Consortium. Working from her Madison-based studio, Klebesadel is best known for creating environmentally themed and women-centered works, often rendered in vivid colors.
Her paintings for Uprooted accurately group together plants found in native prairies, though she intensifies their colors so that the life force of, for instance, butterfly-weed or rattlesnake master almost vibrate on the canvas. Joy and wonder shine from Klebesadel's brightly hued images, though that joy may be tempered when the viewer learns that the prairie white-fringed orchid whose delicately carved petals dance in the foreground of one painting is endangered in Wisconsin.
In another painting a glorious network of roots conveys not only the deep-rooted character of prairie plants but also their intricate symbiosis with underground mycorrhizal networks (threads of beneficial fungi) that assist in nutrient uptake. Such preoccupation with beneficial biological interdependency recurs in many of the artworks created for Uprooted. 
Lynne Railsback, another watercolorist, generally employs a far more muted palette than Klebesadel because she enjoys rendering the shapes, colors, and textures of plants in autumn and winter. A noted botanical artist who trained in graphic design, Railsback lives in the Williams Bay community on the shore of Lake Geneva. For Uprooted she created marvelously exact watercolors depicting damaged and half-dried burdock and bull thistle, invasive plants that threaten native prairies. She rendered crown vetch, another problematic non-native species, not in autumnal decline but in all its lavender-flowered strength. Introduced to Wisconsin from the Mediterranean region in the 1950s to control erosion, this trailing beauty reproduces rapidly and is difficult to control; it smothers and shades out native vegetation and alters the chemistry of the soil.
Railsback was surprised to learn from Susan Carpenter, the Wisconsin Native Plant Gardener at the UW Arboretum, that some of the plants she had begun to paint were not only alien but were in fact pushing out native plants. Her exchanges with Carpenter deepened her understanding of how the longer, warmer growing seasons we are experiencing with climate change are allowing non-native species to overtake native ones. Indeed, large areas of Wisconsin have shifted from hardiness zone 4 to the warmer zone 5 over recent decades. 
Katie Musolff's contributions to Uprooted present carefully rendered plants removed from their busily inhabited outdoor surroundings. Musolff, who grew up near Milwaukee and studied painting at the Milwaukee Institute of Art and Design, now paints full-time in the village of Stoddard on the Mississippi River. Her works typically display specimens, often from wetlands, arranged on a light-colored surface.
In her diptych portraying a stalk of native milkweed in different seasons, shadows on the pale background help create the illusion of remarkable depth. Even without the rest of the ecosystem visible, the diptych tells a story of biological interdependence complicated by climate change, as Musolff depicts a crowd—properly termed a kaleidoscope—of monarch butterflies fluttering near the milkweed on which the species' survival depends. Higher carbon dioxide levels in our atmosphere are causing chemical changes in milkweed, resulting in lower concentrations of the toxins that help protect monarchs from predators and some parasites.. Additionally, higher temperatures may be pushing summer breeding areas further north, thereby increasing the length and difficulty of the butterfly's annual migration to southern wintering grounds.
Musolff underscores the themes of multi-species interdependence and the transnational impact of environmental changes reflected in the painting. "As the monarchs flow through the piece, they carry with them the realization that they exist as a network stretched, literally, across the planet," she says, noting that, "when one piece … breaks down, the rest will collapse as well."
An artist who teaches at the University of Wisconsin–Whitewater, Bethann Moran-Handzlik often paints en plein air, whether she is rendering sweeping landscapes or small botanical specimens. To produce Shared Solitude, her painting of a moccasin flower (or pink lady's slipper) for the Uprooted exhibit, she sat, knees bent in front, on a small braided rug among the ferns. Her palette, with a small easel attached, lay between her feet. Moran-Handzlik, who trained in philosophy as well as graphic design and painting, says she hopes to convey her intimate connection to the woodlands through her artwork. "I sit in the landscape; I am in my subject: the same changing weather and light. Animals and insects are always nearby. The audience then gets to 'sit where I sat' within nature." 
Shared Solitude was informed by reading done for the project that introduced her to the symbiotic relationship between the moccasin flower and a fungus on which it depends because orchid seeds, unlike most seeds, do not carry their own food supply. "The fungus breaks down the seed and attaches to the seed, passing on food and nutrients. When the plant is older the fungus draws nutrients from the roots of the plant," explains Moran-Handzlik, noting how she is "repeatedly surprised by how true John Muir's quote rings, 'When we try to pick out anything by itself, we find it hitched to everything else in the Universe.' " For her, as for the other artists in this exhibit, a growing awareness of climate change injects an urgency into communicating our multi-species connections and interdependencies.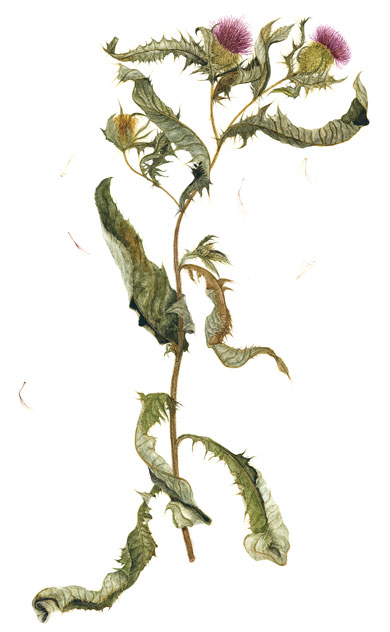 Just as Lynne Railsback had not initially recognized some of the plants she painted as non-native invasives encouraged by planetary warming, we, too, may find climate change in its less spectacular, gradual manifestations difficult to see—even in an exhibit devoted to the subject. Asked what she learned from participating in this collaborative project, Katie Musolff mused, "I learned that climate change is hard to pin down. It's so big, yet it's difficult to see in day-to-day activities unless you really pay attention. … I know there are plenty of concrete charts and graphs, but they don't touch down to the human level unless you find yourself in the middle of a crisis." 
At once acknowledging and countering this near-invisibility of ongoing climate change, Cynthia Brinich-Langlois employs a visual technique that overlays the shadow of future transformation upon present landscapes, enabling viewers to glimpse future ecosystems and their difference from present ones. Brinich-Langlois, who grew up in a small Alaska town on the Yukon-Kuskokwim delta, studied environmental biology as well as studio art at Kenyon College. She got her MFA in printmaking from the University of New Mexico and today teaches printmaking and digital art at UWM.
For Uprooted Brinich-Langlois worked with Christy Lowney, a Research Specialist at the UW Arboretum trained in forest ecology, to better understand how climate change will affect forest composition. Drawing on information concerning current species distribution and maps of projected future habitats, Brinich-Langlois developed a series of watercolor drawings that illustrate elements of an established pine forest; these are encased in Plexiglass on which she printed images of species expected to become more common due to climate change. In her informative and haunting images, the encroaching species cast a faint shadow over the familiar forest plants beneath.
•  •  •  •  •
An interest in producingart that might inspire action to counter environmental degradation, including the damaging effects of climate change, is not new to the Uprooted artists. Yet collaborating with scientists and being aware of working alongside other artists in a group exhibition such as this has generated a sense of renewed and strengthened commitment among them.
"Painting in the field is enormously solitary," observes Bethann Moran-Handzlik. "I felt the collective support of this invited community. We were each pooling our energy and skills to work toward a common goal. … It has been very fulfilling."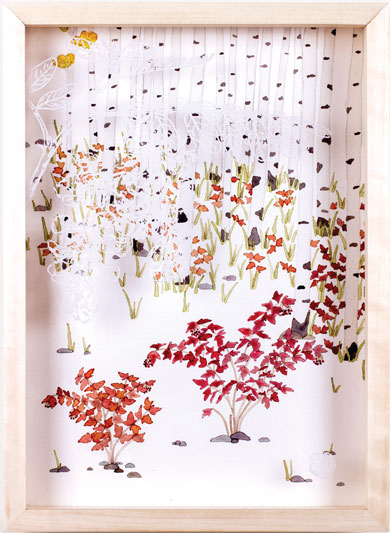 For Helen Klebesadel, this sense of solidarity expanded beyond the Uprooted artists to include Evan Eifler, the doctoral student in botany with whom she was paired, as well as the community of people she met who are working on prairie restoration. She reports having gained "a much deeper appreciation of their actions to preserve and restore the important native prairies wherever possible. I found a powerful sense of renewed hope by this demonstration that people will work to save what they love, and a renewed commitment to the importance of introducing children and adults to the natural world so they can learn to love it too." 
These statements from the artists provide heartening evidence that people gain renewed energy for their own forms of activism when they feel that their work sustains their community. In this moment when the environmental challenges and the political obstacles we face can feel overwhelmingly large, when individuals can easily be daunted by a sense of powerlessness, the benefits of collaborative projects such as Uprooted clearly go well beyond the exchange of knowledge or the sharing of perspectives.
Yet that sharing of perspectives is also valuable, particularly because science and art are often imagined to be at odds with one another. In fact, the two are complementary; art may be enriched by accurate knowledge and science by the aesthetic and emotional power of art. More generally, creativity can foster new scientific insight as much as it may release new artistic perspectives. Attention and a willingness to see beyond received conventions are crucial to both good science and good art.  When it comes to climate change awareness, the emotional reach of art can sometimes break through our defensive impulse to look away from what alarms us.
While maintaining a clear sense of artistic freedom from necessarily realistic and exact rendering, the artists participating in Uprooted expanded their appreciation of the commonalities between their enterprise and that of their natural scientist collaborators: they remarked that both artists and scientists cultivate our ability to think creatively in order to make connections; and they noted in the two groups' observation and recording of natural phenomena a similar tenacity, curiosity, and respect. 
Working in alliance with climate science, contemporary art may convey the stakes of environmental threats or environmental injustice in ways that strike people's emotions or simply catch their attention. Botanist Evan Eifler remarks, "it's refreshing to see paintings of a plant community that are botanically accurate—with the appropriate species depicted together. … There should be more art like this so we can educate the public on many levels, directly through science education and indirectly by training the eye through art and aesthetics."
Eifler's comment highlights the importance of drawing upon all possible ways of knowing, seeing connections, and allowing meanings to resonate in order to address climate change. The challenges we face and the changes we need to make will require all of our resources.