The creative sector of Northern Wisconsin, prior to the pandemic, was supported primarily by visitors searching for escape and enchantment. And when these visitors stopped coming to the South Shore—home to the Apostle Islands Lakeshore, Lake Superior Big Top Chautauqua, a host of beautiful beaches, and quaint shops and galleries—stores shuttered, and art fairs and performances were canceled. The region's artists, artisans, and food producers retreated to their barns and studios to contemplate the future. In those dark days, Erin Hutchinson, an entrepreneur and consultant from Herbster, hatched an idea that created new possibilities for this unique community.
"In 2019 I was having conversations around this idea of a locally sustainable economy," says Hutchinson, who has experience helping launch small businesses and tech start-ups. Inspired by these discussions, she founded two new businesses, Bark Point Ventures, a property management service for short-term rentals of lakefront and woodsy vacation properties, and Authentic Superior, a nonprofit for creative producers in the South Shore region.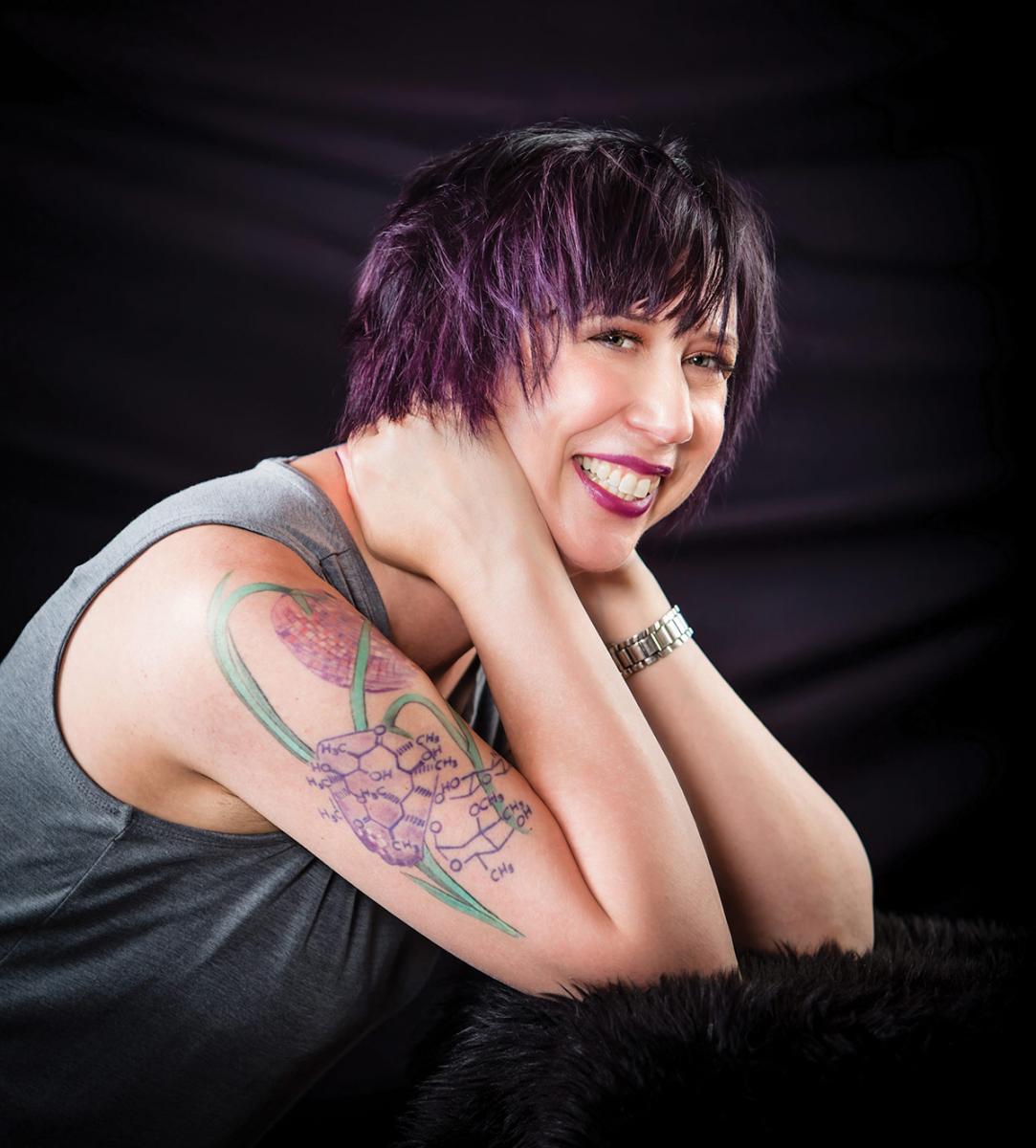 The property management service offered safe short-term lodging during the pandemic, which helped revitalize visitor traffic. The service also provided an Honor Bar at each rental property, which is what jumpstarted Authentic Superior. Rather than liquor and soft drinks, the Honor Bar included an array of locally produced, non-perishable goods such as books, homemade soaps, organic skin products, and honey. In 2021 the bar expanded to include Community Sustained Agriculture (CSA)—locally sourced fresh vegetables, fruits, cheese, meats, and fish delivered to the doorsteps of those short-term rentals.
One of the farmer-producers, Claire Hintz of Elsewhere Farm, recalls, "I probably had a couple CSA shares of vegetable boxes going out every weekend all summer long." And once people were masked and vaccinated, they came directly to the farm to pick up fresh eggs, pork, and sausage for their home-cooked meals. 
Because of the success of the Honor Bar, Hutchinson fast-tracked Authentic Superior. During the first year (2020) she established a brand, a logo, nonprofit status, and a virtual marketplace featuring 30 South Shore creative producers. In 2021 the marketplace expanded to 100 creative producers with another 100 joining in 2022. 
During the summer of 2020, when the annual Herbster and Cornucopia art studio tours were canceled due to the pandemic, Hutchinson provided virtual tours by filming artists in their homes and posting the videos on the Authentic Superior website. 
A tireless advocate for creative producers, Hutchinson receives no salary for her work, which includes managing marketplace orders that in the first year grossed $30,000. All of the proceeds are distributed to the producers. 
By 2021, Hutchinson was exhausted. She experienced debilitating health issues that slowed her down considerably. To support her passion project, she applied for, and was awarded, a Rural Generator Fellowship in August 2021 by Springboard for the Arts in Minneapolis. The fellowship allowed Hutchinson to step back a little and delegate more as volunteers begin to share the load. She explains that these two-year fellowships support artists, makers, and grassroots organizers who are advancing the role of art, culture, and creativity in communities of 50,000 people or fewer across the Upper Midwest. Recipients receive $10,000 and opportunities to attend retreats with other fellows. 
"Everything we do at Authentic Superior has been based on what the creative producers have said they need," says Hutchinson who, after her first retreat in October, has more ideas percolating. "I've spent a lot of time connecting with other organizations, like Chequamegon Bay Area Arts Council and UW Extension, finding out what the economic development folks are doing and what ways Authentic Superior could help bring more revenue and economic development to create a more locally sustainable economy."
Hutchinson's big dream includes establishing a worldwide distribution network for creative producers while simultaneously reducing the carbon footprint of well-meaning visitors who unwittingly threaten the very places they love. This has happened elsewhere around the state and could happen in places like Bayfield, where Applefest brings over 60,000 people in one weekend to a town with a population of 520. 
"I want to build relationships, which is part of the initial development with the marketplace, on a smaller scale. Then we can provide a wider distribution network surrounded by sales and marketing support," says Hutchinson. 
By December 2021, Hutchinson had updated the Authentic Superior website with new offerings for Christmas shoppers, ranging from textiles, jewelry, fine arts and crafts, to gift baskets containing local food items. Sales have ebbed and flowed during these first two years with high points such as a large order from Google for Christmas gift baskets distributed to employees. 
In January 2022, Hutchinson continued to tweak the website, adding a creative producer directory and comprehensive events calendar. She's also looking into using Rural Generator funds to open a physical location with a storefront, warehouse, distribution center, and a learning center for producers to share ideas and improve their business and marketing skills. 
The authentic part of Authentic Superior was inspired by the magic and natural beauty of the South Shore of Lake Superior. But the true meaning lies in the hearts, hands, and stories of the people. Here are some of those people and their stories.
Erin Hutchinson's parents both came from farming families. She spent half of her childhood on her mother's six-generation dairy farm in Ohio and the other half in Madison, where her father worked as a professor at the University of Wisconsin. 
"We grew up doing chores and learning how to milk. My grandpa was actively farming most of my childhood. My mom's whole family lived within a few miles of the family farm and were still farming. She wanted to make sure we grew up in that environment." 
Hutchinson learned how to bake, and she crafted wedding cakes for her rural community. She graduated from high school two years early, at age 16, and became an assistant baker. She later attended clown college through UW–Madison Extension, earning a certificate in clowning.
By her early 20s, Hutchinson had helped launch two food service businesses, a café, several clothing stores, and a small video chain. She went back to school and earned a degree in creative writing and a doctorate in clinical psychology. Each step of the way, she learned more about people, business, and how to trust her instincts, which were to stay open to life and its possibilities, whether dressed in a clown suit or moving to California to help launch a software company, which she did in 1998. Following her instincts again, she started a design and marketing firm in Minneapolis, Narrative Shift, which often required "escape and enchantment" trips to the South Shore of Lake Superior. Finally, her instincts guided her to purchase a home on Bark Point in 2017, where she's been working her entrepreneurial magic ever since, gathering creative producers on the South Shore into an Authentic Superior family. 
Thomas (Tom) and Elizabeth (Betsy) Peacock joined the Authentic Superior family in 2020. Tom and Betsy are a husband-and-wife, author-publisher team who have ties to the Red Cliff Band of Lake Superior Chippewa. Betsy's father was from Red Cliff, where she's an enrolled tribal member. Tom's father was also from Red Cliff, and his mother came from the Fond du Lac Band of Lake Superior Chippewa. Tom grew up in that community and is an enrolled tribal member. Today the Peacocks live in the town of Russell near Red Cliff.
Upon retirement, these professors at the University of Minnesota-Duluth started Black Bears and Blueberries Publishing, a nonprofit focused on Native-themed children's books by Native authors and illustrators. The company is the first of its kind in the nation. 
They published their first books in 2019, Rez Dog, Grasshopper Girl, and Gitige, and received permission to sell Tom's books, which are published by other companies. 
"Our biggest customers are schools, and in the Twin Cities at Birch Bark Books and Hennepin County Library," Betsy reports. "We have books in almost every state, including Canada, mostly in libraries, schools, bookstores, and gift shops."
Each Peacock plays a role in the business: Tom as writer and editor, Betsy as editor, publisher, and marketing genius.
"Betsy's relentless. She has sold more books than the bookstores," says Tom, who spends most of his time writing books. "When I left academia, I ran out of things to say with the Ojibwe history and culture books, which I did for years. But I still had new stories in my head that I needed to put down and thought I could get the same message across by doing fiction, which I find much more enjoyable and a lot easier." 
While Tom writes fiction, Betsy oversees the business. "I was concerned in March 2020, when the pandemic hit, because we had four new books coming out and 1,500 copies already printed of each one. Since book signings and book events were canceled, those books went into our bedroom," Betsy explains.
The Peacocks isolated, and Betsy went right to work contacting past customers and looking for new ones. 
"It's quite different from going face-to-face and having the books in hand. But sales were amazing," she says.
In 2020, they published Takoza, Boy from Pickerel Lake, and Animals of Turtle Island, books in which animals speak in Dakota and Ojibwe. In Rabbit and Otter Go Ricing, the story is told in English and Ojibwe. In 2021 they published 14 more books, including Voices Rising, an anthology of work by Native women writers. They also ventured into the adult market with artist Sam Zimmerman's Following My Spirit Home, an art book with stories to accompany his paintings. 
Betsy explains their business model. "We are nonprofit. Our business has grown and we even have our books on Amazon. But our authors have rights to their books and can order them anytime. They receive full proceeds on all sales."
In the first weeks of the pandemic, Hutchinson reached out to the Peacocks to invite them to participate in the Bark Point Ventures Honor Bar. Later they also joined the Authentic Superior marketplace. The Peacocks appreciate the community spirit of the organization. And Hutchinson appreciates the way this couple roots their business in Native values with a commitment to equal opportunity for all their artists, something she aspires to with Authentic Superior. 
Women represent the fastest growing demographic in agriculture. In 2019, the USDA reported that 51 percent of farming operations had at least one woman operator, and that 36 percent of small farms in the U.S. are owned and operated by women. At least three of those women live on the South Shore of Lake Superior, women who sustainably transform tough landscapes into verdant ecosystems rich in bio-diversity. One of them is Dr. Claire Hintz of Elsewhere Farm in Herbster. With advanced degrees including a doctorate in sustainability education, Hintz could be teaching at a university. But she chooses to farm because growing food, she says, is the most tangible, edible response to the problems of the world.
Located in the frost belt at the bottom of pro-glacial Lake Duluth, Elsewhere Farm consists of 40 acres of clay loam soil. Since purchasing the property in 2000, Hintz has turned these acres into a permaculture farm with a unique, hand-dug market garden modeled after chinampas, a traditional Mexican form of wetland agriculture. Elsewhere Farm is a thriving CSA-based operation with 700 fruit and nut trees, a wide variety of shrub fruits, a market garden featuring heirloom and open-pollinated vegetable varieties, a greenhouse, a hoop house, and an herb and flower garden. Elsewhere Farm is also home to 160 laying chickens, 21 Guinea hogs, and at the heart of it all, a classroom where, before the pandemic, Hintz hosted a variety of workshops. Since the pandemic, life has changed on her farm, she says, and for the better.
"I've been working from home and doing home deliveries now for a year and a half. I love it. I connect with friends online, and go to conferences that way too. Life is great," she says. In 2020, Hutchinson invited Hintz to join the Honor Bar to provide CSA boxes to her Bark Point Ventures customers. This income helped compensate for Hintz's lost farmers' market sales during the pandemic. 
"Authentic Superior gives us a chance to show off the character of our little corner of the world in all of its diversity, and the products of our hard work and tenacity, living in the beautiful cold far north. That's the biggest gem of this project." Hintz says Authentic Superior is a boon for the area, "because we're all organized under one banner, which means we're more able to attract grant dollars for some of the development that we want to do that preserves the character of the region."
Authentic Superior, she says, is equivalent to the Fair Trade concept in the international marketplace, helping to provide a livelihood for farmers and artists making locally produced products. 
"We started out being involved in Authentic Superior as a way to market our products. Now that we're all connected, we have the relationships to go after other issues that might otherwise be obstacles to developing our small businesses." 
Hintz is ready for spring, which brings more CSA boxes to pack and deliver, more piglets, more chicks, and more of everything on this ever-expanding, crazy-quilt permaculture farm.
Mosaic artist, Rebecca Campbell, joined Authentic Superior in 2020. "It's such a strong builder of community and brings so many people together. It's not a competition, because the intent is to build everybody up and give everyone an opportunity to show their work and sell it. 
Campbell was an art teacher in the Ashland School District for 30 years. "I started making mosaics in about 2002 while teaching a class to my students. Before that, I was a painter. I still paint but since my retirement in 2015, I cover my paintings with tiles."
Cobalt and Caribbean blues. Moss green and herringbone. She jigsaws her tiles into complex images that reflect the light and beauty of her 60-acre homestead. Campbell works from series of photographs, which she combines into one composite image. Often, she repeats a theme in her paintings, like pieces of broken china whose pattern once contained an entire song with musical staff, notes, and a time signature.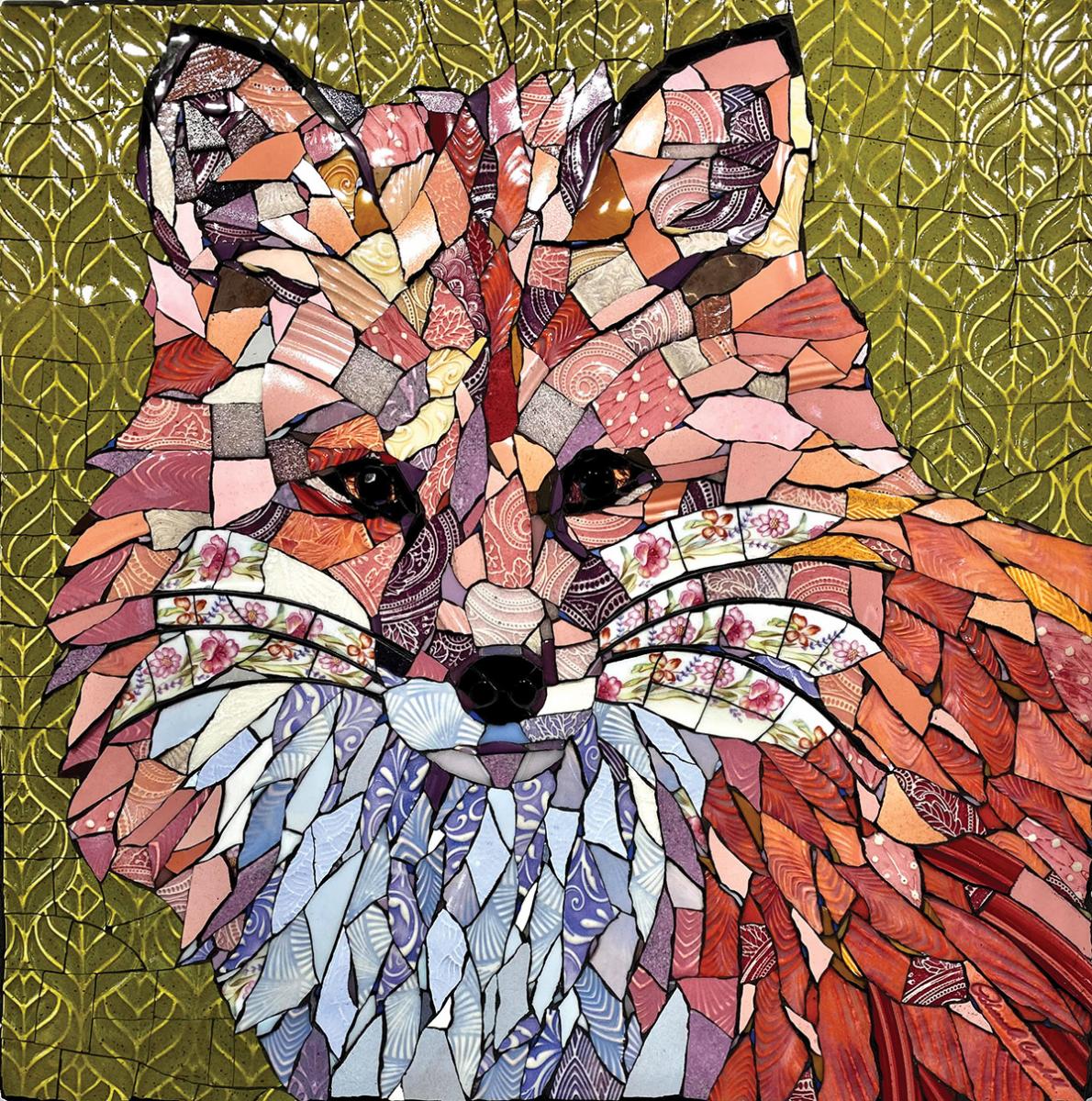 "I was walking in the woods with my granddaughter one day, when she was two and a half, and she just started singing a song. When she was done, I asked her, 'Where did you learn that song?' She looked at me like I was an idiot, and said, 'In the woods.' These pieces always go into my woodland landscapes."
Campbell has sold quite a few paintings through the Authentic Superior portal. After seeing her work online, some customers have contacted her directly, visited her studio, and then returned home to make purchases through Authentic Superior. 
Dale Paulson worked in the north woods as a career sawyer and logger. After retirement he took up beekeeping with his wife, Cathy, and wooden bowl-making. He had noticed the beauty of wood when he was cutting down trees for a living. "What I like to do is find quality character pieces. I'm always looking for them while logging or after a storm," he says in a video Hutchinson made during the canceled 2020 Herbster/Cornucopia art tours.
He's still using wood today from trees downed in a tornado in 2019. He prefers birch, and maple, which works best for "spalting," a coloring technique that employs the natural decay process in wood caused by white rot fungus. The result, which takes two years to achieve, looks like frothy whipped cream stirred into espresso.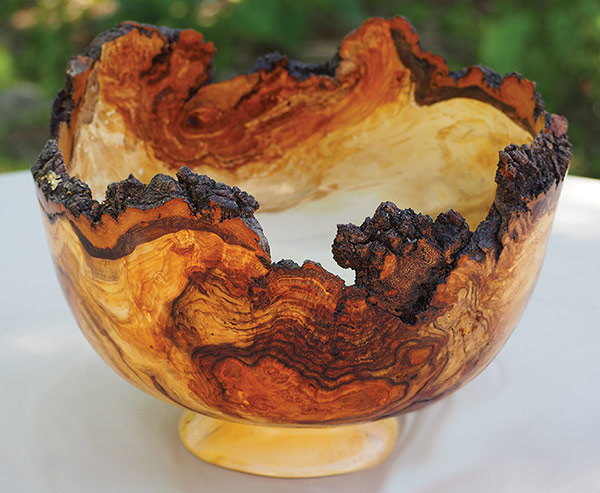 "I'll shape a bowl from a piece like this one (an un-spalted bowl), and bury it in this sawdust pile over here, which will preserve it. But, also, the fungal mycelium is working at it to make some nice decorations." 
No felled tree goes to waste in his woods. "I let Mother Nature work on it for a year or two. She'll put her design in it, and it's my job to expose it." 
Erin Hutchinson also lets nature take its course with Authentic Superior. Last fall she met and collaborated with Nicole Foster, Assistant Professor of Sustainable Community Development at Northland College, who has brought new elements to the organization. Together they hosted a series of listening sessions in the community to find out what creative producers need to improve their economic situation.
"We heard people saying, 'We need this force that helps connect us all and that supports growth for everyone,'" Hutchinson recounts. "It's like when you have a new tree or a new plant, you need to have a stake to support its growth…we want to help that tree grow and get its branches out into the world."
With the arrival of Authentic Superior, more opportunities for growth have taken root for the creative sector of Northern Wisconsin, including an award from Google worth up to $10,000 a month of free advertising, indefinitely, to help attract more customers worldwide. Hutchinson is planning a series of outdoor art-focused events and studio tours this summer to further support this creative community, making their work available both to those visitors who travel to Lake Superior's enchanting South Shore, and those who visit virtually.