Whether she's working in textile, collage, or photography, Sharon Kerry-Harlan makes art that buzzes with life and energy. The Wauwatosa-based artist is best known for her unconventional pieced quilts that set bold, graphic shapes and patterns against a background of subtle color and lively stitched line. Her quilts are dominated by funky, off-kilter geometric designs that mingle freely with stark, staring faces punctuated by flowers, hands, birds, small figures, and the occasional word. These dazzling compositions tease the eye, drawing one's attention from fine details to the big picture and back again.
Many of Kerry-Harlan's quilts and mixed-media works focus on the drama of a single face, arresting viewers with an uncompromising gaze. Although she lives and creates art in a quiet Milwaukee suburb, Kerry-Harlan is drawn to the activity and crush of unfamiliar people in the big city. "The mass of human faces in the crowded urban environment intrigues me," she says, 'especially what they reveal to the world and what they disguise from the world." This dichotomy is reflected in Kerry-Harlan's mask-like faces that rarely reveal more than the hint of a smile. With expressions of dignity, wariness, or resignation, they offer a sober counterpoint to her dynamic, playful approach to design. 
A slight, elegant woman with a dry sense of humor, Kerry-Harlan has been active as an artist for most of her life, drawing, taking photographs, and making collagesand quilts. Her quilts, in particular, have received international attention and have been included in exhibitions at the Nelson Mandela Gateway Museum in Cape Town (South Africa), the Smithsonian Institution's Renwick Gallery, the Museum of Art and Design in New York, and the Milwaukee Art Museum, to name just a few.
Kerry-Harlan learned to quilt from her mother, a woman determined to give her children the best possible education. Attending academically rigorous boarding schools in Ohio and Louisiana that emphasized art and culture, Kerry-Harlan realized early on that she wanted to be involved in art. She was also inspired by the example of her uncle, Marion Sampler, a successful graphic designer, painter, and collage artist based in Los Angeles. Recently retired from Marquette University, she is free now to dedicate her days to making art, and splits her time between her home and studio in Wauwatosa and those in her hometown of Hollywood, Florida.
When she began working with textiles, Kerry-Harlan found the range of patterns available in commercial fabrics limiting. So she decided to design her own, experimenting with dyeing, painting, and silk screening to create yardage that suited her needs. Eventually, she settled on discharge dyeing, a process that uses an agent like diluted bleach to discharge (remove) dye from colored fabric to create a pattern. On black fabrics, discharge dyeing creates warm, earthy browns and orange tones that contrast beautifully with the original color. The process is simple, but it must be timed precisely, and, since Kerry-Harlan makes 10 to 15 yards at a time, it can be quite labor intensive. "I have to lay it all out on the floor, and the design work requires real focus," she says. "I need seclusion and quiet so that I can get it all done in sequence and on time." 
She's also fond of rust-dyeing fabric, a technique that transfers the imprint of rusted metal to her yardage. Collecting discarded auto parts, tools, and other implements, she wraps them in fabric, ties them tightly (it helps to do some "crunching and scrunching," she says), dusts them with salt, sprays them with vinegar, and leaves them to bake in the sun for several days before rinsing the fabric clean. For Kerry-Harlan, the rust-dyed yardage carries memories of working people from the past. "I like to think about who used [the rusty items], who touched them, and I like knowing that their handprint or signature is somehow embedded in the fabric that will be sewn and quilted and painted on. I love preserving the history of their imprint in my work."
Whatever technique is used, the yardage Kerry-Harlan creates is not an end in itself. After their initial transformation, her fabrics are cut or torn into strips, recombined and reassembled with stitches, and often embellished further with paint, beads, or found objects. She begins by placing a few patterned pieces on a design wall, gradually adding and subtracting elements until she's satisfied with the complete design before sewing it together. It's an intuitive and improvisational process, and fabric strips or blocks that do not make it into one piece often turn up in another down the road.
Once the fabric is pieced together, Kerry-Harlan typically uses machine stitching to emphasize shapes and layer the work with line. She may add a button or a bead here, a safety pin there—usually just a few, although some of her newest work is thickly encrusted with beads and found objects—and she often leaves the frayed edges of fabric visible, lending a textured contour to the seams between each block.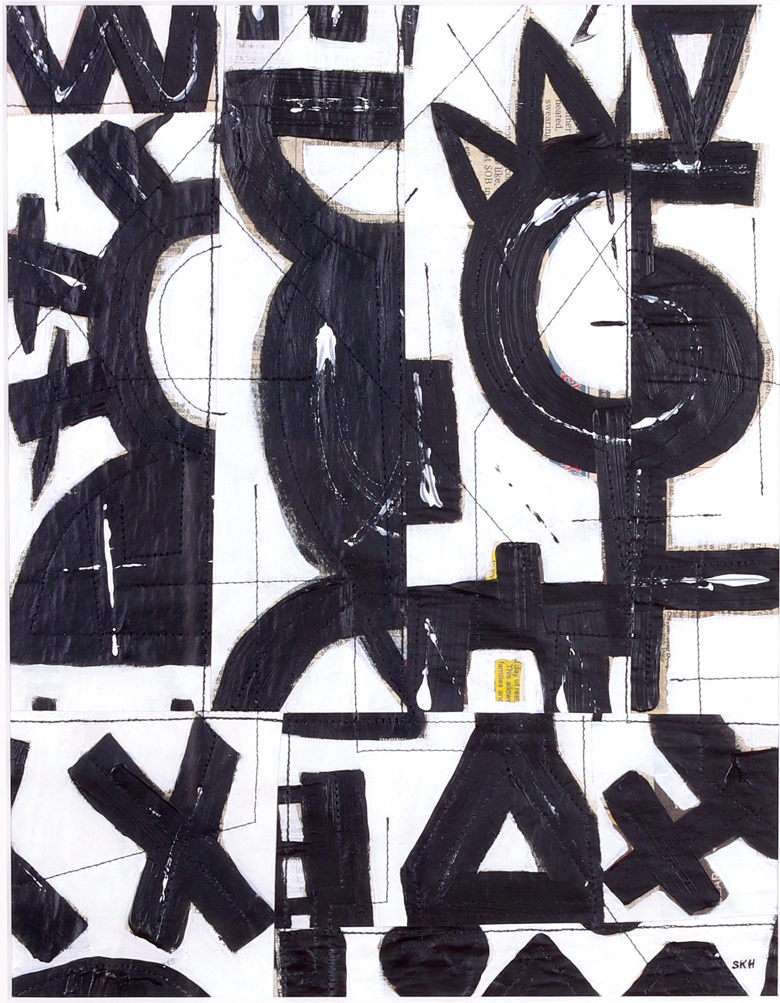 While much of Kerry-Harlan's imagery is purely abstract, her geometric elements, faces, and figures often draw inspiration from West African sculpture, masks, hairstyles, and textile design. Like the rusty shovels and engine parts that carry imprinted traces of their owners' lives, the art and artifacts of West Africa imbue Kerry-Harlan's work with a form of ancestral history. Her pieces carry a complex burden of references and associations, calling to mind African artists of the 19th and early 20th centuries, the profound influence of African art on early Modernism, and later black artists like Loïs Mailou Jones and Romare Bearden who actively claimed classical African art as both heritage and inspiration. Through Kerry-Harlan's work, African motifs become abstractions that convey her artistic identity and respect for her cultural heritage. 
Kerry-Harlan's mixed-media collages are typically even more abstract, although their titles and imagery often reference contemporary Black American life. She approaches paper collage much as she does her quilts, painting large sheets with broad strokes and bold patterns before cutting or tearing them into raw material for collage and gluing or stitching them together. A collector by nature, Kerry-Harlan draws on her stash of antique letters, advertising, envelopes, and stamps, incorporating them into the paper she's painted. The resultant collages feel raw and direct. Dominated by stark black ink and white paper, these collages echo the sense of urgency found in her quilt work on a more intimate scale. 
Although she has favored an earthy black and brown palette for many years, these days Kerry-Harlan is branching out with bright color in two directions: a series of fabric dolls she calls Black Eyed Peas and the startlingly intense Painted Portraits, which are framed with vividly patterned African print fabrics.
Inspired by a doll-like figure she saw at the National Museum of African Art in Washington DC, she made the Black Eyed Peas with scraps from her own yardage designs, silk screened and painted in seemingly endless variations. They are clearly human, but their features are often ambiguous. Letters and numbers often share pride of place with swaths of black dye. Kerry-Harlan likes to display the Black Eyed Peas in generous groupings, like families of similar but strikingly distinctive individuals. Hung in a dense grid, they seem to bring the faces and figures from her quilts and collages into a higher relief.
Whereas the Black Eyed Peas are closely related to her two-dimensional work, Kerry-Harlan's radically different Painted Portraits represent a personal response to the vibrant Afrofuturism found in the 2018 film Black Panther, which features positive images of black people imbued with agency and power. "I came out of that movie with a sense of energy and optimism that I had not felt for a long time," she says. "I knew at that point I was going to create something that exemplified, at least for me, that sense of energy."
Drawing on her collection of African print fabrics—and thinking, too, of her childhood fascination with comic books—she began to envision portraits of strong black men and women, surrounded by vivid color and vibrant patterns. "I wanted it to look like you were walking down a gallery of family portraits, with something like the strong presence of the African women in the film," she says. 
While the classical African motifs in much of Kerry-Harlan's work denote ancestry and tradition, the print fabrics in these portraits celebrate contemporary African life, fashion, and design. For Kerry-Harlan, they also suggest the power of narrative. "These fabrics have a history of storytelling, in that women often weave stories around the patterns that are in the fabrics. I liked the idea that the Black Panther movie was storytelling about the future, while my African fabrics are often telling stories about the past."
In these audacious new works, the faces of Kerry-Harlan's subjects still offer just the barest hint of a smile—but they pulse with life and hope.