There is so much in the wider world that needs repair right now. It can feel impossible to respond in a meaningful way or identify the tools and skills that might make a difference. We tend to place our hopes in big, outside solutions, like a new administration, a radical new technology, or even a new planet. But small, local efforts really do spark change, and taking a situation in hand builds agency, confidence, and power. Whether it's fixing a wheelchair, restoring a wetland, mending pants or mending a heart, the quiet work of repair sends out ripples of hope. It's a reminder that most often, the way forward means taking one small step at a time.
This exhibition at the James Watrous Gallery features textile works by Heidi Parkes and sculpture by Glenn Williams, Siara Berry, Sylvie Rosenthal, and Jaymee Harvey Willms, artists whose work touches on diverse aspects of mending and repair. Parkes' wonderfully idiosyncratic hand-sewn quilts are often imbued with the work of emotional or physical healing. She also offers mending for family, friends, and clients, using bold, expressive stitches that transform well-worn clothing into wearable works of art. Williams' poignant Prosthetic series explores the complexity and the limitations of assistive devices which, while transformative for users, can also present their own challenges. His architectural works reflect the seemingly intractable challenge of housing insecurity with admirable economy, quietly underlining both the injustice and the obvious solution for the unhoused.
Siara Berry also offers a critique of American housing systems, incorporating real estate signs and welcome mats to raise questions about access, affordability, and other barriers to home ownership. Her sculptures of brooms, mops, and dustpans address messy household situations with a more personal lens. With multiple handles and forms or materials that frustrate their function, they conjure both the effort it takes to resolve an unsettled domesticity and the need to work together to repair old conflicts.
Sylvie Rosenthal is grappling with a sculpture of huge wooden hands she made years ago that recently came back to her studio. Its commission was severely complicated by an old, unhealthy relationship, and getting it back unearthed a tangle of feelings. Rather than bury the piece in deep storage, Rosenthal has embraced the opportunity to refurbish and reclaim it. This act of physical and emotional mending is a natural adjunct to her practice: she also teaches classes in repairing and altering old furniture. For Jaymee Willms, a personal tragedy led her to shift from painting to sculpture, breaking and reworking found objects in a conscious project of mending her family's experience. Willms' mended lamps are lopsided melanges of bric-a-brac laced with scars, yet they have a peculiar grace; and they work, shining light on the possibility of renewal and repair.
I hope this exhibition will inspire you to think about the repairs you might make in your own lives and communities, one stitch or one step at a time.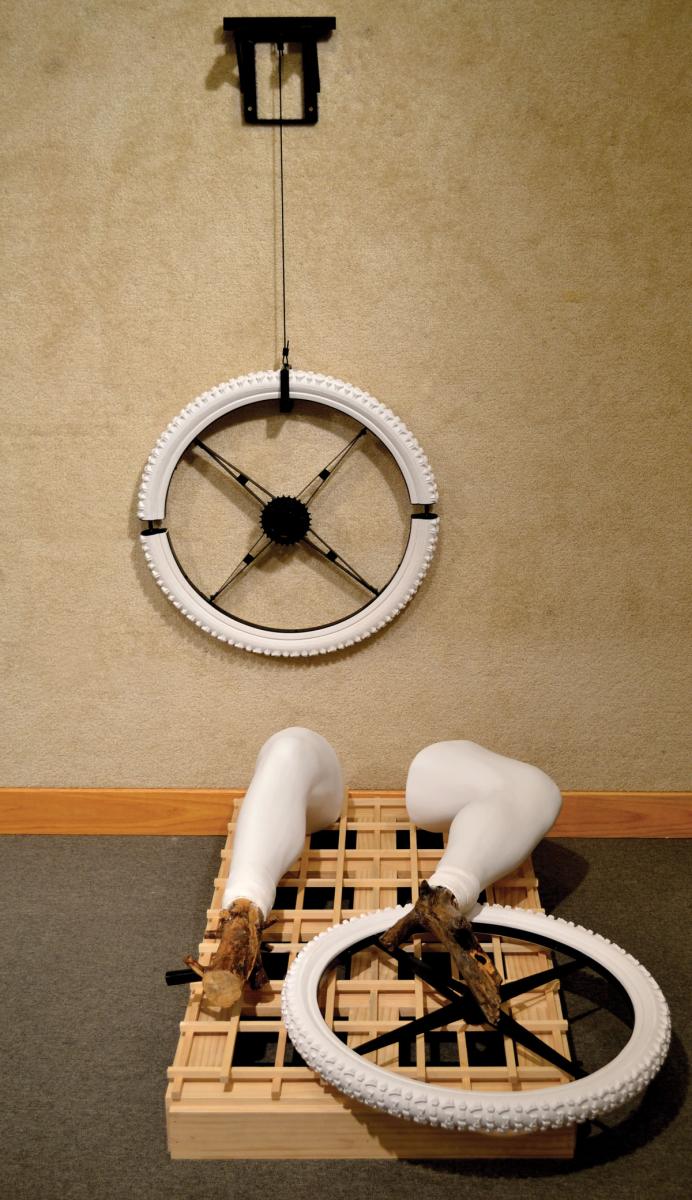 Glenn Williams received his M.F.A. degree from the University of Wisconsin-Madison with a specialization in Sculpture. In his work he explores various social constructs and their impact on our perceived realities. He deconstructs, reconstructs, and sometimes simply reflects various accepted mores to expose how they shape our understanding of the world around us and influence our interactions on a social, political, and environmental level. Williams' work has been exhibited in numerous invitational and juried exhibitions throughout the United States, such as Franconia Sculpture Park, Lynden Sculpture Garden, and the Indianapolis Art Center. Currently, Williams is an Associate Professor of Art and Area Head of the Sculpture Program at the University of Wisconsin-Milwaukee.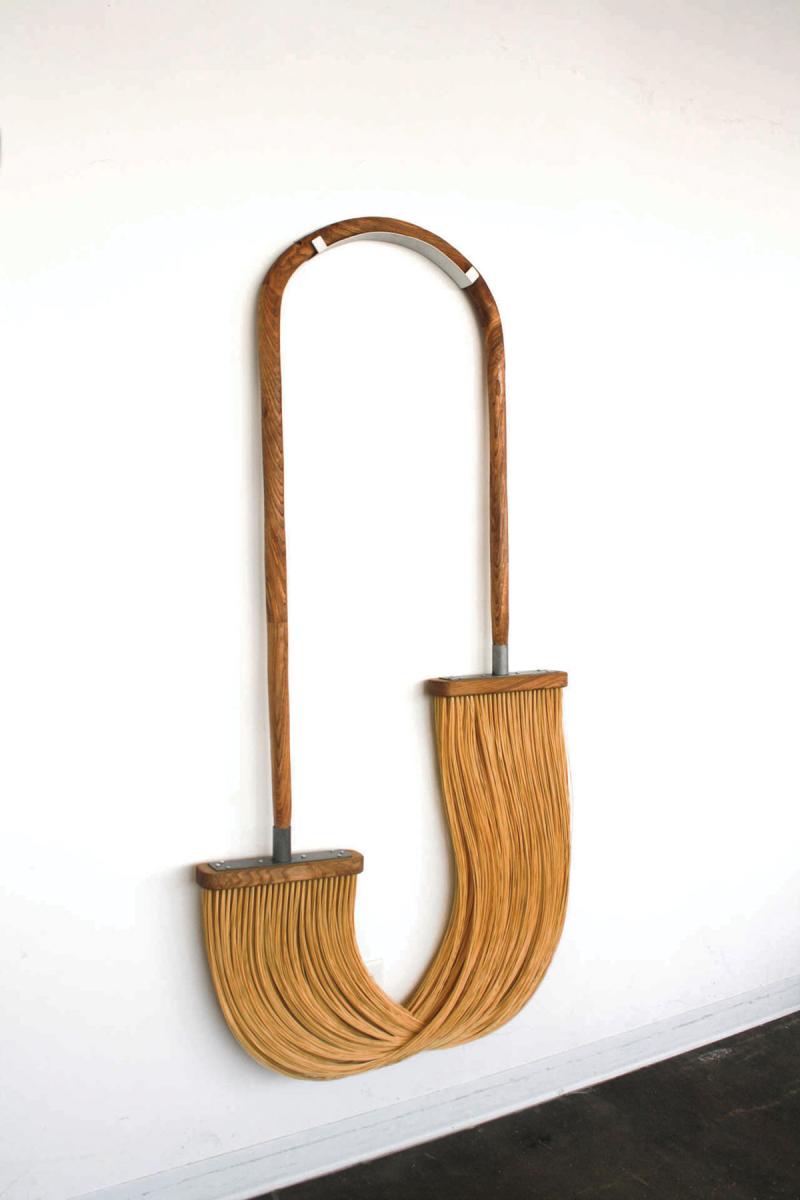 Siara Berry is a sculptor working in a wide-array of mediums; ranging from woodworking to soil, concrete to found objects. In 2015, Berry graduated from the Kansas City Art Institute holding a degree in Sculpture and Creative Writing and has since been working and living in Milwaukee, WI. Berry is the recipient of the 2022 Career Advancement Grant awarded by the Center for Craft, Creativity and Design and in 2023 was awarded the Mary Nohl Fellowship as an Emerging Artist. Her work has been exhibited throughout the Midwest, including Women Made Gallery in Chicago, IL, the Museum of Wisconsin Art in West Bend, WI, Manifest Gallery in Cincinnati, OH as well as various Milwaukee-based galleries. In addition to her art practice, Berry serves as the Arts/Industry Program Director for the John Michael Kohler Art Center.
Heidi Parkes' wonderfully idiosyncratic hand-sewn quilts are often imbued with the work of emotional or physical healing. She also offers mending for family, friends, and clients, using bold, expressive stitches that transform well-worn clothing into wearable works of art.
Sylvie Rosenthal started building at age six at an experimental design museum where she made circuses, catapults, rockets, and robots. She received a BFA from RIT's School for American Crafts in Woodworking, built two houses from the ground up with her mentor, Doug Sigler, in western North Carolina, and received a MFA in sculpture from the UW–Madison. She owns and operates Lower Astronomy Studios, a design, sculpture, and woodworking studio in Madison. Sylvie teaches woodworking and design thinking in many settings, such as university and college programs, craft school workshops, to children in the studio, and virtually. She recently finished her service on the board of trustees and is still an active supporter of CERF+, the Artists' Safety Net, which helps artists build strong and resilient careers.