Iowa residents are known to drive for hours to buy it. In Illinois, a friend isn't a friend if they return from a weekend Up North without a six-pack of it. And bars from Minnesota to New York have been busted for illegally selling it to die-hard beer fans.
Back in Wisconsin, Spotted Cow is found in beer coolers and on draft from Bayfield to Beloit. This award-winning farmhouse ale ranks among cheese curds and the Green Bay Packers as a point of pride for our state, and it is one of a dozen—six annual and six seasonal—handcrafted beers made by the husband and wife team behind New Glarus Brewing Company.
Dan and Deb Carey's partnership reflects a couple content in their business roles. An artist of hops, barley, and yeast, Dan Carey has earned the highest accolades of his craft. Deb is the hard-nosed marketer and entrepreneur who in 1993 became the first woman in the United States to found and operate a brewery. For over twenty years, the Careys have thrived by making great beer in Wisconsin, for Wisconsin, and by running a business that values quality and community above all else.
Breaker of Barriers
At heart, Deb Carey is an artist. While she paints for fun in her spare time, she draws on her background in art and design to craft labels for each New Glarus beer, complete with a short story behind the beer. For Spotted Cow she went whimsical, drawing a cow leaping over an outline of the Wisconsin map, a label that is iconic now, but was mocked when she first placed it in front of barkeeps. Customers were just used to Bud, Miller Lite, and Schlitz, all beers with boldly worded labels.
The idea for Spotted Cow came to her while driving around the English countryside with Dan in 1995 and admiring the free-roaming sheep. What's more Wisconsin than spotted cows roaming in a field? she thought. When the two returned home to their fledgling brewery in the tiny town of New Glarus (about a half an hour south of Madison), Dan began work on a cloudy, yeasty farmhouse ale that could live up to the name.
The final product was unlike anything else found on tap or shelf in the mid-1990s (Leinenkugel's Red was about as exotic as it got back then). But who would buy it? Deb was convinced that Wisconsin was thirsty for a beer with a terroir, that people were tired of marketers telling them what they wanted, and that many would be willing to pay a premium for authentic products made by their neighbors. She foresaw the future of the beer market, one that looked very different from the one dominated by slogans like "Tastes great, less filling."
But the future hadn't yet arrived, and the male-dominated world of the beer distributors and tavern owners wasn't quick to accept a thirty-something, blond brewery owner who spoke her mind. Deb says that many in the Old Boy's Club were more accustomed to seeing a woman on a beer poster than hearing one tell them about what it takes to make a consistently excellent beer that would create a loyal customer base. She still recalls a bar owner asking incredulously, "Lady, do you really think a man is going to walk in here, sit down at my bar, and order a beer called Spotted Cow?" 
 "It was a struggle, it was really difficult," Deb says as she recalls the challenges she faced. "But I decided that every day, I'm going to fight the good fight. I'm going to talk about beer intelligently and eventually they're going to have to respect me."
Soon bar owners were getting requests for that amazing beer with the funny name. As the beer grew more popular, those that dismissed her were soon calling and begging for the unmistakable Spotted Cow tap handle. "I always say that Deb can see around the corner," Dan says. "People who are really good at chess play five or six moves ahead. That's what Deb does in business."
In time, Deb's business credentials would become unquestionable, and New Glarus Brewing Company would grow from a small craft brewery to an industry powerhouse, generating over $41 million in revenue in 2015 alone. Along the way, Deb was named Wisconsin Small Business Person of the Year by the U.S. Small Business Association in 2011 and named a Champion of Change by President Barack Obama in 2011. 
Deb says that New Glarus Brewing Company is a success today because of an investment not in neon signs or big marketing campaigns but, rather, in her husband Dan and his commitment to crafting quality beer. 
The Beer Geek's Beer Geek
If we are in, as many say, the Golden Age of Craft Brewing, Dan Carey is definitely beer royalty.
New Glarus Brewing Company was only three years old when Dan Carey won a Gold Medal in 1996 for his Wisconsin Belgian Red at the Great American Beer Festival, the nation's premier beer showcase. In 2005 and 2006 Dan was named the festival's Brewer of the Year, and many more awards followed. While Dan's carefully crafted beers quickly earned acclaim, his successes are the culmination of more than a decade of arduous study and experimentation.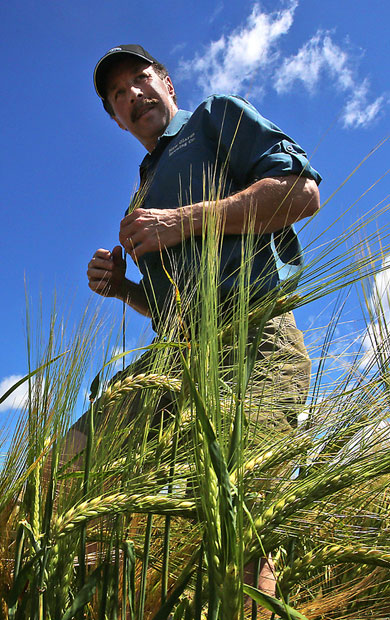 A San Francisco native, Dan earned a degree in food science with an emphasis on malting and brewing science from the University of California–Davis in 1983. A stint at a Montana brewery followed, where he met Deb, a single mom doing freelance graphic design projects for the brewery. They were married after Dan landed a job as a production supervisor at Anheuser-Busch, and the two moved their family to Fort Collins, Colorado. 
While working for Anheuser-Busch, Dan continued his study of brewing science. Dan recalls often leaving work and driving over an hour to Golden after work to study in Coors Brewing Company's extensive brewing library. "I was employed by their major competitor, but they were gracious enough to let me study in their library for two hours a day," Dan says. "I did that for a year, every single day, studying for the Master Brewer examination."
In the United States there aren't any legal requirements to become a Master Brewer, but in Europe the title requires an arduous course of study and apprenticeship. Dan had already claimed the valedictorian title for the Course in Brewing Technology at Chicago's Siebel Institute, the nation's oldest and most prestigious brewing school, when, in 1992, he traveled to London's Institute of Brewing and Distilling to take the Diploma Master Brewer examination. Today he is one of few Americans to pass that exam and claim the title of Master Brewer. 
 "He's a beer geek's beer geek," says Brian Yaeger, an Oregon-based beer writer and the author of two books on breweries. "We're approaching 5,000 breweries in this country, most started by home brewers whose neighbors told them they're good at this and should open their own brewery. A lot have created very good breweries, but they don't have the training that Dan Carey went through twenty, thirty years ago. And he continues to sharpen his brewing brain. He's a true craftsman who understands the science and masters the science."
A Passion for Quality 
Though he has always had a passion for beer and a desire to expand his learning, Dan says he was never interested in opening a brewery. "I worked in the industry, and it's a tough business, a nasty business," he says. "It's a constant knife fight."
But Deb understood how she could turn Dan's gift for brewing into a business that could support their family and cultivate his passion. She proposed a partnership: Deb would raise money to start a brewery, and Dan could make the kind of beer he wanted to make. The catch: It had to be in Wisconsin. Deb drew a large circle around Madison on a map and told Dan to visit the area in February and pick a town where they could build a brewery.
"I figured that if he liked it in February, he'd like it year 'round," Deb says with a laugh.
After bouncing around several little towns, Dan called Deb from New Glarus, a village of around two thousand people that was founded in 1845 by Swiss immigrants. The town retained its old world architecture and reminded Dan of Aying, Germany, the small village outside Munich where he served a brewing apprenticeship in the winter of 1986. Within days they has had sold their home in Fort Collins and put every penny they had into building New Glarus Brewing Company—in a small town in which they had never lived and knew practically no one.
"We had about $40,000, an old warehouse, some very poor equipment, and the two of us," recalls Dan. Looking back on their precarious financial position, Deb says, "We needed to make that brewery work, or go live in our car."
Today New Glarus is producing almost 200,000 barrels of beer per year, making it the twentieth-largest craft brewery in America, and twenty-seventh largest in the world. That growth has come even as they've continually sold their product only in Wisconsin (they sold briefly in the Chicago market but Deb grew tired of the long sales drives and demands of Windy City distributors and tavern owners).
Certainly New Glarus is a large brewery, but Deb despises the industry obsession with barrel production numbers. She cheekily says that, "size is a guy thing," adding that people rarely ask important questions such as, "what is the quality of your beer [or] what is your employee turnover?"
Dan appreciates the brewery's growth, but for reasons you won't hear from many brewers. "For me, what's most exciting is we've reached a critical volume where we can interact with our suppliers and help with breeding of barley, advise and help improve farming and the sustainability of farming,"
Dan says, "For me the future is all about finding the best raw materials. Agriculture is in a state of flux right now, with huge changes going on. For us to be right in the middle of it is extremely important."
But changes are afoot that require smart brewers to look far ahead. "The weather's changing," Dan says. "I don't care what anybody says, things are becoming unpredictable, and with that unpredictability it will become difficult to ensure supply, so I need to be diversified."
Like a chef who visits the farmer's market to find the best ingredients, Dan goes directly to growers to find the best hops for his beers. "To be able to go out into fields and talk to farmers and explain what you want is huge," he says. 
One of the farmers he works with is James Altwies of Gorst Valley Hops in Mazomanie. Wisconsin was a national leader in the production of hops during the mid-1800s, and Altwies has spent the last ten years trying to re-introduce hop farming to the state. Gorst Valley Hops grows about one hundred acres of high-quality hops, much of which is used by New Glarus Brewing Company.
 "Frankly, their standards are higher than any other brewer I deal with," says Altwies. "Very few brewers anywhere actually go to the length that Dan does to select his raw ingredients. He personally picks his hops. He's looking at the color, the physical form of the hops, the moisture content, and the aroma. He knows what he's looking for."
Dan knows that quality comes at a cost, but, like Deb, he believes that people are willing to pay more for a better beer. As with not only his beer ingredients but with food production in general, Dan says that, "in order to get farmers to grow what you want and the quality that you want, you have to be willing to pay for it."
So only the best Wisconsin apples, cherries, and cranberries go into his Serendipity sour ale. His Wisconsin Belgian Red, a cherry ale made with a pound of Door County cherries for every bottle, was indeed the first beer to earn Dan international acclaim.
Community First 
Each year New Glarus draws more than 250,000 people for brewery tours and to sample specialty beers in the sprawling beer garden. Many of the visitors also spill into the town to patronize local inns, gas stations, restaurants, and bars, creating an estimated economic impact of $40 million each year.
"It's done a lot to keep this town thriving," says Susie Weiss of the New Glarus Chamber of Commerce. "It looks like a festival here every weekend now."
When it came time to build a new brewery in 2006, Deb had no interest in the stark industrial look of most new breweries. After a long search for property, she found a plot on a hill overlooking the town. Deb designed the $21 million facility to look like a European village. Rather than a single centerpiece bar, the beer garden sprawls into the hillside, with pouring stations in small Bavarian-style huts spread around the grounds and structures made to look like historic ruins creating cozy nooks to enjoy your beer with a view of the surrounding hills. 
The new brewing facility is meant to last long after they're gone, but they've already built lasting impact in the way they run their business. Dan and Deb offer their eighty employees full health insurance, paid vacation, and matching 401Ks, and, in 2014, they began the slow process of transferring ownership to their employees.
 "Traditionally business is viewed as a vehicle to generate wealth for shareholders," Dan says. "We view our business as a way to create wealth for our employees. I come from Labor. Deb comes from Labor. We understand how hard it is for a person to make a buck. If you put your employees first, they're going to be better to you, you're going to have a better product, and the shareholders will get wealthy in the end as well."
"We employ veterans, single moms, great salt-of-the-earth people," says Deb. "When they get a living wage, they can send kids to college, they can buy a house. …  I'm well aware that things like health care and a living wage can change a person's life."
In recent years international conglomerates like Miller-Coors, Heineken, and Anheuser-Busch have gobbled up several of the country's most revered independent breweries, including Lagunitas, Goose Island, Founders, and Ballast Point, making absurdly wealthy men of their owners. The Careys aren't accepting any offers on New Glarus Brewing Company.
"We're doing something that we really believe in and that we love doing," Deb says. "I can't imagine Dan ever not being in the brewery. If I told him tomorrow, 'you have a lot of money but no more brewing,' he'd be a basket case. What we have now is way, way beyond anything I ever dreamed of."
CORRECTION: New Belgium Brewery was not, as formerly stated, purchased by an international conglomerate. The independent New Belgium Brewery is entirely employee-owned.