I've been working with Wisconsin artists at the James Watrous Gallery for over a decade, and I am continually impressed by how many prominent artists in our state are first-generation immigrants. For this issue of Wisconsin People & Ideas, we asked six of these artists to tell us a little bit about their experiences, and to describe how moving to the United States affected their artwork and their careers.
Interdisciplinary artist Nirmal Raja describes how difficult it can be to find what she calls an "authentic voice," one that can effectively convey an immigrant's dual perspective to a broad audience. Raja explores borders, memory, and the idea of belonging in her art, often weaving culturally specific touchstones together with more universal imagery. Translation, another important theme in Raja's work, is also a major focus for Nina Ghanbarzadeh, whose intricate drawings are literally created with words, built up letter by letter to create visual compositions of transcribed Persian poetry or of her own writings in either Farsi or English. While anyone can appreciate Ghanbarzadeh's drawings visually, only those who can read them can fully understand the deeper meanings behind the drawings.
Mixed-media artist Angelica Contreras draws upon her Mexican heritage for inspiration, especially the traditional folk arts that celebrate holidays and the cycles of birth and death. Working as an interpreter in Madison's immigrant community has encouraged Contreras to embrace her Mexican-American identity even more fully, and has infused her art practice with a sense of responsibility for communicating her native culture. Xiaohong Zhang feels a similarly strong desire to elevate paper-cutting, which is a folk art in China. She describes the tight confines of academic art training in China, where working across disciplines or outside the "fine arts" receives little support. Zhang's artwork fuses Chinese folk traditions and motifs with digital editing techniques and motion-capture video, and often addresses issues of social and environmental justice which would be subject to censorship in China.
A renowned maker of "design coffins," Ghanian artist Eric Adjetey Anang has found that working in the U.S. affords him a different kind of artistic freedom. Splitting his time between his workshop in Ghana and his studio in Madison, Anang creates fanciful wooden coffins that have been recognized as sculpture by museums and galleries and collectors around the world. For Rina Yoon, leaving Korea was necessary in order to pursue an artistic career. While the imagery in her prints often touches on memory and identity, it's only in recent years that she has drawn upon her cultural heritage, working with Korean handmade paper and infusing her art with concepts from Buddhism as a way of gradually making peace with her experience of displacement.
____________________________________
I've been doing coffin-building workshops and residencies around the world for several years, but my family is in Madison and being artist-in-residence at Madison's Thurber Park right now is helping to establish me in the U.S. 
My studio in Ghana, the Kane Kwei workshop, is still making design coffins known as Abebuu Adekai, which translates as "boxes full of proverbs." I was in Ghana much longer than usual this year, almost seven months because of the COVID-19 travel restrictions, but normally I stay there six-to-eight weeks at a time. 
At my workshop in Ghana, the pressure is more intense. My clients often order design coffins related to their profession, and they are meant for burial. So, I use a soft wood, and since I am often working within a very tight timeline, I don't need to put in all that much detail. I might have five assistants or apprentices working with me. For commission pieces, the deadlines could be just one or two weeks away, and I have to come up with a whole new piece within that time. I often have five to seven coffins to prepare within two weeks, so I always have to keep working as fast as I can. 
But there are stresses in both situations. Here in Madison, it's stressful because I have to find a side job, because the residency and studio work alone won't pay all the bills. So I am probably spending three days a week in the studio here and three to four days at a side job. 
While here, I am usually working for museums, galleries, and private collectors. In the case of collectors, the coffins are made for someone who is still alive and wants to display it as sculpture. So I need to bring the detail out and use more durable materials. But I have the flexibility to do projects on my own, with nobody deciding for me how it should be. Even if they have a specific request, I contribute my authority about how we are going to do it, and when. It gives me the opportunity to develop new ideas.
____________________________________

Although I was born in Whittier, California, I spent most of my life in Guadalajara, Jalisco, and moved to Madison about five years ago. I've learned that something happens when you leave your country of origin: you are confronted with your own identity. In terms of nationality, my identity was Mexican. But when I came to the U.S., I realized that I was labeled in many other ways—some I could control, some I could not. My current work talks about these layers of identity and how they are always shifting in time.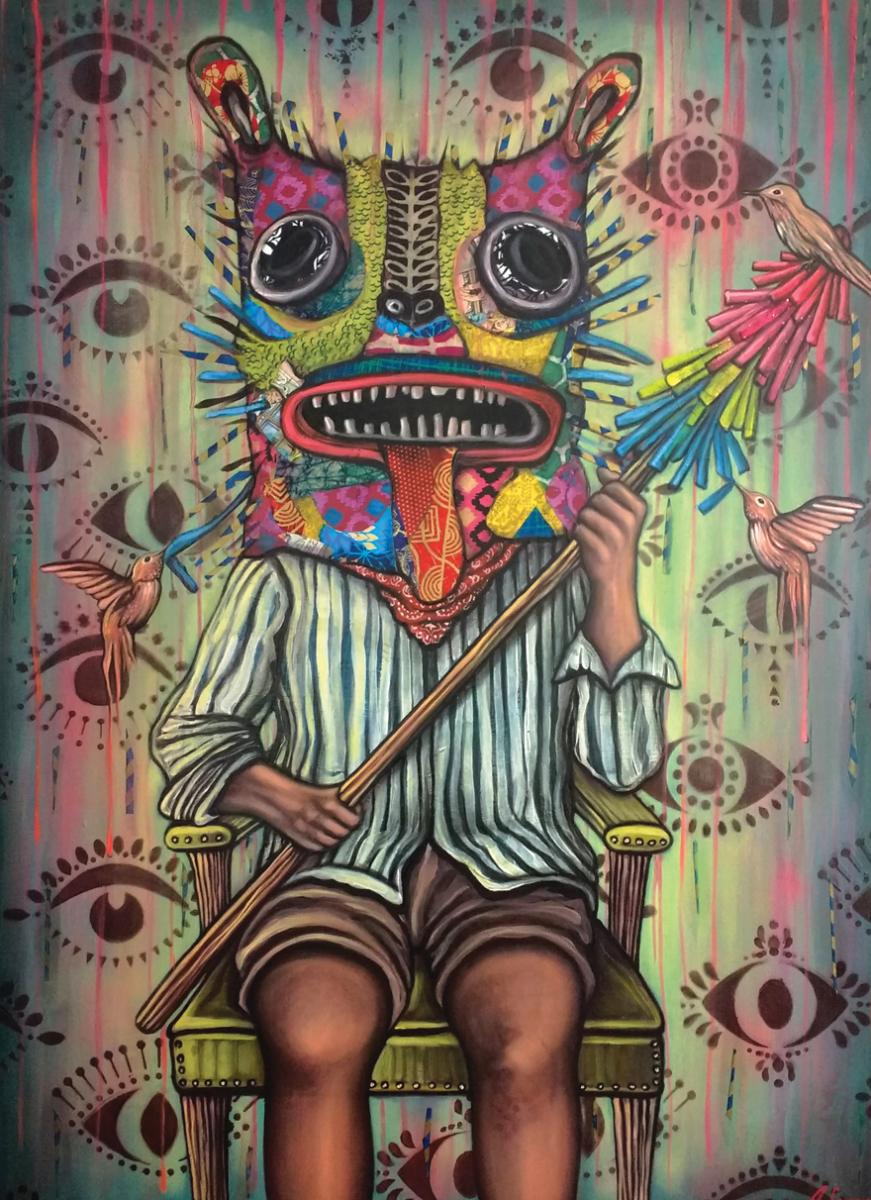 In Mexico my artwork incorporated themes of multiculturalism. But it had a much more personal focus, touching on childhood, family, and loss. I understand now why there are a lot of Chicano art centers that showcase our culture and its folk traditions. I find our folk arts beautiful and at times unsettling, because they reference the cycles both of death and life. They reflect the cosmovision [the collection of worldviews shared by the Indigenous pre-Columbian societies of Mesoamerica] of a community. I have gained more and more respect for traditional artisans and their process, and they have been of great inspiration for my personal work.
I work for the Madison Metropolitan School District as a translator/interpreter, and being confronted with the situations and realities of the immigrant community has made me refocus my practice to create visibility and dialogue within these communities. I feel a responsibility to show first, second, and third generations how valuable our traditions, arts, and culture are, and also to acknowledge those aspects that we need to change. They need to understand that there is great power in knowing where you come from.
____________________________________

I moved to the United States from Iran with my husband in 2001. But my art practice didn't really take off until 2015, after I received a BFA from UW–Milwaukee and completed a two-year residency at [visual art incubator and gallery] RedLine Milwaukee. I learned how to run my studio practice by trial and error, asking a lot of questions, attending lectures, and pushing myself out of my comfort zone.
Immigrating as an adult, I found the sudden change of culture, people, and environment a confusing experience. If I had stayed in Iran, I would not have questioned my identity or searched for a sense of belonging. People who move to another country might feel nostalgic; you don't know where you belong anymore. You become a stranger in your birthplace after a while, and yet you don't feel a sense of belonging here. In time you learn to stop translating in your head and just voice your thoughts in English. But what happens to the sensibility of the language you left behind? That cannot be translated.
All these thoughts are manifested in the making of art. For me, this experience started with drawing or painting familiar objects and subjects from Iran, and then, eventually, turned into writing in my mother-tongue as a way of communication. In my written works, sometimes I borrow from Persian poetry or write my own thoughts. In my drawings, I try to build a bridge through visual language between me and my viewers. That is why the written phrases in my drawings are not visible at a distance. I do not want legibility to get in the way of looking at the compositions. But as one gets closer, the words start to be revealed. We might not be able to read a different language, but we understand lines, dots, shapes, and colors. My goal is to create works that are understood visually. But if one is interested in reading them literally, the titles are the translations of the written phrases.
____________________________________

When I first moved here from Asia, I struggled to find a visual language that spoke to a Western audience. After all, this is where I now live. When I introduced Indian elements, it was hard to escape the trap of re-objectifying the exotic East. It is a challenge for anyone who grew up elsewhere to navigate and find an authentic voice, avoiding the pitfalls of exoticism on one hand, and, on the other, communicating to an audience with a different history and vantage point. I resolve this struggle by approaching my practice as a means to ask what makes us human, and using my work as a bridge to form connections across cultures.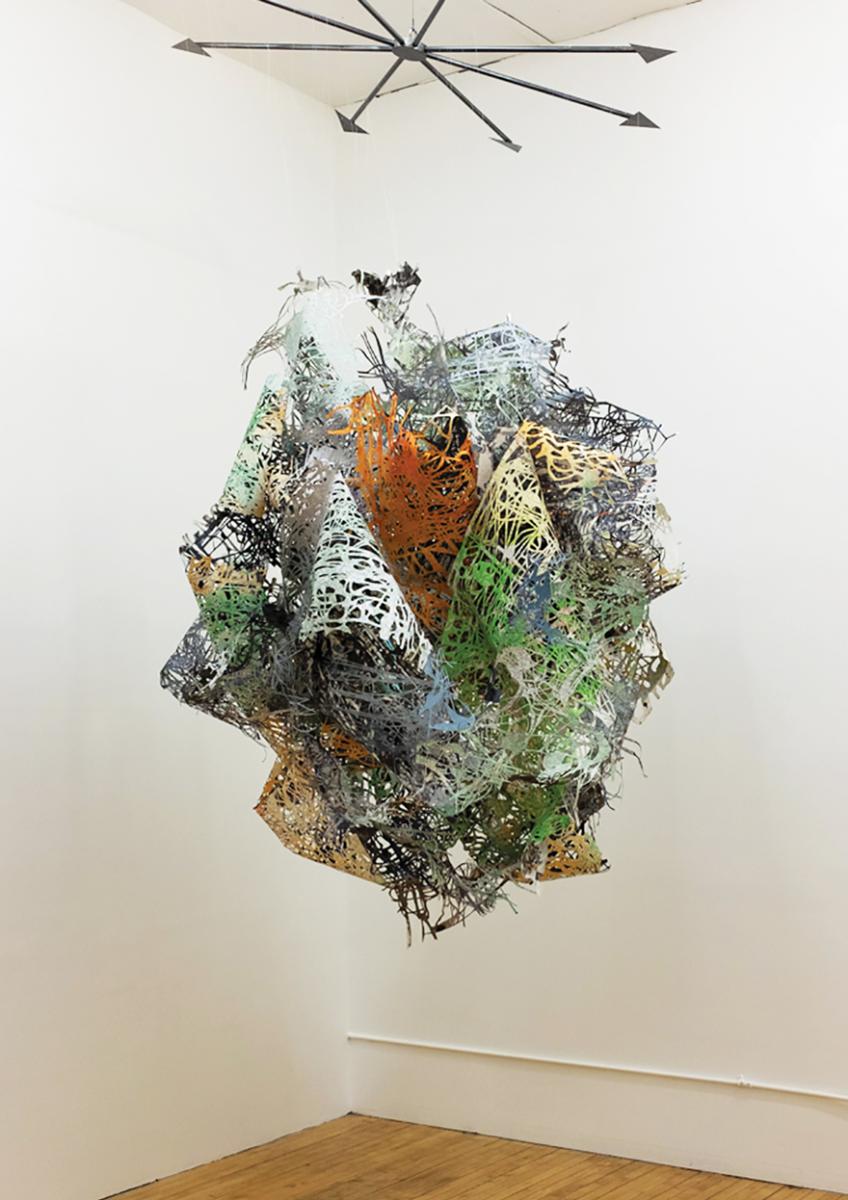 Having a global perspective, one that acknowledges and respects different cultures, is important in this divided world. I transform culturally specific thoughts, materials, and objects in the studio to make them resonate across cultures; collaborate with other artists; and examine the local with a global lens. I was able to navigate a dual identity for a long time until the 2016 elections. Suddenly, I began to feel alienated in an increasingly xenophobic world. The only way I could get past this hurdle was to use my practice as an exercise of citizenship, to make work that challenges the status quo or creates alternative spaces of empathy and connection. So in recent years my subject matter has become more socio-political, and I have expanded my repertoire to include video performances and photography collaborations as well as other new, experimental ways of working. 
I simply would not have been an artist if I had remained in India. I grew up in a conservative family, and an artistic life would not have been possible there. I really appreciate the opportunities of free expression this country has given me, and I am very grateful for it.
____________________________________

I came to the U.S. at the age of seventeen, so that I could continue to study art. I took a chance, which in a way was a rebellious act. It was also a hopeful one. 
I doubt I would have become an artist if I had stayed in Korea. The idea of success is paramount there. As a woman artist without influential connections, I would have faced an uphill challenge. A more likely path to success would have been medicine, law, or finance. It would have been far more difficult there than here to buck that formula. After all, in Korea a collective self is more valued than an individual self. Even as a teenager, I felt pressure to conform to societal expectations. Yet I resisted the idea of having to follow. So when at the age of seventeen I wanted to make my own decisions, I felt like an outsider in my own culture. As the creative life depends to a large degree on thinking and acting in an unconventional way, I needed to get out and find my own path. My life in the U.S. wasn't always easy, and I had to overcome a lot of challenges. But I always felt that I had choices that were my own. 
In graduate school I began questioning my identity on many levels. A natural place to start was my status as an immigrant. I soon realized that a sense of belonging was not only lacking for me here in America but in Korea as well. I understood that I would have to invent my own home within my work. This meant reconciling with the past and creating a sense of belonging that was defined neither by geography nor by family. 
A turning point in my art occurred ten years ago when I revisited Korea. During my stay I learned about traditional Korean paper practices and Buddhist teachings. Since then, working with Hanji (Korean handmade paper) has become my central interest, while at the same time I explore ideas of connectedness by letting go—as Buddhism teaches—of fixed concepts and definitive forms. My recent work with paper coils is a good example. In this work I explore the idea of a kind of expansive embodiment, where earth forms and human shapes are woven together. For me, the practice of art has led me to my real home.
____________________________________

I was traditionally trained in academic art forms like Chinese brush painting, Western-style drawing, painting, and graphic design during the early 1990s. I entered the MFA program at Southern Illinois University–Carbondale, where I immersed myself in Western digital techniques and contemporary art. After graduation, I decided to stay in the U.S., and, in 2002, I received a faculty teaching job at UW–Whitewater. 
I had always wanted to find a way to give the Chinese folk art of paper-cutting, traditionally done by housewives, the recognition it deserved. Over the past twenty years, I have reimagined the representation of this folk art by blending my contemporary digital techniques with traditional art forms, motifs, and symbols. The academic world in China is still divided into disciplines like graphic art, oil painting, drawing, sculpture, and so on. If I had remained there, I might have had no opportunities to do this work, much of which interrogates historical, social, and political themes from a Chinese perspective. For example, Brave the New World shows the contrast between the rich and poor in China. My Spring Water series refers to environmental issues, and my recent series, titled Tumult, refers to social and political issues in the U.S.
I may have missed out on the opportunities that my generation of Chinese artists had as the art market opened up, as well as the social and economic changes brought about by China's reform. But I never regretted my choice to stay in Wisconsin. To me, the American dream means rights, liberty, opportunity, and equality, and I have the freedom to speak and create my artworks here.