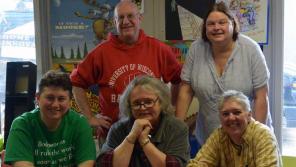 It wasn't long after Brian Roegge lost his job as a credit union manager that he and wife Sue began weighing the risks and rewards of opening an independent bookstore.
Meet Max Garland, the Wisconsin Poet Laureate for 2013-2014.
When a local church or community organization decides to hold a fundraiser, they often try a bake sale or auction.
Wisconsin Academy Offices 
1922 University Avenue
Madison, Wisconsin 53726
Phone: 608.733.6633
James Watrous Gallery of the Wisconsin Academy of Sciences, Arts & Letters
3rd Floor, Overture Center for the Arts
201 State Street
Madison, WI 53703
Phone: 608.733.6633 x25