November 3, 2014
A stellar group of historians, artists, and poets offered insights into Vanderbilt's pioneering work with visual materials this fall.
October 1, 2012
Lon Michels promised--and delivered--a spectacular surprise for his opening reception July 7. Cued by a boombox playing the wedding march, ten women in brilliantly painted, incredibly flamboyant ...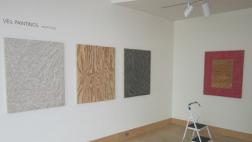 October 1, 2012
Installing Kristy Deetz's and Linda Wervey Vitamvas's  shows went so smoothly that we opened for a sneak preview on Gallery Night last Friday.
Wisconsin Academy Administrative Offices and Steenbock Gallery
1922 University Avenue
Madison, Wisconsin 53726
Phone: 608-263-1692
James Watrous Gallery of the Wisconsin Academy of Sciences, Arts & Letters
3rd Floor, Overture Center for the Arts
201 State Street
Madison, WI 53703
Phone: 608-265-2500