Side-by-side solo exhibitions: mezzotints by Douglas Bosley and drawings by Scott Espeseth.
Side-by-side solo shows by two artists who draw on myth and folk tales.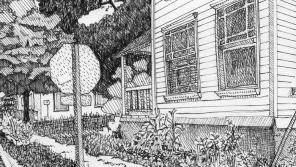 Can visual art be taught through radio? The producers of WHA's "Let's Draw" program thought so.
Leslie Iwai's installation for the James Watrous Gallery, Daughter Cells: Inheritance, Separation and Survival, is an investigation of family relationships at both the cellular and emotional level: what we inherit, how we separate, and what we choose to retain and pass on. 
Showcasing the work of Wisconsin Oneida artists dedicated to the survival of one of their most important artistic traditions: Haudenosaunee (Iroquois) raised beadwork.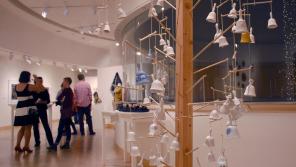 Two Wisconsin-based artists that explore memory and identity through narrative experiences.
John Craig's prints explore perception, history and narrative. Valerie Mangion's paintings explore the nocturnal life of animals.
Gwen Avant's expressive paintings communicate acceptance, beauty, and peace. Gregory Klassen will explore natural processes, such as gravity and evaporation.
Tom Berenz's current paintings combine recognizable bits and pieces from ordinary life with swaths of color and pattern. Shane McAdams introduces jarringly synthetic elements in to classic landscape scenes.
Wisconsin Academy Administrative Offices and Steenbock Gallery
1922 University Avenue
Madison, Wisconsin 53726
Phone: 608-263-1692
James Watrous Gallery of the Wisconsin Academy of Sciences, Arts & Letters
3rd Floor, Overture Center for the Arts
201 State Street
Madison, WI 53703
Phone: 608-265-2500