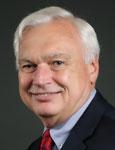 Rich Donkle is Treasurer for the Wisconsin Academy Board of Directors. Donkle retired from the Rural Wisconsin Health Cooperative (RWHC) on December 31, 2015. He joined the staff of the RWHC in 1996 after 17 years of being a consultant to the organization. RWHC was formed in 1979 to help rural hospitals provide services to their communities.  Since that time, RWHC has grown in the provision of services and as an advocate for community based health services.  RWHC is committed to the provision of quality, affordable and accessible health care throughout Wisconsin. Prior to joining RWHC, Donkle was a partner with a national CPA firm. He has been involved in the healthcare industry since 1974. Donkle earned his bachelor of business administration degree from the University of Wisconsin-Madison, and he became a CPA in Wisconsin in 1975.
Donkle is on the board of directors of the HIPAA Collaborative of Wisconsin and was one of the founding members of that organization.  He is also on the board of Access Community Health Centers, a Federally Qualified Health Center in Madison.  He previously served on the board of Second Harvest Foodbank of Southern Wisconsin.
Donkle is a Life Member of the Wisconsin Chapter of the Health Care Financial Management Association (HFMA), and is a past president of the Chapter.  Donkle also served as Chapter Liaison Representative to the national organization.  In addition, he is a past member of the HFMA Compliance Forum Advisory Council.  He is also a member of the American Institute of Certified Public Accountants and the Wisconsin Institute of Certified Public Accountants. He is a member of the Wisconsin Hospital Association Network Adequacy Council, and Transparency Task Force.  He has also conducted sessions on health care financial management at national, state and local seminars.