Upcoming Exhibitions & Events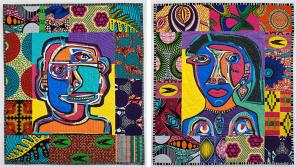 July 12, 2019
to
August 25, 2019
Sharon Kerry-Harlan explores pattern, rhythm, and the human figure in fabric and mixed-media collage.
Join gallery director Jody Clowes for a free tour of Sharon Kerry-Harlan's solo exhibition.  
September 13, 2019
to
November 3, 2019
Madison artists Helen Hawley and Gabriel Pionkowski work across several media. Hawley's show encompasses books, sculpture, and painting, while Pionkowski's is focused on deconstructed and rewoven canvases and a series of floor pieces made with found objects. 
Wisconsin Academy Administrative Offices and Steenbock Gallery
1922 University Avenue
Madison, Wisconsin 53726
Phone: 608-263-1692
James Watrous Gallery of the Wisconsin Academy of Sciences, Arts & Letters
3rd Floor, Overture Center for the Arts
201 State Street
Madison, WI 53703
Phone: 608-265-2500