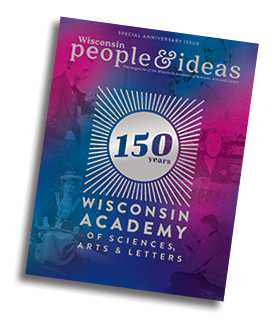 At the Wisconsin Academy we're celebrating 150 years of ideas that move world forward. Since 1870 we've been a place for people to connect with experts and learn from each other.
This March 16 we turn 150 years old. So, for the entire month of March you can sign up to receive a free trial copy of our special 150th anniversary issue of Wisconsin People & Ideas—a magazine made for people who are curious about our world and proud of Wisconsin ideas.
Simply fill out the form below and we will send you a free copy of the special 150th anniversary issue (pictured right). If you have any questions about our free trial issue offer, please e-mail Jason A. Smith, editor, Wisconsin People & Ideas. Happy reading!
By signing up for this free trial issue offer you agree to receive communications from the Wisconsin Academy of Sciences, Arts & Letters. The Wisconsin Academy will not share your contact information.