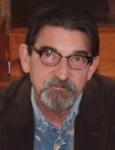 Bruce Dethlefsen was the Wisconsin Poet Laureate from 2010-2012. A retired educator and public library director living in Westfield, Dethlefsen began his two-year term as Wisconsin Poet Laureate at the beginning of 2011. Author of two poetry chapbooks, Dethlefsen was twice nominated for a Pushcart Prize and served for years as the secretary of the Wisconsin Fellowship of Poets. Two of his poems were featured on Garrison Keillor's The Writer's Almanac on National Public Radio and several poems appear on yourdailypoem.com. Published by Fireweed Press, his recent book of poems, Breather (2009), received an Outstanding Achievement in Poetry recognition in 2009 from the Wisconsin Library Association. Unexpected Shiny Things (2011), his most recent collection, was published by Cowfeather Press. Dethlefsen also writes music and plays bass guitar in the band Obvious Dog with Sauk City native Bill Orth. The band took its name from former Wisconsin Poet Laureate Marilyn Taylor's description of "a poem beyond resuscitation."
Watch the In Wisconsin segment with Bruce on WPT or read a recent interview with him in the Wisconsin Academy magazine, Wisconsin People & Ideas
More information on Dethlefsen's poetry, books, and public appearances can be found on his website, brucedethlefsen.com.
E-mail: poetdethlefsen@gmail.com
Talk Topics:
"Poetry Reading and Open Mic"