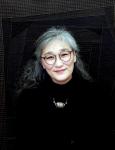 Kyoung Ae Cho is an artist who works with fiber and mixed media. She is currently a Professor at UW-Milwaukee's Peck School of the Arts.
Kyoung Ae has shown her work extensively in national and international venues including Sheldon Museum of Art, Lincoln, NE; Tweed Museum of Art, Duluth, MN; Boulder Museum of Contemporary Art, Boulder, CO; University of Kentucky Art Museum, Lexington, KY; Kemper Museum of Contemporary Art, Kansas City, MO; INOVA, UW-Milwaukee; John Michael Kohler Arts Center, Sheboygan, WI; The Gallery at Montalvo, Saratoga, CA; South Bend Regional Museum of Art, South Bend, IN; Sheehan Gallery, Walla Walla, WA; Clemson University Gallery, Clemson, SC; Madison Art Center, Madison, WI; Evanston Art Center, Evanston, IL; Reed Whipple Cultural Center, Las Vegas, NV; Textile Arts Centre, Chicago, IL; Dairy Barn Southeastern Ohio Cultural Arts Center, Athens, OH; Wisconsin Academy Gallery, Madison, WI; Braunstein / Quay Gallery, San Francisco, CA; Sherry Leedy Contemporary Art, Kansas City, MO; Snyderman-Works Galleries, Philadelphia, PA; Connell Gallery, Atlanta, GA; Nederlands Textile Museum, Tilburg, The Netherlands; American Cultural Center, Taipei, Taiwan; Daegu Cultural Art Center, Dae Gu, South Korea; Goddard Gallery, Sedalia, MO; Art Gallery, University of Hawaii, Honolulu, HI; Kansas City Artists Coalition, Kansas City, MO; Urban Institute for Contemporary Arts, Grand Rapids, MI; University of Minnesota - Minneapolis Gallery, MN; Detroit Institute of Arts, Detroit, MI; Carnegie Art Museum of Oxnard, CA; Dong-Band Plaza Gallery, Seoul, South Korea; National Museum of Modern Art, Kwachon, Korea, just to name a few.
Her work has been reviewed and published in numerous publications and newspapers such as Fiberarts Magazine; Surface Design Journal; American Craft; Milwaukee Journal Sentinel; San Jose Mercury News, Grand Rapids Press; Kansas City Star; Metro Times (Detroit); Eccentric (Detroit); Detroit Free Press; Detroit Monthly Magazine; Monthly CRART (South Korea); Quilt National 2003: The Best of Contemporary Quilts (Lark Books); Contemporary Quilt: Quilt National 1997 (Lark Books); No: Nouvel Object (South Korea); Art & Craft (South Korea); Fiberarts Design Book IV, VI & VII (Lark Books); Art Textiles of the World: USA (Telos Art Publishing, England) and the monograph Portfolio Collection : Kyoung Ae Cho (Telos Art Publishing, England.)
She is the recipient of 2006 Wisconsin Arts Board Award Fellowship, 2004 UWM Foundation and Graduate School Research Award, the Lillian Elliott Award 1997, 1995 Pollock-Krasner Foundation Grant and 1992 Art on the Move Grant (Detroit Recreation Department). She received the Award of Excellence from the Quilt National 1997 with her work "Aged; covered by wisdom."
She has taught at Kansas City Art Institute, Cranbrook- Kingswood School, Penland School of Crafts, Haystack Mountain School of Craft, and lectured as a visiting artist throughout the country including Cranbrook Academy of Art, Maryland Institute College of Art, Tyler School of Art, Seoul National University (South Korea), Chungang University (South Korea), Duksung Women's University (South Korea), The Center for Creative Studies College of Art and Design in Detroit and Michigan Weavers Guild.
Kyoung Ae Cho was born in Onyang, South Korea in 1963. She has a BFA from Duksung Women's University, Seoul, South Korea in 1986, and an MFA from Cranbrook Academy of Art, Bloomfield Hills, Michigan, USA in 1991.