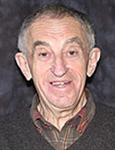 Julius Adler was born in Edelfingen, Germany in 1930. He attended Harvard University and received his A.B. in Biochemical Sciences in 1952. He continued his studies at the University of Wisconsin-Madison, where he studied with Journal of Biological Chemistry (JBC) Classics author Henry A. Lardy and earned an M.S. in Biochemistry in 1954 and a Ph.D. in Biochemistry in 1957. After graduating, Adler did postdoctoral fellowships with JBC Classics author Arthur Kornberg in the Department of Microbiology at Washington University School of Medicine and A. Dale Kaiser in the Department of Biochemistry at Stanford University School of Medicine.
Adler then returned to the UW-Madison and joined the faculty of the Departments of Biochemistry and Genetics as an assistant professor. In 1963, he was promoted to associate professor, and in 1966 he became professor. Adler later became Edwin Bret Hart Professor in 1972 and was Steenbock Professor of Microbiological Sciences from 1982 to 1992. He became an emeritus professor in the Departments of Biochemistry and Genetics in 1997 and remains in that capacity today.
Adler has received many awards and honors for his work on bacterial chemotaxis. These include the Pasteur Award Medal from the Illinois Society for Microbiology (1977), the Selman A. Waksman Award in Microbiology from the National Academy of Sciences (1980), the Otto-Warburg Medal from the German Society for Biological Chemistry (1986), the R. H. Wright Award in Olfactory Research from Simon Fraser University in Canada (1988), the Hilldale Award from the University of Wisconsin-Madison (1988), the Abbott-American Society for Microbiology Lifetime Achievement Award (1995), and the William C. Rose Award from the American Society for Biochemistry and Molecular Biology (1996). He was elected to the American Academy of Arts and Sciences in 1976 and the National Academy of Sciences in 1978.