148 years of improving life in Wisconsin by sharing great ideas.
Current & Upcoming Events
In Our Magazine
From a hundred feet in the air, Moriah Rataczak inspects the fields of Gumz Farms in Central Wisconsin.
The Tricklebee Café is a pay-what-you-can restaurant, and absolutely anyone is welcome to a healthy, delicious meal, regardless of his or her ability to pay for it.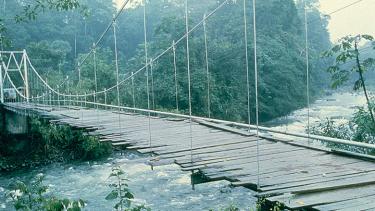 It is hard to imagine a field scientist who hasn't had to cross a challenging bridge, real or metaphorical.
Now at the James Watrous Gallery
Wisconsin Academy Administrative Offices and Steenbock Gallery
1922 University Avenue
Madison, Wisconsin 53726
Phone: 608-263-1692
James Watrous Gallery of the Wisconsin Academy of Sciences, Arts & Letters
3rd Floor, Overture Center for the Arts
201 State Street
Madison, WI 53703
Phone: 608-265-2500