Videos of Recent Talks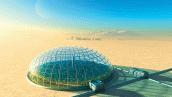 NASA-affiliated researcher Richard Barker discusses his astrobotany experiments with the International Space Station.
Helping kids achieve the American Dream
Boys & Girls Clubs of Dane County CEO Michael Johnson shares reflections on how education can help young people and their families achieve the American Dream.
An evening with Dr. Richard Davidson
Richard Davidson talks with TTBOOK's Anne Strainchamps about the brain's capacity for change, its connection to the body and how it regulates genes, and our innate human tendency toward basic goodness.
CLOSED DUE TO COVID-19
Wisconsin Academy Administrative Offices and Steenbock Gallery
1922 University Avenue
Madison, Wisconsin 53726
Phone: 608.733.6633
CLOSED DUE TO COVID-19
James Watrous Gallery of the Wisconsin Academy of Sciences, Arts & Letters
3rd Floor, Overture Center for the Arts
201 State Street
Madison, WI 53703
Phone: 608.733.6633 x25