Upcoming Talks
When Creativity Meets Scientific Inquiry
Three Academy Fellows explore the connections between discovery and imagination.
Join us for a reading and discussion with former Wisconsin Poet Laureate Bruce Dethlefsen.
Videos of Recent Talks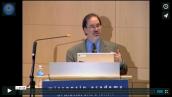 Under No Child Left Behind, efforts to reduce educational inequality have focused on raising standards and holding educators accountable for whether students meet their targets.
A Conversation on Nuclear and Renewable Energy Technologies
In the wake of the massive oil spill in the Gulf of Mexico—arguably America's worst environmental disaster—does nuclear power look any more appealing than it did after the Three Mile Island accident in 1979?
In Part I of the Wisconsin Academy's "Perspectives on a Post-9/11 World" Academy Evenings event on September 11, 2011, John W. Hall (UW-Madison Ambrose-Hesseltine Professor in U.S.
Wisconsin Academy Administrative Offices and Steenbock Gallery
1922 University Avenue
Madison, Wisconsin 53726
Phone: 608-263-1692
James Watrous Gallery of the Wisconsin Academy of Sciences, Arts & Letters
3rd Floor, Overture Center for the Arts
201 State Street
Madison, WI 53703
Phone: 608-265-2500