Upcoming Talks
Finding equity for rural and urban communities
What we do—and don't do—to provide accessible healthcare.
The science behind making a healthy—and happy—mind and body. 
An honest discussion about the future of American children.
Videos of Recent Talks
Perspectives on the American Dream
Perspectives on the American experience and our shared identity.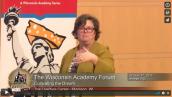 Many hands make fair work
Michael Bell and Sarah Lloyd explore fair labor systems for an increasingly diverse farm workforce.
The challenges of diversity in Milwaukee
John Gurda explores how in Milwaukee, as in other American cities, differences became divisions—and how we can work to reconcile the promise of diversity with its abundant challenges.
Wisconsin Academy Administrative Offices and Steenbock Gallery
1922 University Avenue
Madison, Wisconsin 53726
Phone: 608-263-1692
James Watrous Gallery of the Wisconsin Academy of Sciences, Arts & Letters
3rd Floor, Overture Center for the Arts
201 State Street
Madison, WI 53703
Phone: 608-265-2500