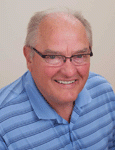 Larry Meiller is a Professor emeritus in the Department of Life Sciences Communication (LSC) and host of "The Larry Meiller Show," a 90-minute, call-in talk show heard each week day from 11-12:30 on Wisconsin Public Radio.  He and his radio guests talk about a wide variety of topics, including the environment, health, consumer issues, finance, gardening and many others. The program airs on 18 stations across the state. Meiller has received several awards for his radio work. Some include the UW Distinguished Service Award, the Joyce Kilmer Award from the UW Foundation, the Leadership in Nutrition Awareness Award from the Wisconsin Dietetics Association, and the Friends of Conservation Media Award. He was inducted into the Wisconsin Broadcasters Hall of Fame in June, 2017
 
Meiller also teaches broadcast classes and advises undergraduates in the Department of Life Sciences Communication. He received the Outstanding Advisor Award and the Excellence in Teaching Award from the College of Agricultural and Life Sciences. Meiller has served as advisor and committee member to approximately 200 masters and doctoral students. He was the longest-serving faculty member of the UW's student radio station, WSUM, and played a key role in launching the station on air and in developing its organizational structure. 
 
Meiller lives in Madison with his daughter, Emily.