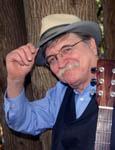 A professional musician and entertainer since the late 1960's, Warren Nelson's trail has taken him across the US, "both sides of 1970." From his first full-time professional group The Tenth Story Window (he met Elvis twice!), to Colorado where he spent five years writing and playing music in the mountains, to the Madison, Wisconsin area where he formed the Lost Nation String Band with Don Pavel. He moved to northern Wisconsin's Bayfield Peninsula where he founded Lake Superior Big Top Chautauqua in 1986. For 23 seasons, through 2008, Nelson was the ringmaster, centerpole, artistic director, resident writer and lead dreamer of the Big Top, a venue that is widely celebrated. He also started and hosted Tent Show Radio for 15 years, a nationally syndicated program.
He began writing songs and performing at age 15, inspired by the Kingston Trio, Chad Mitchell Trio, Smothers Brothers, and many other folk artists. His ultimate hero and mentor was, still is and forever will be, Mason Williams.
Nelson's career took a foretelling turn in 1976 with the production of "A Martin County Hornpipe," a concert music history show, singing and telling and showing by old photographs the story of his hometown.  "In my journal, I had written an entry called "A Thing," states Nelson. "Combine your interests in history, storytelling, concert producing, songwriting, scriptwriting, humor and old photographs into a performance piece that reveals the history of place through music and visuals." It was the prototype of the unique shows that gave birth to and gives Lake Superior Big Top Chautauqua it's unique identity. He has long been admired for his songwriting, script works, and stage presence.