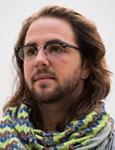 Anders Zanichkowsky was born and raised on the east side of Madison and has lived there since 2008, when he graduated from Hampshire College with a BA in printmaking. His studio work, public art, and curatorial projects have been shown in local, national, and international exhibitions, and he has been funded by a BLINK! grant and Individual Artist Grant from the Madison Arts Commission. Zanichkowsky uses print media, video, and performance to record and respond to experiences of wilderness, from people surviving homelessness in Madison to his own travels in the Arctic. In 2016 he was an artist-in-residence on a sailing expedition in the international territory of Svalbard, and in 2017 he worked on the remote island of Skomvær in northern Norway.
In addition to his art practice, Zanichkowsky is also a longtime activist for housing justice, prison abolition, and queer liberation. He was a student organizer with Hampshire College's Civil Liberties and Public Policy Program, and in the last ten years he has worked for numerous grassroots causes in Dane County, presented at social justice conferences around the country, and served as the program director at Tenant Resource Center. Anders is an MFA student at UW-Madison and is an organizing member of the Free the 350 Bail Fund.
Photo: Sarah Stankey.