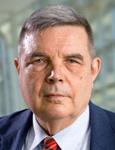 Dr. Maki is the Ovid O. Meyer Professor of Medicine, Head of the Section of Infectious Diseases at the University of Wisconsin Medical School in Madison, Wisconsin, and Attending Physician in the University of Wisconsin Center for Trauma and Life Support. In his activities as an infectious disease consultant, intensivist and hospital epidemiologist, Dr. Maki has devoted his research career to the study of pathogenesis, diagnosis and prevention of nosocomial infections, particularly bloodstream infections caused by intravascular devices and the management of septic shock and other life-threatening infections.
A past consultant to the CDC, NIH, FDA and HHS, he is a former President of the Society for Healthcare Epidemiology of America and Councillor of the Infectious Diseases Society of America. From 1987 to 1994, he was a member of the ICAAC-ASM Program Committee and from 1989 to 1995, served on the ABIM Board of Critical Care Medicine. Dr. Maki has won numerous awards for teaching at the University of Wisconsin and nationally. In 1994, he received the CIPI Award of the International Congress on Infection Control, Societe de Pathologie Infectioense de Langue Francise, the World Health Organization and the CDC, for his contributions to the prevention of infection. In 2000, he was made a Master of the American College of Physicians and received a Society Citation from the Infectious Diseases Society of America for lifetime contributions in the field of infectious diseases. In 2001, he received the Hilldale and the Belzer awards from the University of Wisconsin for achievements in teaching, research and service.
Following the events of September 11, 2001, Dr. Maki was appointed to the Wisconsin Medical Society Taskforce on Bioterrorism, the Governor's Bioterrorism Preparedness Task Force and as a consultant for the National Response to Bioterrorism of the Centers for Disease Control; in 2002, he named to the U.S. HHS Secretary's Council on Public Health Preparedness.