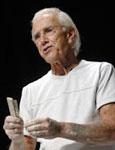 As one of the most influential ceramists of the 20th century, Don Reitz has pursued a life-long connection with his medium. After receiving his MFA from the New York State College of Ceramics at Alfred University in 1962, Reitz accepted a position at the University of Wisconsin–Madison and taught ceramics there from 1962 to 1988.
His "re-invention" of the salt and wood firing technique created a new way to present his artistic gestures. Lively and innovative pieces, with a range of color and surface effect, have been the results of a lifetime of experimentation with the salt-firing technique. His ceramic pieces are a balance between creative invention and expert technique.
In 2002, Reitz was awarded one of the highest honors in his field when the American Craft Council awarded him their Gold Medal. Reitz has lectured, exhibited, and led workshops across the world. His work is included in the collections of the Renwick Gallery and Smithsonian Institute as well as museums in Norway, Denmark, Japan, New Zealand and Australia.