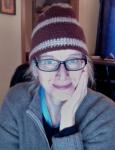 Pamela Callahan was born and raised in Kenosha, Wisconsin, and received a B.A. in Studio Art from Lawrence University. For fifteen years, Pamela lived and worked in Chicago, where she exhibited widely. She was involved with Woman Made Gallery for the duration of her time in the city, as volunteer, gallery director, and advisor. In 2004, Pamela returned to Wisconsin and co-created Otter Creek Arts, a rural art studio amidst the hills and valleys of the Driftless Area.
"I painted for twenty-five years and yet never painted the land we're in, for it never baffled me. I saw it peripherally, as the constant around our world of mighty change. I took it for granted. I overlooked it, plain and simple.
I've learned this world is studying us constantly, that the light plays with us everywhere. And the dark. That city or country is all one world. And now I'm learning to return its gaze. It's daunting, for even the quickest glance will open and open and open. Properly perplexed, I now paint what we call landscapes. This is how I wonder back, to wander this place that only knows to keep beginning."