This is a story about creative, unlikely collaborations, and connections between artists, scientists, and musicians. The Last Glacier project, dedicated to capturing the fading majesty of Earth's remaining glaciers, was exhibited at the James Watrous Gallery November 12, 2021–January 23, 2022. The project is a collaboration between three artists of international renown—printmakers Bruce Crownover and Todd Anderson and photographer Ian van Coller—begun in 2010 in response to the stunningly rapid retreat of glaciers in Montana's Glacier National Park (in 1850 there were 150 glaciers in the park; today only 25 of these remain, and these are predicted to disappear by the end of the century).
Over the years, the three artists have expanded their work to creatively document the impact of our warming planet on glaciers through larger collaborations with scientists in glacial landscapes in Colorado, Canada, Iceland, Tanzania, and beyond. By engaging directly with climatologists and glaciologists, the artists' work is grounded in accurate, up-to-date scientific information. They also work closely with writers and curators, and in at least one instance, a musician.
In 2021, Jason Kutz, a Wisconsin musician, composer, and a friend of Bruce Crownover, was commissioned to develop a piece inspired by Crownover's prints in The Last Glacier project, and to create a video featuring that composition and images of those prints. The commission envisioned Kutz working on the composition at the gallery, interacting with visitors, and then performing the piece at the Overture Center at the close of the exhibition. Unfortunately, the pandemic interfered, the exhibition was postponed, and the commission had to be re-imagined. When the exhibit went up in late 2021, ongoing restrictions prevented the the residency as it had been planned, so Kutz pivoted to creating a video to accompany his composition. That video can be viewed here:
Jason Kutz grew up in Kiel, a small town in Manitowoc and Calumet counties, where at a young age he began studying piano and percussion. He went on to continue his musical education at UW-Oshkosh, where he earned a Bachelor's of Music in Recording Technology/ Music Industry and at UW-Madison where he studied both classical and jazz, and earned a Master of Music in Piano Performance. He lives in Madison where he works as a pianist, composer, teacher, arranger, artist, graphic designer, and sound engineer, and as a member of the Mr. Chair ensemble.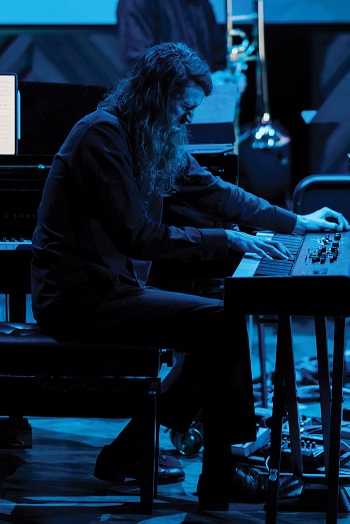 Mr. Chair has been described as a contemporary classical music group that looks like a jazz quartet and sometimes sounds like a rock band. The members of the group—Jason Kutz, Ben Ferris, Mark Hetzler, and Mike Koszewski—are classically-trained musicians who are also well versed in jazz. Mr. Chair is known for its collaborations with singers, dancers, poets, scientists, research labs, visual artists, and more. The group strives to connect with audiences in unexpected ways. Mr. Chair has played with KASA Quartet and the Caroga Arts Collective string orchestra. They have worked with Leslie Damaso, a Mineral Point native and Filipina singer, to create a contemporary opera that reimagines kundiman, traditional Filipino art songs, into a personal narrative and modern sound. They are also working with recent UW-Madison grad and First Wave Scholar Dequadray James White to write a concept album that tells Dequadray's story in an orchestral, hip-hop infused album.
Another ongoing collaborator is Stephen Meyers, a professor of Geoscience, who commissioned Mr. Chair twice to collaborate and write science-inspired music for his large-enrollment introductory geoscience course at UW-Madison. The first of these was "Nebulebula," composed by Jason as a centerpiece of a musical-video-poetic-lecture performance exploring the Big Bang, the origin of our solar system and our planet—a composition that became the title track for Mr. Chair's debut album. The second commissioned composition, another by Kutz, "Ground Underground," was based on the concept of a Baroque "ground," exploring earthquakes and how sound waves reveal the nature of Earth's interior. For both performances, the music and science used concepts from each to inspire the other. Mr. Chair has played a key role in this new approach to teaching science, through collaborations in Professor Meyers' tadada Scientific Lab project for inspiring scientific literacy and cultivating emotional connections to science. The collaboration aims to forge meaningful connections and to discover the ways in which our journeys are interconnected. Which brings us back to The Last Glacier project and Jason Kutz.
Kutz's composition is a response to the beauty and bold nature of Bruce Crownover's art, and to the dire fact that the glaciers are melting at a rapid pace. He wrote and produced all the music at his home, using synthesizers, piano, keyboards, and various electronic instruments and samples (sampling is the process of incorporating a track from a previously recorded song into a new composition). Madison's Tony Barba played clarinet and flute in the piece, with a brief solo on his entrance and the closing melody to follow. James Yule, a Chicago-based video editor and motion designer, and Kutz digitally deconstructed Crownover's prints to allow them to be animated. Yule then did the animation, giving the woodcuts a new life in motion. This result of these interrelated projects involving scientists, artists, and musicians, is a story of melting glaciers and of loss, and a story of hope through creativity, science, and collaboration.