Wisconsin People & Ideas - Summer 2010
From time to time I get the feeling that I'm a little too wrapped up in Wisconsin.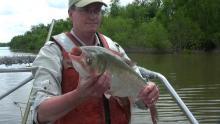 When we think about aquatic invasive or non-native species these days, we often think of Asian carp moving north towards the Great Lakes or zebra mussels spreading across state waterways.

Selected journal entries from a volunteer for the American Jewish World Service who brought his theater skills to India.
Content under construction


This spring, the University of Wisconsin-Extension, UW Colleges, and partners sponsored a forum about community sustaina

Carter Conway presses the tip of his index finger against the point of his pencil. He lifts his desk lid to check his other pencils. "Fifth graders," he says sharply, like a teacher. "I hear chattering in this classroom.
Wisconsin Academy Offices 
1922 University Avenue
Madison, Wisconsin 53726
Phone: 608.733.6633
James Watrous Gallery 
3rd Floor, Overture Center for the Arts
201 State Street
Madison, WI 53703
Phone: 608.733.6633 x25