Roots of Democracy Videos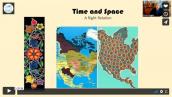 Explore the conditions that gave rise to the Three Fires and Haudenosaunee confederacies and the lessons from their approaches to democratic principles.
An introduction to early Classical and Enlightenment experiments in democracy and the way ideas from these periods ultimately shaped the American Constitution.
Native systems of governance have faced intense challenges since European explorers first landed on these shores.
CLOSED DUE TO COVID-19
Wisconsin Academy Administrative Offices and Steenbock Gallery
1922 University Avenue
Madison, Wisconsin 53726
Phone: 608.733.6633
CLOSED DUE TO COVID-19
James Watrous Gallery of the Wisconsin Academy of Sciences, Arts & Letters
3rd Floor, Overture Center for the Arts
201 State Street
Madison, WI 53703
Phone: 608.733.6633 x25