In 2007, the City of La Crosse took its first step towards its current comprehensive Sustainability Plan, when it adopted the Natural Step's framework for Eco-Municipalities energy benchmarking and overall energy conservation. Described as a "leading partner for organizations ready to address humanity's grand challenges to create a better future," the Natural Step is an international organization that has "worked with thousands of corporations, municipalities, academic institutions, and not-for-profit organizations that have proven that moving strategically toward sustainability leads to new opportunities, reduced costs and dramatically reduced ecological and social impacts."(1) Councilmembers Jai Johnson and Dorothy Lenard, City Economic Planner (now Mayor) Tim Kabat, and the Sustainable La Crosse Commission all recognized the economic, social, and environmental benefits the city would see through the Natural Step and helped ensure its adoption.(2) (3)
25% by 2025: La Crosse's Strategic Plan for Sustainability
Employing the Natural Step's energy benchmarking framework, as well as ecommendations from the Wisconsin Energy Independent Communities, helped La Crosse establish concrete goals that would later be incorporated into its Sustainability Plan. The core goals include:
25% reduction in fossil fuel consumption;
25% reduction in community waste;
25% increase in community recycling rates;
Meet 25% of energy needs from renewables; and
50% of procurement from environmentally preferred products. 
There were hurdles in adopting both the Natural Step framework, as well as the Sustainability plan, specifically in overcoming some opposition in the City Council. Further, it remains difficult to ensure universal adoption of the principles by city staff. But the incentives in energy conservation and waste reduction - cost savings and environmental benefits - generated sufficient support from the City Council and municiapl staff. According to Mayor Kabat, many policy-makers also recognized the value in being a community leader on climate and energy initiatives.(4) "Leaders owe it to their communities to operate in the most efficient manner possible while preserving our natural resources," says Mayor Time Kabat. "Adopting the Natural Step and our Strategic Plan for Sustainability has ensured the City of La Crosse is working to accomplish both of these goals."
Throughout the first several years of its implementation, the Natural Step and La Crosse Sustainability plan have delivered astounding results that have saved the city money, significantly reduced its carbon footprint, and improved the health and wellbeing of the community (see below).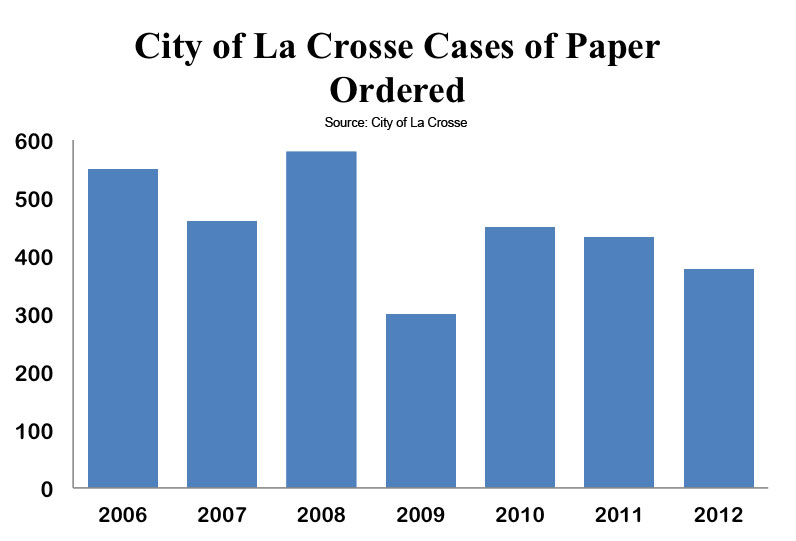 The data shows that green initiatives are beneficial to more than just the environment. There is an incredible amount of literature about the effectiveness of green initiatives in improving other areas, particularly the bottom line. 
The most significant lesson is that environmental consciousness and cost-savings go hand-in-hand. For members of the community, it is important to know that local government is a leader in both environmental issues and efficient operation. 
(1) http://www.thenaturalstep.org/
(2) Schott, Kate. 2007. "La Crosse Adopts Plan in Effort to be Eco-friendly". La Crosse Tribune. http://lacrossetribune.com/news/la-crosse-adopts-plan-in-effort-to-be-ec... (Accessed April 18th, 2016).
(3) City of La Crosse and La Crosse County. Sustainable La Crosse Commission. 2009. "Strategic Plan for Sustainability". http://sustainablelacrosse.org/PDF/Final%20Joint%20Plan%2005-14-09.pdf (Accessed April 19, 2016).
(4) Tribune Staff. 2009. "City Poised to OK Sustainability Plan". La Crosse Tribune. http://lacrossetribune.com/news/city-poised-to-ok-sustainability-plan/ar... (Accessed April 19th, 2016).
(5) City of La Crosse and La Crosse County. Sustainable La Crosse Commission. 2013. "Sustainability Indicators Report".