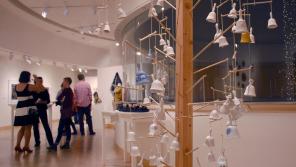 Solo shows by two artists exploring memory and identity through narrative experiences.
Waterways features three Wisconsin artists--Sarah FitzSimons (Madison), Marsha McDonald (Milwaukee), and John Miller (Madison)--whose work investigates the essential nature of water.
Graham Yeager's sculptures in steel and wood are finished with a palette of strong, vibrant color. Tyler Robbins's photomontages are a fresh offshoot of his photographic series focused on the suburbs' landscapes, rituals, and citizenry.
CLOSED DUE TO COVID-19
Wisconsin Academy Administrative Offices and Steenbock Gallery
1922 University Avenue
Madison, Wisconsin 53726
Phone: 608.733.6633
CLOSED DUE TO COVID-19
James Watrous Gallery of the Wisconsin Academy of Sciences, Arts & Letters
3rd Floor, Overture Center for the Arts
201 State Street
Madison, WI 53703
Phone: 608.733.6633 x25