Meredith Keller
Minutes before the start of last spring's Science, Policy & Water Summit, I received this email:
Dear Miss Keller,
We are pleased to inform you that the college would like to award you the full-cost Master's Studentship for your MPhil course at the University of Cambridge, starting this fall. Congratulations!
I was stunned.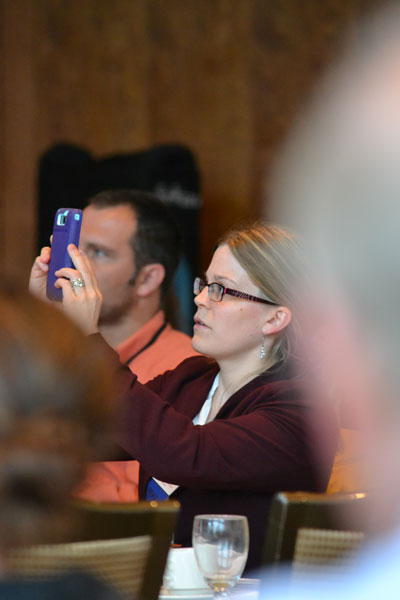 This past winter, I had applied to several graduate programs in the UK, knowing that the only way I could possibly consider accepting any offers was with a full scholarship. It has been a dream of mine to live and study abroad. After working in environmental policy and political organizing for ten years, I was ready to gain an international perspective on the issues I have worked on at the US level.
I excused myself, called my husband and my parents, and then went back to prepping the podium. I knew I was going to accept (although, I was not absolutely certain the email was not some practical joke). But I also knew I did not want to leave my job at the Academy.
As challenging and taxing as my job could be, I knew—and this has proven true—that the most difficult thing I would ever do is leave. I love the Academy. There is no organization like it out there—and I am leaving behind the best group of people I have ever worked with.
The Academy has brought me innumerous opportunities to witness magical connections among our state's ideas, people, governments, anything and everything. Just last year, our Climate & Energy Initiative brought together mayors, county board members, civil engineers, academic researchers, and others at the first Local Government Summit on Energy & Resilience in Stevens Point. The Academy's COP21 series literally connected the United Nations climate change summit with Wisconsin. Ditto for Waters of Wisconsin, which just this week released its Shifting Currents report—a collaborative reflection on the changes in policy and practice with regards to water in Wisconsin over the last two decades.
It is the people of the Academy that drives these connections in a way no other organization does. The University of Cambridge, with all of its tradition and magnificence, will not have another Aaron Fai, who has edited every blog post over the last two years. It does not have the eye Jody Clowes, our James Watrous Gallery Director, has for captivating artwork. There is no Jason Smith, who curates a magazine showcasing the culture of Wisconsin four times a year—or Amanda Shilling, our Development Director, whose work behind the scenes provides this place with the capacity to be vibrant. Most significantly, there is no Jane Elder, who has been at the helm of the Academy for five years. She is responsible for bringing back the Waters of Wisconsin Initiative and introducing the Climate & Energy Initiative, both back in 2012. I have learned so much from her, particularly how to be a strong leader.
Our new Initiatives lead Chelsea Chandler is the perfect addition to this team. In the two weeks we overlapped, she took the reins and applied her years of first-class environmental education and non-profit work to leading the Initiatives. She is phenomenal, and I look forward to seeing where the programs go under her direction.
I have loved every minute of my time at the Wisconsin Academy of Sciences, Arts & Letters. I look forward to applying everything you have all taught me as I pursue graduate studies at Cambridge.
Chelsea Chandler
I am excited to be leading the Academy's Climate & Energy and Waters of Wisconsin Initiatives and build on the statewide network Meredith has cultivated over the last couple years, while bringing new perspectives to my position as Environmental Initiatives Coordinator role. I hold degrees in atmospheric science and environmental management. My multidisciplinary education has provided me with the tools to understand the science and drivers of air and water pollution, consider the points of view of different stakeholders, and explore strategies to address these environmental challenges. I bring experience from a number of other environmental non-profits where I worked on projects such as building greenhouse gas inventories and evaluating the impacts of consumption; developing local emission reduction strategies; presenting at international training workshops on climate change mitigation; and studying adaptation through water resource management. I am most knowledgeable on climate and energy issues, but have a good understanding of an array of environmental topics and am happy to chat about anything from sea surface temperature anomalies and environmental externalities to navigable waters and environmental justice.
When I'm not in the office (and the ground is not frozen), I also co-own and manage Plowshares & Prairie Farm in Argyle, WI, a produce farm with a community supported agriculture (CSA) program. At the farm we strive to really "walk the talk" and model sustainable living. We share our certified organic fruits and vegetables with our CSA members and market customers. We source much of our electricity from barn-mounted solar panels and heat from our wood stove. We do controlled burns, combat invasive species in the prairie, and maintain the wetland and stream on the property. We also can and freeze enough food to last us through most of the winter. Joining the farming community in southwest Wisconsin has given me new insights into some of the benefits and challenges of rural living, the perspectives that can be gained from getting to know neighbors across political and cultural spectrums, and the importance of taking care of our natural resources and communities.
Pairing the knowledge-sharing of the Academy with the work of caring for a little piece of Driftless land allows me to work in both abstract and applied areas of the environmental field. These roles represent distinct but complementary manifestations of my passion for empowering communities to adopt healthy and sustainable lifestyles.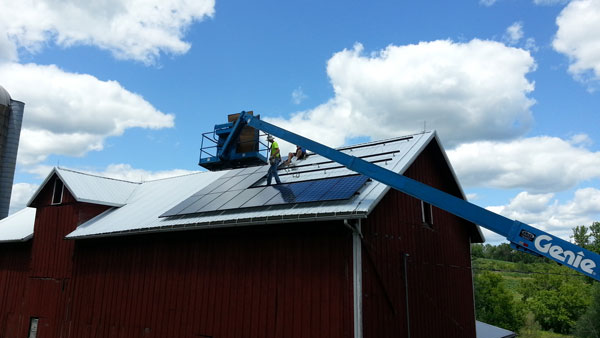 What excites me most about the Academy is our mission to inspire discovery and foster dialogue on some of today's most important issues. An organization that bridges the disciplines of sciences, arts, and letters enjoys a broad reach as well as the unique position to bring people from different backgrounds together to discuss and respectfully challenge ideas, find common ground, and create a better informed and more engaged community. I am excited about the part I will play in these conversations, and I look forward to digging in!