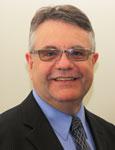 McDonald is the CEO and General Manager of Vernon Electric Cooperative (VEC), a 10,000-member electric cooperative in Westby. In 2015 VEC constructed the first community solar garden in Wisconsin.
Prior to joining VEC, McDonald was the Manager, Executive and Staff Education for the National Rural Electric Cooperative Association in Madison. He was responsible for supervisory and safety training programs. He developed the Cooperative Financial Professional Certificate Program and taught numerous co-op financial management classes. McDonald was also the CFO at Adams-Columbia Electric Cooperative for 17 years.
McDonald serves on the boards of the following non-profit organizations: Wisconsin Rural Housing Foundation, Bethel Home and Services, Wisconsin Federated Youth Foundation, and the Bethel Butikk Food Pantry. He has an Executive MBA from the UW-Madison and a degree in Finance from UW-Platteville.