Our energy choices are not one size fits all. Depending on energy demands, geography, environmental impacts, economics, and many other factors, utilities and individuals have different needs to meet when it comes to their energy use. This is one story from rural Wisconsin where a small co-op is assessing its members' electricity needs and offering some different options to include solar energy in that mix.
Joe McDonald, CEO, Vernon Electric Cooperative
Vernon Electric Cooperative, a 10,500 member-owned electric distribution cooperative in Westby, Wisconsin, offers several ways for its members to support and use clean energy while managing costs and embracing the diverse interests of its members. For its service territory in rural Wisconsin, peak demand tends to be in the late afternoon and early evening when people come home from work and farmers are milking cows. Warmer summers, which are projected to be one impact of climate change in our region, have also stretched air conditioning loads later in the day. The cooperative continues to monitor solar technology, and carefully consider how solar can and should fit into its energy profile. Solar currently represents 2.5% of Vernon Electric's electricity mix. There are three key areas that the co-op is integrating solar into its electricity portfolio.
1. Community Solar
Community solar is a model where multiple co-op members purchase electricity from a shared solar array. Vernon Electric partnered with its power supplier, Dairyland Power Cooperative, and developer Clean Energy Collective, LLC, to build a 305 KW community solar farm, generating enough electricity to power 30 homes. The project, which became operational in June 2014 and was the first community solar project in Wisconsin, proved hugely popular with its 979 panels selling out in just two weeks. The largest purchaser of panels was a farm, while many members bought one to two panels. Two key factors leading to the high demand and success were the price point and flexibility that the project offered. VEC was able to offer the lowest cost in the country (less than $2 per watt) through economies of scale, negotiating incentives for building the first community solar project in the state, and offering a $71 per panel rebate through Vernon Electric's Do Watt$ Right energy efficiency program. Since this project became operational, a handful of other projects of this kind have emerged in Wisconsin.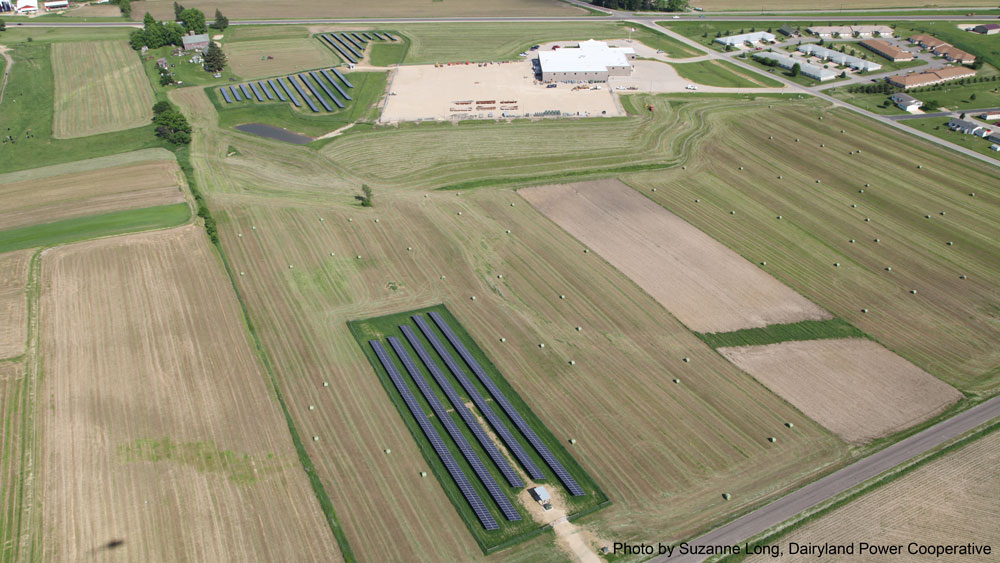 The flexibility built into community solar is also extremely appealing to members. Most Vernon Electric Cooperative members find it simpler to have panels in an array than on their own property because they don't need to deal with siting and maintenance. Not only is it cheaper for members to be part of a bigger array, but it is a less permanent decision. If a member purchases panels and then has a change of plans—such as moving out of the service area, or decides to sell some dairy cows and thus has a lower electricity demand—they can sell the panels back to someone ready and waiting to purchase it. This flexible-term commitment appeals to both property owners and renters, the latter of whom typically have less influence over the energy decisions in their residence. Also, some members aren't able to take advantage of the federal 30% solar investment tax credit, so this model works better for them. A crucial design feature of the community solar project is that members who are interested can partake, but this choice does not impact members for whom this is not a priority.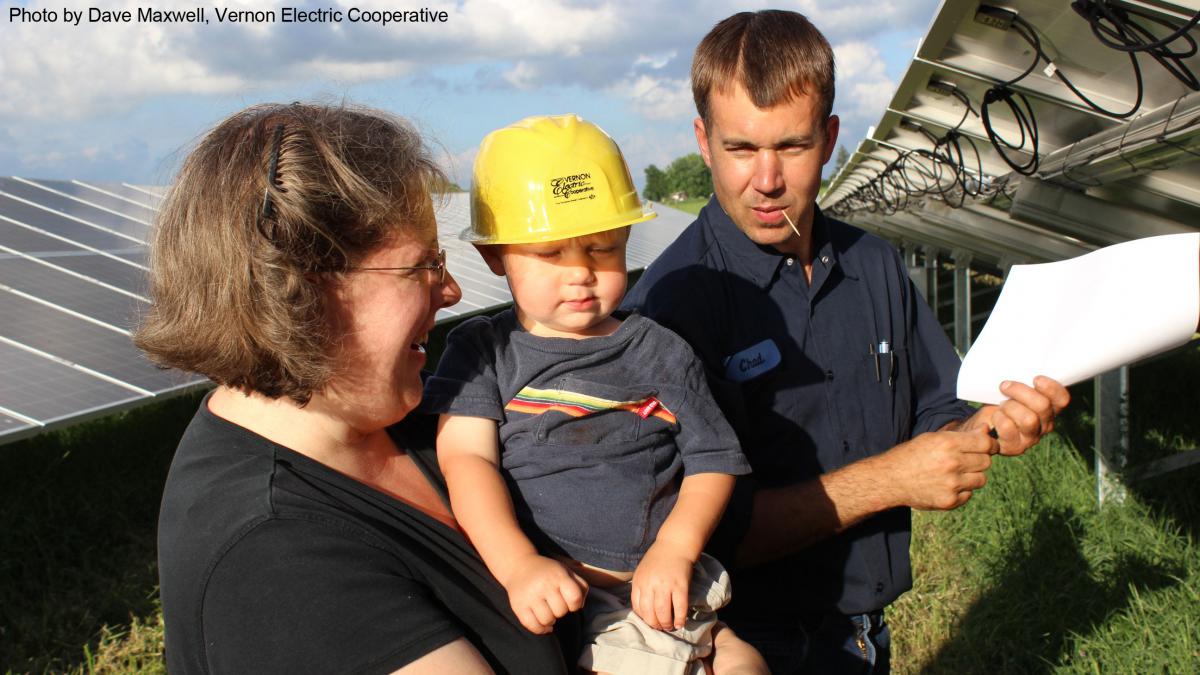 2. Utility Solar
At the same time as the community solar project was built, Vernon Electric, in partnership with Dairyland Power, also built a 520 kW solar array capable of generating enough electricity to power 60 homes. The 520 kW array helps ease summer peak demands on Dairyland Power's system while contributing renewable energy as well as local generation to Vernon Electric's portfolio. Following on the success of the initial installations, Vernon Electric and Dairyland Power have partnered with developer SoCore to construct two solar installations totaling 2.3 MW in Vernon County. Starting in November, Dairyland Power will purchase 2 MW, while VEC will purchase .3 MW (300 kW) of the solar energy output for the benefit of all its members.
For the few Vernon Electric members with panels on their own properties, the cooperative currently offers net metering, which allows these members to sell back excess power to the grid.
3. Green Power Purchasing
Vernon Electric also offers a green power program called Evergreen(SM) in which members can voluntarily opt in to purchase at least one 100 kWh block of electricity from renewable sources such as wind and waste-to-energy sources like landfill gas and livestock manure. A 100 kWh block represents about one-tenth of the average household electricity use, though members can purchase additional blocks. Each block costs an additional $1.50 per month (1.5¢ per kWh). While renters can participate in community solar, in practice they seem to prefer the ease of purchasing green power. While not mandatory, member participation in the Evergreen(SM) program helps to encourage Vernon Electric and Dairyland Power to explore additional renewable energy sources. EvergreenSM is available to members of the 25 distribution co-ops that are part of the Dairyland Power system.
Guided by strategies that make economic sense and provide the flexibility and energy choices rural members want, Vernon Electric Cooperative has assembled a sensible suite of solar-capacity options.
Moving Forward
As solar costs continue to come down and energy consumers signal interest in renewable energy options, the experience of co-ops like Vernon Electric can provide examples for how to take steps to diversify electricity supply and still meet consumer demand. By embracing programs like those outlined above, members of rural communities are demonstrating resilience and foresight in how smart choices today are helping to shape our state's energy future.