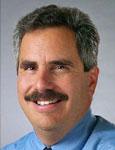 Robert D. Mathieu is the Vilas Distinguished Achievement Professor of Astronomy at the University of Wisconsin–Madison and a Wisconsin Academy Fellow. His research involves the formation and evolution of stars and the dynamics of star clusters. He also leads the national Center for the Integration of Research, Teaching and Learning and is the director of the Wisconsin Center for Education Research. Past leadership roles include President of the WIYN Observatory and chair of the UW University Committee. He has been a Guggenheim Fellow and is a Fellow of the American Association for the Advancement of Science.
Mathieu grew up with a love of the night sky and a fascination for how the universe works. His "discovery" one night of Jupiter's Galilean moons set his path in life. Blessed to be the son of a millwright, he soon learned to build his own telescopes. He spent many nights using them to observe the sky and make measurements for national research initiatives. At Princeton University, the University of California – Berkeley, the Harvard-Smithsonian Center for Astrophysics and for nearly 30 years at UW, he and his students have discovered the youngest binary stars, described the flow of matter from protostellar disks onto these stars, measured the masses of brown dwarf stars, explored the dynamical interactions between binary stars that power the evolution of star clusters, and most recently defined new evolutionary pathways of the stars as they exchange mass or collide during these interactions.
Early in his career Mathieu was honored for his teaching at both Berkeley and UW. Even so, he came to realize that his graduate and post-doctoral education had taught him little about teaching, especially research-based practices that increase the learning of all students. From this realization began the Center for the Integration of Research, Teaching and Learning, a national initiative to prepare future STEM faculty—graduate students and post-doctoral fellows - to become both forefront researchers and superb teachers. The ongoing Delta Program at UW was the CIRTL prototype. A decade later, the CIRTL Network includes 46 major research universities, representing a third of the Ph.D. production of the United States, and their CIRTL participants are becoming the faculty at colleges and universities across the United States and beyond.
Today Mathieu seeks to advance learning at all ages as the director of the Wisconsin Center for Education Research, the nation's preeminent university research center in education.