When people think of Wisconsin, they think of farms. While farms both large and small dot our pastoral lanscapes, images of cows, barns, and cornfields are almost as ubiquitous. License plates, grocery store signs, and all types of non-farmed products incorporate agricultural imagery—both as an homage to the state's largest industry as well as a symbol of Wisconsin authenticity. The farmland heritage of Wisconsin is so woven into our iconography that it is easy to forget there are living and evolving people, plants, and animals behind these images.
Wisconsin artists Sue "S.V." Medaris and Craig Blietz draw inspiration from our state's deep agricultural heritage and practice. Their artwork has gained both critical and popular praise for the ways in which they use animal models to honor and instill new life into agricultural narratives. In her paintings and prints, Medaris deploys unexpected, vibrant color and immaculate detail to capture the charm and character of her family's chickens, ducks, and pigs. Blietz employs deep color and intense contrast of light to create realistic oil paintings of cattle that abandon typical barnyard context.
• • • • •
S.V. Medaris is as much a farmer as she is an artist. When she and her husband, James, were in the market for a new home in Southeastern Wisconsin, she had a short list of criteria that needed to be fulfilled. She told him to find a bedroom for her son Luis, a studio (with a drain) where she could make artwork, and a plot of land for raising chickens.
When James called and told her about this place just outside of Mount Horeb that had "all those things and … landscapes for the rest of [her] life," Medaris wasn't prepared for the beauty she would find: soft, contour-farmed hills that look like a quilt from above. In 1998, the family settled in to a home located on 98 acres of prairie grass protected by a conservation reserve program. It was a place that would change Medaris' relationship with both the land as well as her artistic process. 
Throughout those first years in Wisconsin, Medaris filled her Driftless Area pastures with an ever-growing group of dogs, cats, peafowl, and chickens. She and her family assembled a fenced-off area for raising pigs a couple of years later, and she quickly learned the basics of butchering from a neighboring farmer.
During this period, Medaris was learning new artistic techniques as well, pursuing a graphic design arts degree and working as a designer and illustrator for The Why Files. An initiative of the University of Wisconsin–Madison, The Why Files was an award-winning print and (later) online magazine that explained the science behind the news through fun and visually engaging articles. "I was given free range to do whatever I could to pull the readers in," says Medaris, reflecting upon the ways she drew upon her graphic design ability to make complex scientific ideas understandable. 
In the early 2000s, Medaris began a ten-year run of successful solo exhibitions that merged her interests in domestic animal husbandry with her expanded artistic capacities. Although she had worked as a professional artist in the past, Medaris says she was struck with "this need to have a solo show, make professional artwork, and start showing again." Her opportunity came when Madison Central Public Library hosted A One Chick Show, Medaris' installation of large-format cock and hen paintings, in October 2004. "I grew from that first show. It was my welcome back into the fine art world as a professional artist."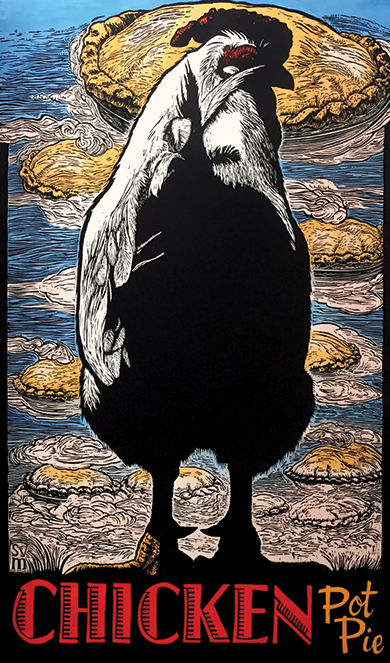 She spent the following year taking oil and pastel courses from Madison Area Technical College, building up her body of work, and creating a 20-by-13-foot mural of a chicken titled The Return of Big Tiny, which was later purchased for the permanent collection of Verona-based software company Epic. "That year I got better with pastels because I wanted to have a show that knocked people's socks off in terms of the chickens, all the different breeds, and what life is like for them." 
When the economy crashed in 2008, Medaris began supplementing her income with her artwork. She founded Market Weight Press and embraced linocuts and printmaking as a way to create works that were smaller than her oil-painted canvases and more accessible to the casual art buyer. During the recession, Medaris was accepted as a graduate student in UW–Madison's Department of Art, where she focused on printmaking and book arts, further honing her craft. More exhibitions followed, two at the Artisan Gallery (The Tunnel of Mortality and In Dog Years) and a solo show at the Museum of Wisconsin Art (Strange Breeds: Evolution and Selective Breeding). 
Always gathering techniques and subjects, old and new, Medaris is building an innovative practice and business. With the meticulous planning of a graphic designer, she is able to maximize the dramatic narrative of her prints, capturing an audience's attention around typically underappreciated livestock. Throughout her career, Medaris has defined herself by the miraculous detail of her works and the witty, electric personality each piece conveys, time and again.
• • • • •
In the mid-1980s, Craig Blietz was working as a portrait painter in Chicago and dreaming of an idealized rural lifestyle. "I wanted to live in a barn, and have my studio in there," he says. Blietz often drove out to visit cattle at Wagner Farm in Glenview, a Chicago suburb, spending hours observing the energy and behavior of the animals. "They're enormous [yet] very gentle, very kind."
In autumn of 1995, ten years after his first but forgotten dreams of rural life, Blietz was introduced to the painter James Ingwersen who lived in Sister Bay. Ingwersen encouraged Blietz to visit Door County. He soon did. "I was unbelievably impressed with the culture, the performing arts as well as the visual arts. The community was friendly," recalls Blietz. "I saw [Ingwersen] was living as I had imagined I had wanted to." Four years later, Blietz came to stay.
Like Medaris, the move to rural Wisconsin irrevocably changed Blietz's relationship with the land and his artistic practice. Blietz is today painting full-time and living in Sister Bay. Where in the past his work largely focused on still-life portraiture and landscapes, he has entirely transitioned to a mode and style that position him as a master of his craft. Blietz shares, "If you had to categorize them now, they are principally landscape paintings in that they represent Place—and I say place with a capital "P."
Despite drawing context from the vintage agricultural implements of Old World Wisconsin and the rural landscape of Northeastern Wisconsin, Blietz's recent paintings present a placelessness that is paradoxically familiar. In Of Twilight, a Holstein cow seems to confront the viewer, illuminated by an unknown light source while a full moon hangs distant in the maroon sky. Saffron–August presents a side portrait of a Holstein in a late summer field that could be almost anywhere. These realistic-looking cattle in familiar surroundings seem to be symbolic fodder for our introspection. 
To find models, Blietz relies on good friends and neighbors. One farm on Highway 57 offers him open access to their animals. With patient dedication, Blietz spent years perfecting and abstracting the Holstein form, conjuring substantive bodies of work from his explorations. While his earlier Herd series layers cows upon each other in small assortments before muted, horizonless backgrounds, the new Yard series features eight-by-nine-foot, high-contrast depictions of cattle. 
In his most-recent work, Blietz pushes the boundaries of iconography and pastorality. Pollen shows a pale cow next to its faded shadow, bright white with a wilting flower on the far right. Some paintings contain sheep and goats beside classical or Renaissance references. In Triticum, a group of cows crowd together in front of a backdrop of circular symbols while stems of golden wheat sway in the foreground. Emotionally evocative, even disconcerting at times, Blietz's work revels in its unexpected, surrealist presentation of agrarian landscapes of Northeastern Wisconsin.
Despite the color and depth these two artists instill in their work, Blietz and Medaris recognize their subjects have vivid, interior lives of their own. "I don't ascribe anything to them," says Medaris. "These animals that I call companions, models, pets, family members, they have extremely expressive faces. If you catch them at a certain moment, you see it."