Much like its award-winning confections, Mayana Chocolate in Spooner is full of surprises.
Run by husband-and-wife owners Daniel and Tamara Herskovic, Mayana Chocolates produces an array of handmade treats, including six signature chocolate bars that incorporate gourmet ingredients like vanilla bean shortbread, crispy coconut cookies, and bacon-almond praline.
 "We make all of the ingredients that go into our bars," says Daniel. "We slow-cook our caramel. We grind our own praline paste. We make our own shortbread. And we purchase high-quality chocolate from fair trade producers in Ecuador or West Africa." 
The pair describe their chocolates as "elegant and innovative." When it comes to flavor ideas, they ask, "What do people truly want to eat when it comes to chocolate? and then present it in a fun and unexpected way," complete with beautifully-designed packaging created by Tamara. Both Daniel and Tamara agree that "what is inside is very important, and the impression it makes on the outside is equally important."
Their Space Bar features vanilla bean nougat, toasted almonds, and fleur de sel caramel wrapped in a blend of dark chocolate. The Mayan Spice bar which, according to Daniel, should be enjoyed with a glass of bold red wine, is a combination of dark chocolate ganache, sea salt caramel, and toasted corn tortilla. 
While Tamara loves the chewy Coconut Dream Bar, Daniel prefers the Heavens to Bacon Bar, which (of course) contains bacon-praline, potato chips, and smoked sea salt caramel. He says that while the Kitchen Sink Bar is a favorite among customers, critics just can't get enough of the Space Bar.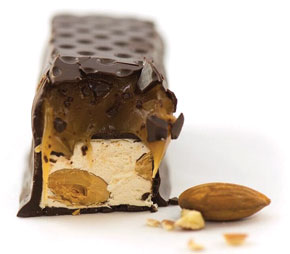 The demand for Daniel and Tamara's chocolate really took off in 2014, when Food & Wine editors named the Kitchen Sink Bar, which includes peanut butter, pretzel pieces, crisp rice, and fleur de sel caramel, a Top 10 Pick. Since then Mayana Chocolate has received a number of accolades, including being named a 2016 Top 10 Chocolatier of North America by Dessert Professional magazine, a widely-respected trade publication, and a 2017 Good Food Awards winner for their Space Bar (left). 
The two have enjoyed working together since they met a decade ago in Chicago, where Daniel was a professional chef and Tamara was an event planner. The duo pooled their skills and resources to create a private catering business and was looking for a way to set themselves apart when Daniel came up with the perfect take-home gift for clients: gourmet chocolates.
 "I became fascinated with chocolate [but] I realized I needed some help. So, I sought out … some of the best chocolatiers in the United States and France. They showed me the techniques, and, ever since, chocolate has become an obsession." 
Studying with some of the most respected names in the
chocolate world, including Manhattan pastry chef Andrew Shotts and renowned French chocolatier Lionel Clement, Daniel perfected his technique. "For [chocolate] to work properly, one needs a temperature-controlled room and a respect for time. It simply can't be rushed," says Daniel. 
Relocating to Spooner in 2013 changed the couple's business focus from the "Chicago scene" to a more community-based approach. Even though they had been there many times (Tamara's parents live in Spooner), the couple was surprised to find how much the town rallied around their new business. "In a big city, businesses fail every day without anyone noticing. But if we run into trouble, we have the support of the community to find a solution," says Daniel, noting how much support they also received from the Northwest Wisconsin Regional Planning Commission.
Their modest production facility is now located on a quiet residential street, and their chocolates can be found in retail locations across Wisconsin and 25 other states. Daniel and Tamara hope to expand to all fifty states in 2017 and develop stronger connections with retail customers in Japan, Canada, and other countries that are beginning to carry their chocolates. 
Even though Mayana Chocolate is now a national brand, the company stays true to its Wisconsin roots by incorporating local ingredients whenever possible. They use local dairy and honey when it's available, purchasing from producers like Crystal Ball Farms Organic Dairy and Milk N Honey Acres. Mayana Chocolate has also featured the work of local artist Bob Macone, who built the wooden display racks for Mayana's local retail outlet. 
Although Daniel and Tamara could have lived out their dream most anywhere, the two are happy to live and make their chocolate in Spooner. They call the Mayana Chocolate team their "family," and they say that Spooner is "the best place to manufacture our chocolate and grow our business." 
"Wisconsin is a great place to make a food product. I think when many people hear of Wisconsin, they associate it with natural and pastoral surroundings. The people who help us build our business are wonderful," says Daniel, adding, "When we were in Chicago, we only thought of doing business in Chicago. When we moved to small-town Wisconsin, the whole world opened up."