The big, bumpy Pueblo Hubbard Squash is one of Chef Elena Terry's favorite ingredients. It's the star of one of her signature dishes, a dessert she calls SassSquash, in which she pairs the rich flavor of the Pueblo Hubbard with tart wild cranberries and smoky maple syrup to create an entirely new flavor profile. Terry, who is Ho-Chunk, draws on her deep knowledge of traditional Indigenous ingredients to create accessible dishes like SassSquash that both satiate and educate.
Working with food keeps Terry close to the Ho-Chunk stories and traditions of her ancestors. She runs a catering business, teaches classes on how to cook Indigenous foods, and does pop-up dinners once in a while. But she also spends time foraging in the woods or at her farm just outside of Wisconsin Dells, where she grows, prepares, and cooks her ingredients as closely as possible to the traditional ways. At planting time, for instance, Terry puts down an offering of tobacco in the field while giving thanks and saying a prayer for the food. Traditional practices such as these are a good reminder of "the importance and reliance [we] have on these [foods] and the connection they give to our ancestors," says Terry. "There was a lot of work done before we were even on this earth to make sure we had these ingredients."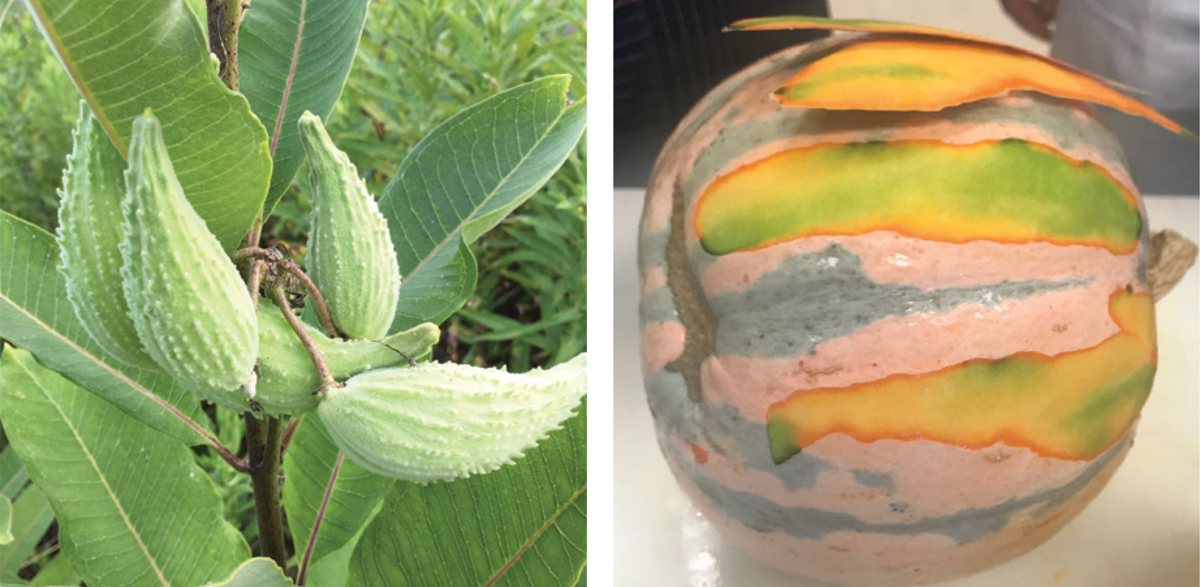 Terry says that her love of traditional Ho-Chunk foods was learned from her grandmother. Some of her earliest memories are of helping her grandmother carefully butcher and dry wild game—deer, turtle, rabbit, and muskrat—and reveling in that one-on-one time together. She also fondly recalls the larger gatherings with her cousins, especially during the annual corn harvest. Her grandmother's home would be set up in stations, with everyone gravitating to their favorite spot, whether it was husking, cooking, tending the fire, or taking kernels off the cobs to dry them on homemade screens. During meal breaks, there would be talking and laughter while everyone enjoyed soup and bread made over the fire.
"It was a connection we didn't realize was being established as children," admits Terry. "And now as we're older, those lessons on how to care for the food and how to treat it correctly still resonate." 
This notion of treating food correctly is how Terry got involved in the food sovereignty movement, which strives to assert more local control over food systems by rebuilding relationships between communities and food growers and providers who use sustainable and ecologically sound agricultural practices. She found that many of the tenets of the movement were already central to her Ho-Chunk beliefs and practices, and she quickly became involved with the Native American Food Sovereignty Alliance (NAFSA). Through NAFSA Terry discovered the Indigenous Seed Keepers Network, a group that harvests and shares seeds from ancestral fruits and vegetables. The seed keepers ensure that culturally important seeds are preserved, talked to, and treated with incredible care so they will provide for future generations. Terry, who has been keeping seeds for years, notes that some seeds can be traced to families or individuals going back hundreds of years.
Terry describes how "seed keepers know the origins of our ancestral seeds—seeds that have made the journey with our ancestors through the [tribal] removals, seeds that have survived for centuries without being cross pollinated, seeds that have provided for our ancestors in times when we didn't have access to our resources."
For Terry, seeds represent both the past and the future of her people. In the spring, she travels to Native American-owned farms both near and far to deliver seeds for planting. In the fall she returns to the farms to chart growth patterns and discuss soil compatibility or row spacing with the farmers. Often she demonstrates how to use harvested ingredients, drawing on her knowledge of the unique flavors that can be found in the same plant grown in different regions. She's even worked with the UW–Madison's Seed to Kitchen Collaborative to grow and assess various types of ancestral corn for organic crop production in Wisconsin.
Terry does all this because she understands that the sustainability of these Indigenous crops increases with each farmer she meets, with each recipe she shares, with each partnership she makes. "When you do this, especially when it comes to our Indigenous ingredients, it offers a support network that will hopefully guarantee that these ingredients will be there for future generations—they'll be appreciated in a way that will preserve them for the future."
For Terry, food is as essential for the spirit as it is for the body. It's not just something you get in a box at the store but, rather, a way to nurture and connect people from all walks of life. "Regardless of whether it's Indigenous food or farm-to-table food, it's a way to strengthen the community," she says.
Terry spent the first ten years of her career in the restaurant industry, learning about the business while developing an appreciation for her own contributions—her unique influences, background, and knowledge about food. In 2017 she was working as a trainer at the well-known BBQ chain, Famous Dave's, and feeling like it was time to shift gears. She got an extra nudge from friend and fellow seed saver Jessika Greendeer, who encouraged her to apply for a new Culinary Mentorship Program sponsored by the Native American Food Sovereignty Alliance.
"At the time, I was thinking if I made it into the program, I would commit to doing what I thought I needed to in my community to promote food sovereignty, and do it in a positive way," says Terry, who was one of four chosen to participate in the inaugural program, which offered Terry the chance to work with some well-established Native American chefs. The mentorship brought her to the Intertribal Agriculture Council's "Great Lakes Intertribal Food Summit" at the Meskwaki Settlement in Tama, Iowa. It was the first time Terry had seen so many Native American chefs in one place, and she made a commitment to attend as many summits as possible. 
At a later summit in Mashantucket, Connecticut, she learned how to process and cook fresh seafood alongside well-known Native American chefs Sean Sherman, a James Beard Award winner, and Brian Yazzie, the co-founder of Intertribal Foodways (an Indigenous food catering company). During another summit in Taos, New Mexico, chef Loretta Barrett Oden (host of CreateTV's "Seasoned with Spirit") encouraged Terry to use the Pueblo Hubbard squash to make something truly amazing—which she eventually did.
In addition to offering a wealth of experience and connections to other Indigenous chefs, the mentorship program provided Terry with a small grant to create an event focused on food and community. Understanding the role of mentorship in her own career, Terry decided to use her grant to mentor other aspiring chefs. Taking a cue from outspoken Indigenous food advocate and chef, Brian Yazzie, whom she worked with at Mashantucket, Terry established Wild Bearies Catering in 2018.
Through Wild Bearies, Terry combines her desire to promote native food sovereignty with a means to mentor people in the native community who have suffered trauma from alcohol and drug abuse. By creating a supportive, non-judgmental environment in her kitchen, Terry hopes to reincorporate these people back into the tribal community while teaching them important life skills. Mentees are asked to make a commitment that includes recorded kitchen hours, food preservation hours, community outreach hours, and gardening and harvesting hours. Once mentees have shown they can handle their given responsibilities, they receive a chef's coat symbolic of the discipline and dedication required to be part of the team. So far, ten of the 26 participants have gone on to find long-term employment. 
"It's been a beautiful thing to watch the people who have been committed to the program since the beginning become really confident cooks," says Terry. 
This mentorship model echoes her ancestors' way of teaching through apprenticeship, and of offering pathways back into the community for those who have strayed. Wild Bearies does this with a steady paycheck, practical experience, and a sense of family. In the Wild Bearies kitchen, questions are encouraged, mistakes are expected, and mentees are required to stay positive because, as Terry always says, their attitude is reflected in the meals they make.
The catering element of Wild Bearies gives Terry and her mentees the opportunity to practice and teach Native American food sovereignty with the greater community in a delicious and accessible way. During FarmAid 2019, Wild Bearies set up a food stand offering wild rice bowls with fresh roasted vegetables, cedar tea, and three sisters soup, a traditional recipe containing hominy, beans, and squash. They also participated in the inaugural Femmestival event, a celebration of womxn, femmes, and nonbinary entrepreneurs, artists, and producers, held at Garver Feed Mill in Madison, serving both sweet berry and savory wild rice bowls. At an event at Ho-Chunk Casino last November, Terry and her team turned an entire section of the buffet into an Indigenous foods station with bison meatballs, wild rice, roasted root vegetables, and a blue corn-based dessert. During that same month they were also able to incorporate one Indigenous menu item at each of the casino restaurants.
During all of these events, her mentees build their personal networks and relationships with other tribal members and the public. In February, Terry and her Wild Bearies team partnered with the Native American Food Sovereignty Alliance and the Ho-Chunk Nation for the 2020 Hunter's Feast. Chef Yazzie, one of Terry's mentors, and Chef Crystal Wapepah from California built the menu with the Wild Bearies mentees, who got to meet chefs, nutritionists, hunters (who donated game and fish), and other members of the community, who are all bringing their knowledge and traditions to the Native American food sovereignty movement.
Seeing her mentees working with all these committed people was a full-circle moment for Terry, who had just been named the Food and Culinary Program Coordinator at NAFSA. It was just a few years earlier that she got her own first break as a NAFSA Culinary Mentorship Program participant, and now she would announce the opening of the next round of the program. But what touched her even more was how many different people made the journey to this significant gathering: representatives of the Shawanda family from Great Lakes Culture Camps in Ontario, the Meskwaki Food Sovereignty Initiative of Iowa, and the Montana-based Intertribal Agriculture Council were all in attendance. Some of the Oneida ancestral seed savers also came and brought their corn to share.
"The intention was always to have [Wild Bearies] expand into a stronger network, to support our ancestral ingredients, and to build these relationships," says Terry. "It was a real blessing, to share the kitchen energy, those ancestral foods, and the nourishment with each other."
For Terry, her passion for sharing her ancestral food traditions while building a healthier community and planet keeps her going strong. "It's truly rewarding to see my community have an interest in this. If I'm just a small piece of the puzzle to make that happen, I'm really blessed. I couldn't be more grateful to be on this journey and have these foods around me."