Wisconsin People & Ideas - Fall 2009
It was the first major event for my new job.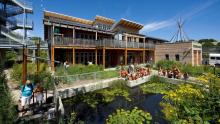 Milwaukee youth discover nature at the Urban Ecology Center.



Nobody could figure out why the Colonel's wife tried to beat the train.
When Dad came home that night he said it was a terrible waste of a '55 Chevy Bel Air, and, even with a V-8 engine, she should have known better.
Wisconsin Academy Offices 
1922 University Avenue
Madison, Wisconsin 53726
Phone: 608.733.6633
James Watrous Gallery 
3rd Floor, Overture Center for the Arts
201 State Street
Madison, WI 53703
Phone: 608.733.6633 x25