Location
Gundersen Health System
1900 South Avenue
La Crosse, WI 54601
United States
US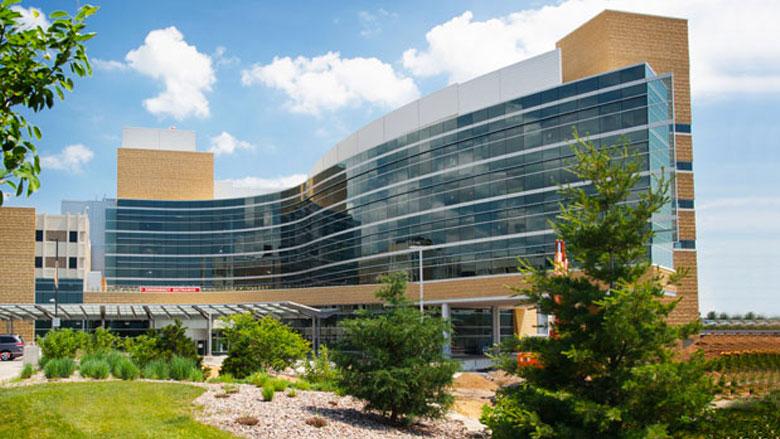 As a healthcare organization, it is our responsibility to not only take care of our patients in a hospital or clinic, but to help our patients and communities stay well," says Gundersen Health System CEO Dr. Jeff Thompson.
Gundersen Health System is a physician-led integrated health care delivery system headquartered in La Crosse, Wisconsin, that includes a major hospital in La Crosse; more than 25 regional clinics in Wisconsin, Minnesota, and Iowa; and nursing home, pharmacy, and medical transport services. Gundersen has received national recognition for its environmental program, Envision, and has become a model for how health systems can implement institution-wide changes to become more sustainable.
Under the leadership of Thompson, Gundersen has utilized a "two-sided green" strategy, meaning it both reduces the cost of delivering health care and also reduces emissions that are harmful to human health and the environment. Gundersen's goal is to become completely energy independent in 2014.
The Birth of Envision
 In 2008, Gundersen's executive leadership realized that the utility bills from their multiple facilities were increasing by $350,000 each year. They decided to conduct energy audits at their largest facilities to identify areas where they could improve efficiency. These audits revealed that Gundersen could reduce energy use by 25 percent and save over $1 million each year by engaging in retro-commissioning (improving efficiency of the equipment in place) of their heating, cooling, and lighting systems; and by modifying employee behavior Gundersen partnered with Wisconsin's Focus on Energy program to implement these low-cost or no-cost measures, and the Envision program was born.
Making changes related to energy efficiency is a good way for health systems to get the most bang for their buck, according to Envision's Executive Director Jeff Rich. Improving energy efficiency required relatively little financial investment from Gundersen, and it quickly resulted in lower utility bills. Rich also points out that the success of these low-cost measures demonstrated that such environmental programs make good financial sense, which helped to promote support for Envision's future projects.
Building on Success
After Gundersen improved the energy efficiency of its facilities, the health system started to look for other ways to develop its "two-sided green" strategy. They decided to partner with La Crosse County to build a generator that converts biogas from a local landfill into electricity and heat for their Onalaska clinic in Wisconsin. They also built wind farms, installed solar panels and solar heating systems, and built a biomass boiler that utilizes wood chips from the region to provide heating for their La Crosse campus.
In addition to developing clean sources of energy, Gundersen decided to focus on reducing the amount of waste it produces. They successfully eliminated the use of food service Styrofoam in their hospitals, and implemented a comprehensive waste management system that has kept 17 tons of food out of landfills each year. Gundersen has also implemented over 30 recycling initiatives, including a joint program with the Coulee Region Retired and Senior Volunteer Program that recycles surgical blue wrap and turns it into tote bags, aprons, and patient education bags.
Gundersen is a leader in making healthy, locally grown food available to its patients, employees, and the communities it serves. It participates as an institutional buyer in the Fifth Season Food Cooperative centered in Viroqua, Wisconsin, about 33 miles south of La Crosse. Gundersen holds a Class A buyer membership, which means it has a vote on the co-op's board of directors. The health group supports the participation of its employees in co-op projects and on its board of directors
Many of the benefits of the Envision program have been passed on to patients in the form of lower health care costs and a cleaner environment. Energy costs typically account for about one to two percent of a health system's expense budget. Though it may not seem like an enormous difference, money saved on energy bills has helped keep costs to patients below the inflation rate. In addition to these benefits, Gundersen's clean energy projects have kept more toxins, like particulate matter and mercury, out of the environment and out of patients' bodies.
"Everyone's on the Green Team"
Jeff Rich attributes Gundersen's success largely to two factors: having executive leadership that is fully on board with sustainability efforts, and having committed employees who make these initiatives happen. CEO Jeff Thompson has been instrumental in providing vision and leadership to Envision. In 2013, the White House named Thompson a "Champion of Change" for his work with Envision, and he continues to represent the Gundersen in a variety of national environmental initiatives.
Rich is proud of the fact that Gundersen's sustainability efforts aren't confined to a single department. "Everyone's on the green team," he says, "it's everyone's job." Gundersen has gotten cross-sector input on sustainability from departments such as finance, marketing, security, legal, nutrition services, and custodial—to name a few. Employee engagement is evident in the diversity of projects that Envision has undertaken, from waste reduction to renewable energy to employee participation in ridesharing programs.
Continual Growth
The Envision program is continuing to grow. Two biodigester projects were recently completed in Middleton (2013) and Sun Prairie (2014) that will turn cow waste into energy, doubling the amount of renewable energy that Gundersen produces throughout the state. Gundersen built a new hospital in La Crosse, which is in the top one percent of energy-efficient hospitals in the Upper Midwest, and began receiving patients in January 2014. 
Gundersen is on track to achieve energy independence by mid-2014. This impressive goal has been accomplished through the hard work of a team of committed individuals who have constantly challenged ideas of what a health care system is capable of doing. Gundersen is setting the bar for health systems looking to reduce their environmental impact and improve the health of their patients.