For years I had hoped to write a profile of Ruth DeYoung Kohler, the woman who guided the John Michael Kohler Arts Center to an international reputation for its care and exhibition of artists now known as "environment builders." Kohler is one of the few arts leaders I've met in Wisconsin for whom the term visionary is not an overstatement.
I had convinced her at one point to meet me for monthly lunches about halfway between Sheboygan and Milwaukee, where I worked as the art critic for the Milwaukee Journal Sentinel. I drove to Port Washington for our get-togethers without expectations. Perhaps I would get to know her a little and earn her trust.
Kohler was late the first time we met, I remember, and sipped hot water with lemon because she wasn't feeling well. When I asked about her life, Kohler diverted our conversation to the subject of her mother, who had the same name. Kohler became very animated when she talked about her namesake, a feminist and Sorbonne-educated journalist who penned The Story of Wisconsin Women, a 1948 catalog of women of influence.
My monthly lunches with Kohler didn't last long. She would often reschedule or cancel, out of what I assumed was reticence. Still, for years I kept a thick file marked RUTH, where I squirreled away notes and bits of research, knowing how notable her place is in our state's art history. 
I had so many questions, but mostly this one: How did this hard-to-know, complicated heiress from a family of plumbing magnates, who guided an off-the-beaten-path arts center to an international reputation for its groundbreaking work with underrecognized art forms, come to her singular perspective?
Our paths crossed over the years, and, in subsequent conversations with Kohler, I tended to avoid the personal. That is, until our final interview, just months before she died in November 2020.
She and I sat in a wood-paneled room in the old part of the John Michael Kohler Arts Center, which, at one time, was the home of Kohler's grandfather, the namesake of the center. A few miles from where we sat, the Art Preserve was nearing completion. Made possible by her unconventional ideas, ambition, and that notable name, the Art Preserve is a space Kohler had envisioned decades before it was built. Owned and operated by the John Michael Kohler Arts Center, the Art Preserve is the first museum in the United States to focus on artists known as "environment builders," whose worldviews take physical and immersive form and who often turn entire homes and properties into works of art. It is a hybrid space, simultaneously an experimental museum open to the public, an unconventional storage facility, and a study center for art that is often lumped into categories that don't quite fit or tell the whole story: outsider, self-taught, vernacular, or folk. 
Kohler got to see the nearly completed Art Preserve and, before the COVID–19 pandemic, visited weekly to oversee the installation process. She passed away, at age 79, not long before its opening.
Sitting with Kohler in that wood-paneled room that day, I opened the catalogue for the Sublime Spaces & Visionary Worlds exhibition, arguably the most important show organized by the John Michael Kohler Arts Center. The 2007 exhibition showcased the Kohler's collection of environments and was, in its way, a proof of concept for the Art Preserve. 
In the catalogue chapter on the late Mary Nohl (1914–2001) is a photograph of the artist leaning against one of her handmade, sunny-faced figures that still populate the yard of the lakeside cottage where Nohl once lived in Fox Point, just north of Milwaukee. 
As Kohler leaned over the catalogue, bright recognition fell over her face. These two women, both independent-minded and complicated, knew each other well. For more than 30 years, Kohler and the arts center strove to support Nohl's reputation as an artist and rescue her Fox Point cottage, often called the "witch's house" by locals. Bedecked with abstract forms and long wooden faces, turned toward one another as if in chatty confabs, the house was more than an oddity that looked, to teenagers, spooky in the moonlight. It was, as Kohler understood, an integrated work of art.
"The breadth of what she focused on, and the beauty of it, the strength of it …," said Kohler, speaking of Nohl and paging through the catalogue, which documents decades of the art center's pioneering study, preservation, and collecting of artist-made environments. 
Then Kohler began weaving together narratives about Nohl with other histories. Stories of her mother, who died when Kohler was a girl, resurfaced again only to trail off. Kohler's memory was misfiring. People close to her had prepared me for this. I waited for her to continue as we sat in the old part of a grand home that once belonged to her grandfather, a place she might have remembered spending time as a child.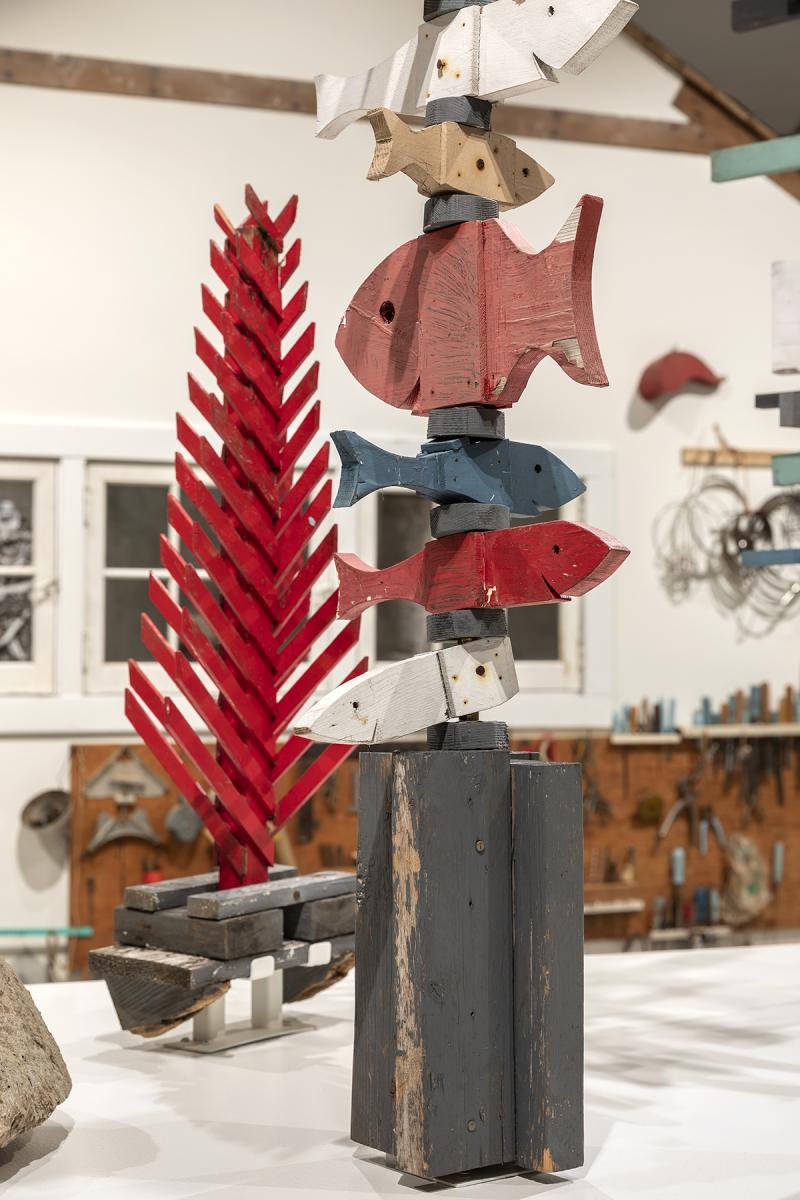 Situated on 38 acres of former farmland and fronted by a curtain of timbers, the Art Preserve is a place that lets you "walk into somebody's vision," says Leslie Umberger, curator of folk and self-taught art at the Smithsonian American Art Museum. 
Umberger was the John Michael Kohler Arts Center's senior curator of exhibitions and collections from 1998 to 2012 and the mind behind the groundbreaking Sublime Spaces & Visionary Worlds exhibition. As such, she played a significant role in the collection and study of the works of the environment builders now housed at the Art Preserve.
"The context and the layers and the organic processes of this type of art," marvels Umberger, "it's something you can't really understand when you come to an artist through one or two, or even five, of their works." 
The John Michael Kohler Arts Center, in cooperation with the Kohler Foundation, a nonprofit known for rescuing art sites, has acquired and preserved more than 30 artists' environments, including the trove of handmade tools, self-taught art, flea-market finds, and ethnographic artifacts collected by the late artist and teacher Ray Yoshida; the glitter-encrusted dentures, suits, and home of Mississippi artist Loy Bowlin (1909–1995) who, inspired by the Glen Campbell hit, called himself "The Original Rhinestone Cowboy"; and perhaps the masterpiece of the collection, Emery Blagdon's Healing Machine, a small shack jammed with intricate, radiating constructions made of bent wire, copper, aluminum foil, minerals, old TV parts, and other oddments.
According to Laura Bickford, curator for the arts center and the preserve, other art institutions tend to be interested in the individual objects of these artists. Conversely, says Bickford, the John Michael Kohler Arts Center wants it all, including letters, journals, receipts, scraps of materials, tools, other ephemera, and even the architecture. 
Over the years, the arts center had acquired about 25,000 objects related to artist environments that now have been taken out of storage and placed on view in the three-story Art Preserve, which is nestled into a hillside near the Sheboygan River. Michael Moore of Tres Birds, the Denver-based firm that designed the building, describes it as "hunkered down like a fox." 
The building is made from humble materials–whole timbers, river rock, and concrete, for instance—not unlike the organic materials favored by many of the artists whose work is housed inside. 
There are no traditional museum labels to be found in the Art Preserve; the light is low, and objects are sometimes set right onto the floor or high onto difficult-to-see shelves, as they would be in a storage facility. The didactics, such as they are, tend to be more like prompts for open-ended wonderment than explainers. Why are these angels lying down? asks one label, providing a literal explanation of how carved wooden pieces are protected in a long-term storage setting while intimating something more poetic.
Bickford says that the Art Preserve, which promises to be an unconventional art destination, not unlike the Crystal Bridges Museum of American Art in Bentonville, Arkansas, eschews the kind of curatorial hand-holding to which many museumgoers are accustomed. Some visitors find the lack of guideposts and overall ambiguity somewhat bewildering, notes Amy Horst, the John Michael Kohler Arts Center's associate director. But Horst says she hopes that visitors will, in the spirit of Ruth Kohler, "explore their own instincts." 
As a young woman, Ruth DeYoung Kohler spent swaths of her life away from Wisconsin, seeing art all over the world and living in Austria, Portugal, and other European countries. She went to Smith College, as did her mother, and studied art and art history. She pursued further studies at the University of Wisconsin–Madison and the University of Hamburg in Germany. Kohler spent a year teaching art in the public schools of Beloit before joining the faculty at the University of Alberta in Calgary, where she founded its printmaking program. 
Kohler had been living the life of an artist in Spain when the modest arts center that would define her life was established in 1967 by the Sheboygan Arts Foundation. It was her father's failing health that brought her home to Wisconsin and to a volunteer gig at the arts center that soon would evolve into a leadership role that kept her here. Some on the new art center's board were not keen "to hire a woman or anyone with the last name of Kohler," worried that the wealthy family would have undue influence, Kohler told The New York Times in 2009. 
The Kohler family would indeed go on to create an art empire, of sorts, with Ruth DeYoung Kohler at the helm. In spite of that privilege, or perhaps because of it, the John Michael Kohler Arts Center's mandate has always been an anti-elitist one: to show art that anyone can enjoy without specialized knowledge, from farmers to factory workers to first-graders, without dumbing down the art on view. 
Kohler took over as director of John Michael Kohler Arts Center in 1972. The next year, the arts center staged one of the largest exhibitions of contemporary ceramics ever organized in the United States: The Plastic Earth, named for the pliable properties of clay. Not long after that, Kohler began needling her brother Herbert V. Kohler Jr., who then ran the Kohler Company, to create what would become one of the world's most idiosyncratic and esteemed artist residencies, the Arts/Industry program. Since 1974 the program has brought hundreds of artists to the factory floor of the Kohler Company, famous for its luxe plumbing fixtures. In the factory's Pottery and Foundry, residents make art while exchanging ideas and technical knowledge with company craftspeople. Resident artists also can learn about industrial scale processes and how to operate heavy equipment such as kilns, furnaces, and machine tools.
It was also in the early days of her directorship that Kohler made a pivotal excursion to see Fred Smith's tavern in Phillips, Wisconsin. Surrounded by over 200 larger-than-life concrete sculptures, including figures of Paul Bunyan and Abraham Lincoln, Smith's "Up North" bar was a roadside spectacle of the highest order. A retired lumberjack and fiddler, Smith had embellished his concrete figures with inlaid glass from broken beer bottles, as well as stones, mirrors, marbles, and other reflective shards. Kohler worked with the Kohler Foundation, the Wisconsin Arts Board, and the National Endowment for the Arts to preserve the site, which is now a public gallery and park called the Wisconsin Concrete Park. 
But it was when Kohler stepped inside a tiny West Allis home in 1983 that her understanding of environment builders changed forever. Thanks to a tip from a police officer friend of the artist and, in turn, the Milwaukee Art Museum, Kohler visited the home of Eugene von Bruenchenhein (1910–1983), not long after he died. She discovered a pocket-sized residence elaborately painted and overrun with sweetly erotic photographs of Eugene's wife, Marie; liquidy apocalyptic paintings; clay crowns and censer pots for burning incense; and spindly sculptures delicately constructed from chicken bones. 
"It was an originality that I hadn't seen before," recalled Kohler, who often described that initial visit to von Bruenchenhein's as among the most important and astonishing moments of her life.
Von Bruenchenhein used materials he could readily find, including clay dug up near State Fair Park, paint brushes made of Marie's hair, salvaged car paints, and, famously, the poultry parts. "Each one, for me, has a voice that tells a slightly different story," Kohler once said of the colorful thrones made of bones. 
Kohler was enchanted by EVB, as he's now known in the art world—quite well known in large part because the art center stepped in to preserve and champion his work. After several years of developing enlightened programs related to contemporary craft, Kohler and the curators who worked with her turned their attention more decidedly toward the work of environment builders. 
Walking through the doors of the Art Preserve and into the main hall, visitors can almost feel the origin story of how this museum came together. The first floor is rooted in Kohler and her curatorial team's early work and the John Michael Kohler Arts Center's dedication to artist-built environments in the Upper Midwest, especially those made by Smith, von Bruenchenhein, and Nohl. 
At the entrance to the building, a functioning bar greets visitors, a hat tip to Smith, who created his concrete sculptures to connect with people and draw them in for a drink. His creations are conversation pieces for those seated at the preserve's barstools, much as they were at Smith's original tavern.
Von Bruenchenhein's works are organized in a house-like tableau that evokes the artist's basement, attic, and greenhouse spaces. The glow and clicking sound of a slide projector entice visitors toward an intimate room where portraits of the artist's wife, in which she's both muse and radiant queen, are projected into a cubby-sized space.
Part of the facade of Nohl's cottage is here in the Art Preserve, too, along with her tools, organized much as she left them at the time of her death in 2001: vises, rolling pins, spools of wire, and hammers worn from a lifetime of use. Her paintings hang from racks and ceramics, wooden sculptures, jewelry, and delicate wire sculptures are displayed in glass cases. Through it all, Nohl's unique iconography, inspired by her shoreline perch, is apparent. Yet Nohl's spirit feels somehow missing from the space, which is dominated by a flat file cabinet. Her gathering of comfy chairs flecked with paint, bright patches of flooring, and a carved serpent zigzagging its way across her living room mantel remain at the original Fox Point site, where conservation and study are ongoing.  
As one of the few known intact environments created by a woman, Nohl's cottage, owned by the arts center since 2012, is artistically as well as historically significant, says Bickford. There's perhaps an irony in this. Kohler, the daughter of a feminist, spent much of her life embracing the work of underrecognized artists, many of whom happened to be white men. In this sense, the arts center's focus on environment builders (though not its whole program) shares some problematic similarities with the larger art world. There are explanations for the disparity, including the fact that women and artists of color have been historically less likely to own homes that can be turned into art sites, notes Bickford, though she suggests an art historical reckoning is warranted.
Other artists on view on the first floor, some of whom were influenced by regional customs and each other, include Levi Fisher Ames (1840–1923), who carved a wooden menagerie of mythic and real beasts; Nick Engelbert (1881–1962), whose concrete sculptures celebrated farm life; Ernest Hüpeden (1855–1911), an itinerant painter; and Albert Zahn (1864–1953), who carved birds, angels, and other flying creatures. 
If the first floor of the Art Preserve explores the early history of the John Michael Kohler Arts Center's focus on environment builders and what they do, the second upends misconceptions about these artists, such as that they tend to be from rural areas, reclusive, or untrained. Ray Yoshida (1930–2009) and Lenore Tawney (1907–2007), for instance, were urbanites and part of the mainstream art world, though both collapsed the distance between their lives and their art-infused surroundings in ways that make them fit into the preserve's mission.
Yoshida, the Chicago Imagist whose influential teaching career at the School of the Art Institute of Chicago spanned four decades, shuffled and reshuffled his collection of art and curiosities like a material in its own right. This was the rationale made by the arts center when it acquired Yoshida's home collection in 2012, an unusual choice since most of the items in the collection were not made by him. Tight groupings of his kaleidoscopic collection, based on photographs of his apartment, are placed into a circular space at the Art Preserve.
Tawney's loft studio is faithfully re-created, including glass shelves where smooth stones, shells, pottery, and wooden forms, inspiration for her gauzy textile works, are carefully aligned. Her dimensional textiles hang in the space, too, some rigorously woven, others slack and expressive, at times intimating the female form.
Infused with sunlight, the top floor of the Art Preserve is home to some of the most intact environments in the collection, including the largest gathering of concrete figures by Nek Chand (1924–2015) outside his homeland of Chandigarh, India, and Blagdon's Healing Machine. 
A third environment, Charles Smith's self-styled African-American Heritage Museum + Black Veterans' Archive, sits on metal shelves. Smith, one of two artists represented at the Art Preserve who are still alive, will arrange the collection himself when he feels comfortable enough to travel to Sheboygan. 
The 81-year-old Smith delivers a free-form testimony when he speaks, which he prefers to do with the aid of his artworks, hundreds of hip-height figures that he's been reworking, repainting, and rearranging for decades, first at a small house in Aurora, Illinois, and now at his home in Hammond, Louisiana. The hands of many of Smith's rough-hewn figures are raised high above their heads, reminiscent of the "Hands up! Don't shoot!" protest chant or, for that matter, in what could be ecstatic, spiritual fervor. 
Every time Smith rejiggers his artworks, he reconsiders and retells the unfolding history of race-related violence in the United States, weaving it together with his own life story, including his combat experiences in Vietnam and the racially motivated murder of his father when Smith was fourteen years old. 
"Long before Black Lives Matter, Dr. Smith's art was telling what's the matter," Smith told me in a telephone interview, appending his name with the title "Dr." to claim the authority of lived experience and speaking of himself in the third person. 
Smith especially loves talking to young people about history and believes no one can fully internalize the truth about the past without somehow seeing it first, which, he says, is what motivates him to make his sculptures. "Without a museum, as a culture and a people, you're like a piece of paper rolling down the street without any destination," he says. "A museum teaches you who you are."
The kind of constant remaking that's typical of environment builders like Smith is a point of inspiration at the Art Preserve, which will be in a similar state of flux, a place for artists, conservators, scholars, and staff to experiment with museum methodologies in real time. "His work isn't fixed, ever," says Bickford of Smith. "It always changes, and that is the point of it."
I'll never forget when Ruth DeYoung Kohler took the stage at the Milwaukee Art Museum in the summer of 2014 to defend her controversial plan to move Nohl's entire cottage from Fox Point to Sheboygan, part of a plan that would evolve and become the Art Preserve. The Ruth Kohler who showed up that night was nothing like the woman who sipped hot water and lemon, whom I regarded as shy. She faced her critics and made a daring if ultimately unsuccessful case. In the end, the John Michael Kohler Arts Center and its board were swayed to leave the house where it remains today beside Lake Michigan, the context and essential source of Nohl's inspiration and materials.
Renowned glass artist Beth Lipman recalls how, if artists were in the room—or if their work was on the line—a more confident and fierce side of Kohler tended to surface. Lipman, who was the Arts/Industry program coordinator from 2005 to 2009, says that Kohler had a palpable desire to be in the presence of artists, an observation confirmed by others in her orbit, including artists and colleagues. 
As I think about Kohler and Nohl, two women who were similarly unconventional in their ideas, single-minded about their art-centric lives, and uniquely committed to a place, I wonder whether Kohler, like Nohl, has been misunderstood. I wonder, too, about the expectations that came with her name. 
Kohler's nieces described her as a Mary Poppins-like figure with a magical home, filled with natural light and long tables bristling with paints, sequins, fabrics, and all manner of texture. "It was freedom," said Laura Kohler. "It was different for us to be private with her in her home."
At the factory, she was frequently called "Ruthie," though her older brother Herbert was known as "Mr. Kohler," almost without exception, Lipman said. Was Ruth expected to become the "arts person" in the family? 
During the years when, in the larger art world, conceptual artists stretched the definitions of art, asking whether artworks could be ideas or ordinary actions, and sidestepping commercialism in the process, Kohler and the arts center explored a similar set of concerns, if from a more unconventional vantage point. Their vision was simple and bold: A human life and all that is gathered around it can be a work of art.
Of course, Kohler was not solely responsible for this point of view. She often hired smart curators who were in a career-making phase of their lives. Kohler gave them resources and pushed them very hard, according to several people I spoke with. The success of the John Michael Kohler Arts Center, which is realized in the Art Preserve, represents the work and ideas of many people over many years. 
I talked with some of these people for this article and others, too. Many revered Kohler. Some described her as difficult, irresolute in certain circumstances, and obfuscating in others. 
But no one I talked with seemed to hold the whole picture of her life. Rachel Kohler, her niece, said Ruth and her two brothers always struggled to have healthy and lasting relationships, whether personal or professional. She assumes this was, at least in part, because they lost their mother when they were young. Ruth's younger brother, Frederic, who grappled with schizophrenia, died in his 50s.
"[Ruth and Herbert] are truly the same person at the end of the day—both stubborn, both pigheaded, both brilliant, both really creative," Rachel said of her aunt and father. "They have this vision and they have this desire to create and to have impact, and they will make sure that happens irrespective of, you know, how many bodies are on the side of the road." 
The Art Preserve itself may get the last word on Kohler, thanks to the architects from Tres Birds. The light fixtures in the towering, concrete stairway are inspired by "hobo symbols," markings left behind by itinerant workers, that Kohler discovered and loved as a girl. One symbol, in honor of Kohler, means, "a kind woman lives here."
In our final interview that day in the wood-paneled room of the John Michael Kohler Arts Center, mindful that personal questions made Kohler uneasy, I changed the subject to something breezy, or so I thought: her lovely manicure. She dismissed my compliment and shoved her hands beneath the table. Another detail, tucked away.
However, when I asked her directly what it was like being a Kohler, she quickly said: It was hard. Her response had the force of truth. These were not words she needed to search for. 
"I think there's a part of her that we'll never get to," says Richard Balge, a longtime John Michael Kohler Arts Center board member. Balge's observation came during an interview I had with him before Kohler's death, echoing what I'd learned from others as well. "She's a complex, complex person. But she's one of the most remarkable people I've ever met." 
There are many lessons to be learned from Kohler's example, as illustrious a life as any of those heralded in her mother's book about the remarkable women of our state. The most essential, for me, are to trust one's own eyes and mind, to find new language when it's needed, and to not always accept the world—especially the art world—as it is presented to us. 
With this kind of admiration in my mind, I asked Kohler a final question that day at the arts center. I asked her what she thought about the state of the world. We were in the early months of the COVID–19 pandemic then. She was worried, she said, that the role of the artist in society is not well understood or valued, that somehow her own efforts to champion artists had not been enough.
"If I could do it again, I would get involved more," she said. "I would still proselytize for this organization forever, with my last breath."