As we age, we often envy the excitement of the little boy who discovers a chipmunk burrow or the girl enraptured by a family of ducks on a pond. Sometimes, we wish we could go back in time and again experience that special joy of discovery. 
For Door County naturalist and writer Roy Lukes, this childhood sense of wonder has never diminished. At age 86, Roy remains a "nature boy" in all the best ways, still enamored with every plant, tree, and bird and as curious about their habits today as he was as a child growing up in Kewaunee. There his parents instilled in him a love of nature. His father was a wonderful gardener and mushroom hunter; his mother, a lover of wildflowers. She would take him down to the river or into the woods to explore, listen to the birds, and admire the power of trees.
The thrill of those early forays into nature has stayed with Roy for his sixty years of service as naturalist for the Ridges Sanctuary in Door County. The 1,600 acres of the Ridges Sanctuary is rich in rare and endangered plant species, including dwarf iris and some 25 native species of orchids, as well as the remnants of the boreal forest that once covered this part of Wisconsin.
The high biological value of the Ridges was recognized in the 1930s by Albert Fuller, Curator of Botany at the Milwaukee Public Museum. Fuller and a group of Door residents who shared his concerns established a private land trust in 1937 to protect the Ridges from being developed. One of the co-founders and board members of the Ridges was Emma Toft, a fierce preservationist whose family owned an equally unique property—Toft Point—on the east side of the bay. Toft became a great influence in Roy's life, instilling in him an unflinching dedication to the natural wonders of Door County. 
When Roy was hired by the Ridges board in 1964, Toft knew the organization was lucky to get a naturalist and manager of his caliber. Roy had earned his undergraduate degree at the University of Wisconsin-Oshkosh, served in the Korean War, then earned his Master's Degree at the University of Wisconsin–Madison before studying to become a teacher at the Door Kewaunee Teacher College in Algoma, not far from his boyhood home.
In 1964, the Ridges Sanctuary was nothing like the educational hub and community cornerstone that it is today. There was no state of the art nature center building and there were only a few of the trademark boardwalks and bridges that help visitors navigate the swales and wooded dunes. Back then, the lighthouses that are today symbolic of the sanctuary were in disrepair. But Roy saw only potential. He immediately set himself to the job of transforming the Ridges into much more than a preserve.
Recognizing Roy's gift for teaching and his dedication to nature and to the Ridges, Toft arranged for him to live at the Upper Range Light on the grounds of the sanctuary, a sparse abode that the U.S. Coast Guard had abandoned. It was easy to see why they left: The doors barely closed, there was no insulation, and heat came only by way of three cast iron stoves. Roy spent his first night sleeping on three sofa cushions spread on the floor, and would later write in one of his earliest articles on Door County nature that he feared the wind would blow the light tower clean off the house.
During his early years at the Ridges Roy built bridges, cleared trails, and forged invaluable relationships with guests, donors, and schoolteachers. He also documented area plants and animals in astounding detail and led twice-daily tours that over the years introduced thousands of people to the wonders hiding amongst the swales. Roy was instrumental not only in the growth of the Ridges, which is now a National Natural Landmark, but also in the conservation of thousands of acres throughout the Door County Peninsula.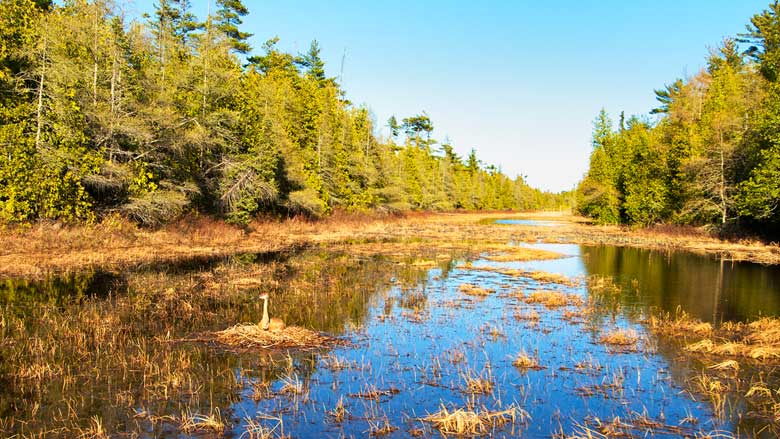 Indeed, today the Lukes name is almost synonymous with the Ridges Sanctuary. But not just because of Roy. His wife Charlotte has been a steadfast supporter of the Ridges since the two met in 1971. A mycologist, conservationist, and frequent contributor to Roy's regular nature columns in Door County newspapers, Charlotte is an established authority on Door County nature in her own right (she has identified 596 mushroom species in Door County alone). Together over the years the two have received nearly thirty awards for their dedication to conservation and the Door County community.
Roy knew he found his "partner in nature" when Charlotte visited Baileys Harbor from her home in Milwaukee, joining a friend on a hike at the Ridges. Charlotte hadn't brought hiking clothes with her, so she had to borrow some ill-fitting jeans and a flannel shirt from her friend's husband. That was the day she met Roy, clad in his old Army shirt, threads dangling from its cuffs, his hat stained, his work jeans full of holes. Charlotte saw him again at a presentation he gave soon after. She was awed by his photographs, and, when Charlotte returned to Milwaukee, they began exchanging letters. Letters soon became visits. 
For Christmas Roy gave her a bird book, binoculars, and a special hat for hiking. He didn't give her a ring, but he invited her up to Baileys Harbor for New Years Eve. Charlotte made dinner for Roy and some friends and Roy invited her to breakfast at the Upper Range Light the next morning.
"Wouldn't it be great if you lived up here all year?" Roy asked.
"Where, at the Nelson Motel?" she said, referring to the only hotel in Baileys Harbor open during the winter months.
"No, here at the Range Light." he said. 
"Yeah, but wouldn't the neighbors talk?" Charlotte smartly replied.
And that's when Roy asked her to marry him. She said yes, and they went snowshoeing out to Toft Point, Roy's favorite place.
Roy had learned from Emma Toft the art of luring birds to his hand with food, and on this day he created one of Charlotte's favorite memories of their early courtship.
 "Roy had this red woolen hat on," Charlotte recalls. "He told me to take my gloves off, and then he put birdseed in my hand [and his], and he began to whistle. And this bird, a black-capped chickadee, comes and lands on his hat, crawls down his arm, and eats the bird seed out of his hand."
That day Roy secured himself not just a wife, but also a fellow lover of nature and an editor for life. Charlotte became central to Roy's writing process, often suggesting subjects and helping him to clarify his thoughts and get them down on paper. 
Many Door Country residents and visitors alike can trace their appreciation for the area's plants, animals, and geology to Roy and Charlotte, who are known as the "go-to" people when it comes to questions about the plants and animals of Door County.
Roy began his writing career in 1968 by sharing his Ridges adventures and observations in print, inviting readers into his experiences with an unsurpassed knowledge and unrivaled joy for the subject matter. Over time, Roy became the voice of the natural world in Door County.
His articles delved into the science behind the habits of particular birds, the delicacy of the Large Yellow Lady's Slipper flower, what contributes to the growth of trees, why spiders are our friends. But what enthralled many devoted readers of Roy's regular column was a wide-eyed, boyish awe of the natural world that he has never relinquished. 
"Usually he would share some information about an animal's behavior or habitat, but also a story about an encounter that he had with that animal in the past," says longtime reader Laura McNefee of Little Sturgeon. "I think his observations, as well as the photographs, enabled those of us who are not naturalists to be more receptive and perceptive to the natural things around us."
After giving readers a lesson on the remarkable ways the black-capped chickadee adapts to sub-zero temperatures (by accelerating to more than 1,000 heartbeats per minute), Roy would end his column with a personal experience that took readers back to their own childhood experiences. 
I was quite impressed the first time I removed a chickadee from a mist net. Ed Peartree, licensed bander of Oconomowoc, was teaching me the art of mist netting. After a couple of weekends of watching him, he finally allowed me to remove my first bird, a chickadee. What a scrapper! What an initiation I received: Its body seemed to hum or vibrate in my hand—little did I realize then what its normal heartbeat was.
Joe Knaapen, a news reporter at the Door County Advocate for much of Roy's time as columnist, calls him a rare treasure for a small community. "The things he and his like brought to the community as an environmental resource and in fostering an appreciation for the environment are highly unusual," says Knappen, pointing out that "not every place has people of that caliber."
In 2007 Roy took his columns to the Peninsula Pulse, where co-owner Madeline Harrison was proud to welcome his voice. "What I came to notice over years of reading his words, week in and week out, is what a tenderness he has toward nature," Harrison says. "It isn't all science and biology. There's something very touching about the way he regards plants and birds and animals—there's a true kindness there." 
Before the Internet, many readers clipped his columns to save as references, piling them up in desk drawers, file cabinets, and on desktops. One of those readers was a budding photographer named Len Villano, now the acclaimed nature photographer of the Peninsula Pulse and Door County Living.
"He was writing about what was right here, not some animals far off in Africa," Villano says. "I had a file drawer full of his columns that I'd clip and save to learn more about what I was photographing."
Steve Leonard, who has been executive director of the Ridges Sanctuary since 2006, credits Roy with turning the Ridges into a renowned educational facility. Leonard points out how Roy used his regular nature columns to cultivate a budding awareness of the Ridges as a destination for appreciating and understanding nature and increase the numbers of people from Door County and beyond who clamored to join Roy on his hikes.
Perhaps what Roy loved most about writing was when his readers contacted him with nature questions—"What is this bird? What is this sound?"—or better yet, when they alerted him to the discovery of a massive tree or an unfamiliar bird on their property.
Nick Anderson, a local nature enthusiast and friend of Roy's, once called to tell him that a beautiful Northern Hawk Owl had just landed in his yard. "I'll be right over," Roy told Anderson. "He was excited, and he and Charlotte raced over to our house and took pictures. He loved it, really loved getting those calls from people."
For most writers, the exclamation point is to be avoided. But in Roy's columns they fit. If you met Roy for even a few moments, you realized that he didn't use them to embellish, but only to come close to portraying the excitement and wonder he found in nature: 
Do you have problems in summer with spiders, slugs, cutworms, armyworms, or tent caterpillars in your garden? If you do, get some toads. It is estimated that in a four-month period one large hungry toad will consume up to 10,000 of these injurious insects!
That excitement has never waned, says Bob Howe, Professor and Director of the Cofrin Center for Biodiversity at the University of Wisconsin–Green Bay. "For as much as he has witnessed, he always gets excited," Howe says. "He's all ears, thirsty to learn more, discussing ideas and observations you brought to him. You always felt like you were a really close friend, and I'm sure a lot of people would say the same. It's pretty rare to have that effect on people."
While his articles have reached tens of thousands of people, there are hundreds of emerging and established naturalists alike who Roy has directly influenced by sharing his knowledge and respect for the natural world.
Thomas Erdman, curator of Green Bay's Richter Museum of Natural History, met Roy as a teenager in the 1960s when he accompanied him on a trip to band birds in Mill Center. "There were hundreds and hundreds of evening grosbeaks," says Erdman. "I was there to take photos of the birds with my old box camera, and he showed me how to band birds. That day started a lifelong friendship."
Erdman began driving the hour north to Door County on weekends to band birds with Roy. "I don't think he tried to be a father figure, but he became one as he showed me how to be, how to act, how to learn," says Erdman, whose father died when he was thirteen. "He had a tremendous influence on me. I owe a lot of what I've done and the things I value to Roy."
Erdman has gone on to band more than 45,000 birds in Wisconsin. He became president of the Wisconsin Society for Ornithology, and his research linking dioxins to deformities in birds was crucial in starting the massive cleanup of the Fox River and Green Bay. But Erdman started down that path thanks to a day with Roy Lukes, joining hundreds of environmental stewards who trace the origins of their passion to an article by Roy or hike with him through the Ridges.
Stories such as Erdman's come as no surprise to those of us in Door County who have long marveled at Roy's lifelong ability to connect with children. It's a skill that wasn't honed in teaching school, but that comes naturally to him, most likely because he remains young at heart.
"He thought it was so important to reach children," Charlotte says. "He'd say that if you grow up not knowing [about nature], not caring, then how can you preserve it?"
Norb Blei, the renowned chronicler of the characters and caretakers of Door County, wrote of Roy's connection with children in his most famous book, Door Way: The People in the Landscape (1981):
What I recall more than anything that morning was the constant consideration he afforded my seven-year-old son, always giving him first crack at the telescope or his own pair of binoculars. "After all," he told us, a group of about ten adults and one child, all strangers, "this little guy is the most important member of the group. He's the fella we're going to have to depend on someday."
Roy's dedication to putting children in touch with nature can be traced back to an otherwise normal day in which he was driving to class at the Door Kewaunee Teacher College in Kewaunee. Roy, not more than 22 or 23 years old, observed a huge flock of birds cross right in front of his car. He went home obsessed with identifying them. He recalls an idea forming in his mind: "If I was going to teach children, I had better learn about birds and plants and animals and everything else of interest in the out-of-doors." 
Roy taught for several years at Gibraltar School while he worked weekends and summers at the Ridges. When the school decided they didn't need him as a full time teacher anymore in 1970, he became an environmental education specialist, visiting the small rural schools throughout Door County at regular intervals. Teachers marveled at the way Roy could hold a class full of second-graders in the palm of his hand.
"He would get them so quiet that a whole class could sneak up on a bird at a bird feeder," says Mike Madden, who taught at Sevastopol School in unincorporated Institute (near Sturgeon Bay) for 35 years. Madden credits Roy as one of the reasons he became a teacher. "I think it was his integrity and sincerity, and something special about his deep, masculine voice and the way he delivered his words. If a child came up to him and showed him a small rock, [the child] would walk away thinking it was the most special rock in the world."
When he wasn't wooing them with his quiet sincerity, Roy was mesmerizing kids with exuberance over a new discovery. "He could get so excited working with children, I've seen him jump up and down and yell 'Whoopee!'," Madden says.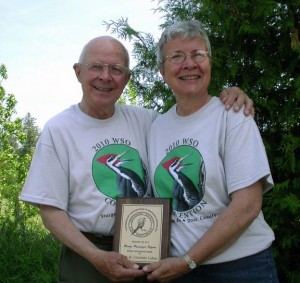 Over the years Roy and Charlotte have been honored with lifetime achievement awards by the Wisconsin Society for Ornithology and Gathering Waters Conservancy, and Roy has received accolades for his work as a naturalist from more than a dozen other organizations.
Even as he battled metastatic cancer, Roy continued to write his regular newspaper column. As his energy waned last year, sapped by repeated chemotherapy treatments, Charlotte suggested to Roy that it might be time to stop writing his column. But Roy wouldn't hear of it. His article count had climbed past 3,000, and, as long as he and Charlotte could write it together, he wanted to keep sharing observations culled from decades of detailed daily journals, chronicling the ups and downs of the flora and fauna of the peninsula as few others have chronicled any place on earth.
Filled with observations and data that Roy and Charlotte kept on note cards for most of their lives, these columns reflect a more or less continuous history of Door County's natural world in astounding detail that includes the temperature, wildlife seen and counted, rainfall, and spring bird arrivals.
Michael Strigel, director of the Aldo Leopold Nature Center in Monona, calls these recordings "almost incomprehensible" in their value. It's fitting that one of Roy's own heroes is Aldo Leopold, Wisconsin's best-known environmentalist and the author of A Sand County Almanac, which Roy considers required reading for budding naturalists. 
 "When I think of Roy, the word pioneer comes to mind," says Strigel. "Climate scientists today study Aldo Leopold's observations, and, in the years to come, they will study Roy's. His work will have incredible value for generations." 
It was future generations Roy and Charlotte had in mind when they cultivated the Friends of Toft Point, a 250-member group of volunteers who support the management plan of what is today a State Natural Area and National Natural Landmark. Howe calls Roy "the conscience of Toft Point," the 743-acre preserve once owned by the Toft Family.
"He talks longingly of the times that he could go into the woods and wishing he could get back on his feet and go measure some big trees," says Nick Anderson, who is also director of the Friends of Toft Point. "This last year, he couldn't drive anymore. I called him up and said, 'I'm heading to Toft Point, you better come along.' He's so close to that place. Every time he's out there he's transformed back to those early days of his life and helping Emma. It's so important to him. He'd have a camera along, capturing every moment, just revitalized, and he'd take a deep breath being in the presence of what he worked so hard to preserve. It was magical being out there with him."
Not long ago Steve Jorns, a former student of Roy's who now lives just a couple miles down the road from the Lukes, called Roy's wife Charlotte to check on the health of his favorite teacher.  
"He told me that Roy once took the class out into the woods," Charlotte says. "Roy stopped and quieted the class before whistling a bird song, and out of the trees a bird came down and sat on Roy's shoulder."
"Was it a chickadee?" Charlotte asked Jorns, knowing it was. 
Editor's Note: Roy Lukes died peacefully on June 26, 2016, with wife Charlotte at his side. Memorial services will be held on August 7 at the Door County Auditorium in Fish Creek. Memorials gifts can be made to the Door County Land Trust, The Nature Conservancy, Birch Creek Music Performance Center, Peninsula Music Festival, Unitarian Universalist Fellowship of Door County, or to the nature organization of your choice. A version of this essayfirst appeared in the May 6, 2016, edition of Peninsula Pulse. Nature photos are reprinted by perimission of Charlotte Lukes.